New Mexico Tech Students To Help Clean Up Their Adopted Hometown
March 24, 2023
---
Second-annual spring cleanup day – 'The Big Event' – to be held April 1 in Socorro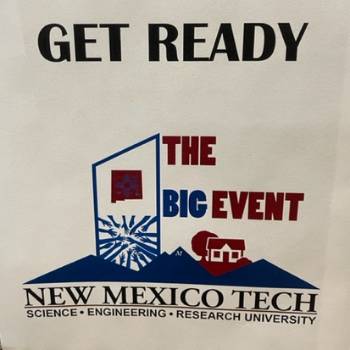 SOCORRO, N.M. – In an effort to beautify and connect with their adopted hometown, New Mexico Tech students will spend a spring Saturday cleaning up two sites in Socorro. The second annual spring cleanup day, dubbed "The Big Event," will see dozens of New Mexico Tech students, staff, and faculty members picking up trash around Cottonwood Valley Charter School and assisting the city of Socorro on Saturday, April 1, 2023.
Since its introduction in 1982, The Big Event has become the largest one-day, student-run service project in the nation, with students at universities across the country participating in community service and showing appreciation to their host cities.
According to Dean of Students Jennifer Chapman, the community service day gives NMT clubs and organizations and individual students an opportunity to gain volunteer hours, and to spend a Saturday providing meaningful, visible service while engaging with their neighbors.
"They live in Socorro for a large amount of time" during their academic careers, she said. "This is helping the community by providing outreach from the university to the community. It's good for the university and the city to collaborate."
Students, staff, and faculty members will meet at Fidel Center from 8 to 8:50 a.m. for a light breakfast, kickoff from administrators and other leaders, instructions, and to pick up gloves, trash bags and other equipment and supplies, before heading out to the school or another location in the city. Crews will work between 9 a.m. and noon before heading back to campus for lunch.
Dean Chapman said last spring's event drew 98 participants from NMT, who picked up 15 truckloads of trash from 16 separate sites around Socorro. More than 200 pounds of recyclables were saved from the landfill. She hopes NMT's Office of Student Life will provide more opportunities for students to engage with the local community providing service throughout the school year via tutoring and volunteering in schools and other activities. More information is available on the Community Engagement@New Mexico Tech website page.