New Mexico Tech Rugby Team Signs Two Players for the Fall
May 12, 2023
---
Players from St. Pius X Rugby Club, Rio Rancho Rebels to join the NMT Miners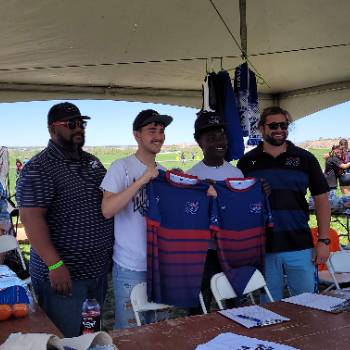 SOCORRO, N.M. – The New Mexico Tech Miners recently added two Albuquerque-area rugby players to the squad this fall. A signing ceremony for Adam Pacheco, who played for St. Pius X Rugby Club, and Agnus "Akong" Chungong, who played for the Rio Rancho Rebels Rugby Club, took place May 6, 2023, at the Celtic 7s Rugby Tournament in Albuquerque, hosted by the New Mexico Brujos Rugby Football Club.
Miners Coach Chris Hathaway said he's excited to welcome the new players for his fall team roster. Pacheco reached out to him last winter after the football season ended for him at Pojoaque Valley High School.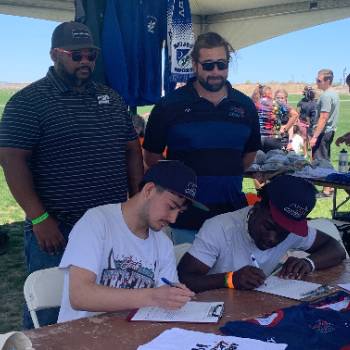 "He reached out, curious about rugby and how to play, also if he could play rugby for Tech next year," he said. "I suggested a couple rugby matches and videos to watch as well as inviting him out to the Thanksgiving touch rugby event hosted by the New Mexico Youth Rugby (NMYR) in conjunction with the Brujos and another men's team, the Albuquerque Aardvarks. Adam took the opportunity to learn a new sport and showed a lot of promise with his first outing playing touch rugby. That is where I got him in touch with Red Jones, one of the coaches at St. Pius X who took it from there. Adam plays center and will be a great addition to the club with his determined attitude and openness to learning."
Hathaway said Chungong – who was born in Indianapolis, Indiana, but grew up in Cameroon for most of his life after moving back to the U.S. two years ago – has been playing rugby for two years with the Rio Rancho Rebels.
"I met Akong up at the Thanksgiving touch event where everyone could see this kid knew how to run with the ball," he said. "Akong started off as a winger but has moved more towards playing flyhalf and fullback since gaining more experience."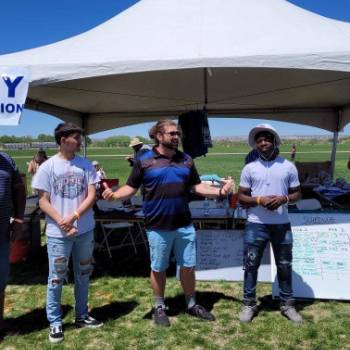 Hathaway said both Pacheco and Chungong invited their teammates, coaches, and families to attend the signing and to be a part of their big day. Both athletes will soon play for their teams in the NMYR State Finals.
More information about the New Mexico Tech Miners Rugby Team is on its social media sites and online at: www.nmt.edu/physrec/clubs/rugby/index.php