Jason Bishop Illusion Show Coming to Macey Center Feb. 24
Feb. 8, 2023
---
State-of-the art magic show features optical illusions, levitation, audience participation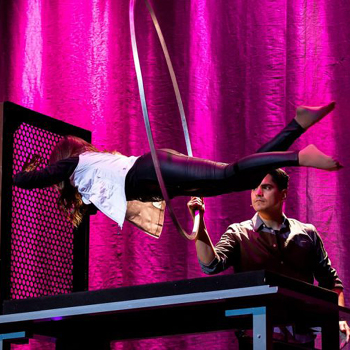 SOCORRO, N.M. – Those looking to escape the mid-winter doldrums will discover a dynamic, fast-paced, and entertaining performance by an international award-winning illusionist and magician who is coming to Macey Center Friday, Feb. 24. The Jason Bishop Illusion Show will return to New Mexico Tech for a 7:30 p.m. performance timed to coincide with the Science Olympiad, which draws middle and high school students from across the state for an all-day competition on Saturday, Feb. 25.
Tickets for the illusionist's performance are $15 for adults, $12 for seniors age 65 and older, $5 for youth age 17 and younger, and free for NMT students, and are available online at at nmt.edu/pas.
Bishop and his assistant, Kim Hess, comprise one of the largest touring magic and illusion shows in the United States, performing an average of 150 shows a year at colleges and universities, cruise ships, performing arts centers, theaters, and corporate events. The show features large illusions, sleight of hand, and "close-up" magic, which is captured live and projected onto LCD screens for the audience to have a clear view of every detail. Bishop is currently the only illusionist in the United States to tour with the rare double levitation, and his show also highlights plasma illusion and op-art. Bishop also incorporates humor, a rock and pop music soundtrack, and audience participation into his shows.
Performing Arts Series Director Ronna Kalish said that Bishop brought his show to NMT about seven years ago and delighted the audience.
"It was a really fun show," she said. "We're thrilled that he's coming back to Socorro and we're excited that this performance is on the eve of the Science Olympiad so middle and high school students who arrive on Friday have the opportunity to attend. It's a great show for all ages."
Local sponsors are the City of Socorro, the National Radio Astronomy Observatory and Associated Universities Inc., A-1 Quality Redi Mix; NMT Student Government Association, and Energetic Materials Research and Training Center. Check the PAS website, nmt.edu/pas, for live streaming links.