Lively Irish Song and Dance Show Coming to Macey Center March 2
Feb. 17, 2022
---
Rhythm of the Dance performance to feature champion dancers from the Emerald Isle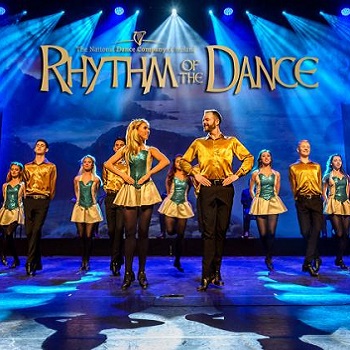 SOCORRO, N.M. – Those seeking a venue to observe St. Patrick's Day a few weeks early will find a treasure trove of activities to prepare for the annual feast day for the Irish and the "Irish for a day." The National Dance Company of Ireland's Rhythm of the Dance will perform Thursday, March 2, at 7:30 p.m. at New Mexico Tech's Macey Center, showcasing Irish music and dance. The performance will be preceded by a 6 to 7:30 p.m. pre-show social hour featuring cuisine commemorating the Emerald Isle.
Tickets for Rhythm of the Dance's performance are $15 for adults, $12 for seniors age 65 and older, $5 for youth age 17 and younger, and free for NMT students, and are available online at at nmt.edu/pas. Tickets for the pre-show social hour, which will feature shepherd's pie, Irish soda bread, and drink specials at the cash bar, are $10 for the general public and $5 for NMT students and are sold separately from the show tickets.
The longest-running Irish dance show in the world started touring in 1998, performing before audiences across four continents from Azerbaijan to Dollywood. The champion dancers, accompanied by traditional musicians playing the fiddle, guitar, flute, and drum, take audiences through an exhilarating two-hour time trip through the ages.
Performing Arts Series Director Ronna Kalish said she's excited for the energetic and fast-paced show, which has been seen by more than 7 million people in 50 countries, including audiences in Socorro.
"It is a beautiful show," she said. "They have performed at New Mexico Tech before and I can attest to what an amazing show it is."
Local sponsors are Nusenda Credit Union, Socorro Insurance Mart, the New Mexico Tech Student Government Association, and Jon Morrison. Check the PAS website, nmt.edu/pas, for live streaming links.