New Mexico Tech To Showcase Student Research Feb. 20
Jan. 25, 2023
---
High school students invited to tour academic departments, explore hands-on research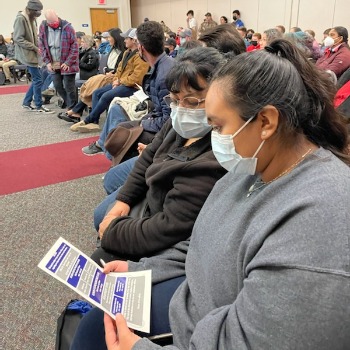 SOCORRO, N.M. – Prospective students seeking a university where they can engage in hands-on research in science, engineering, and other fields can explore the exciting opportunities New Mexico Tech provides by attending an upcoming daylong open house. Research@Tech Day, which will be held Monday, Feb. 20, from 9:30 a.m. to 3 p.m., will offer participants the chance to see themselves as a student at New Mexico's premier research university.
Research@Tech Day will feature a panel discussion on student research opportunities, campus and academic department tours, drone and robotics demonstrations, and a club fair. Parking and attendance is free and open to interested high school students and up to two guests. Space is limited, so prospective students must register online to reserve a spot to attend Research@Tech Day: https://apply.nmt.edu/portal/research_day_2023
From the New Mexico Bureau of Geology and Mineral Resources to the Energetic Materials Research and Testing Center, New Mexico Tech has more than a dozen research divisions that work with private industry, government agencies, and other universities on cutting-edge research projects. Nearly all professors in every academic department maintain active research projects that involve undergraduate students.
After a check-in from 9 to 9:30 a.m. at the Macey Center, students and their guests will listen to a keynote speaker and hear from a panel of researchers. Students will have multiple opportunities to meet faculty members during academic department meetings and lab tours. On-site admissions assistance will be available throughout the day. Housing tours also will be available and students and their guests are encouraged to stop by the club fair, and drone and robotics demonstrations. Free lunch for registered prospective students and their guests will be available in the Fidel Center Cafeteria, provided by NMT Dining.