NMT Accepting Applications for the 2023-24 Macey Scholars
Feb. 24, 2023
---
Top academic and research upperclass students receive award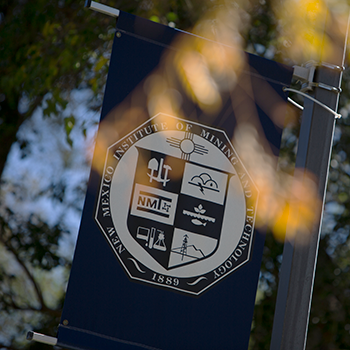 SOCORRO, N.M. – New Mexico Tech students with outstanding academic and community service records are encouraged to apply by April 21 for one of the university's most prestigious scholarships. The William B. and Jean M. Macey Scholars Program recognizes undergraduate students whose accomplishments in academic pursuits, research, service projects, volunteerism, and other activities are exceptional and inspiring. Macey Scholars receive a financial award of $5,000.
Eligible undergraduates must be U.S. citizens, have completed at least 30 semester hours at NMT, and have a minimum cumulative GPA of 3.4. Applicants must be currently enrolled at NMT. Selection is based upon accomplishments in the classroom and/or research laboratory together with institutional service and other activities that have brought credit to the individual student and to NMT. These accomplishments could include awards, honors, membership in campus organizations, part-time jobs, service to the university, research endeavors. and other relevant activities.
Interested students can access an application from Associate Dean for Student Success Elaine DeBrine Howell, Speare Hall, Suite 130, Room 132, or on the New Mexico Tech website. Applicants must provide a statement of no more than two pages describing why they should be considered for the Macey Scholar designation. Students must submit at least two recommendation letters from professors, researchers, and other mentors. Letters should be sent directly from the authors to Elaine DeBrine Howell, Associate Dean for Student Success, c/o Macey Scholars Program, or emailed to elaine.debrinehowell@nmt.edu. The application deadline is Friday, April 21, 2023, at noon. Contact Associate Dean DeBrine-Howell at elaine.debrinehowell@nmt.edu or 575-835-5208 for more info.
The program is named after 1942 New Mexico Tech graduate William B. Macey. Macey was among NMT's biggest supporters, including significant contributors to the Macey Conference Center building fund and the Macey Family Children's Center.