New Mexico Tech highlights research divisions at Roundhouse
Jan. 25, 2023
---
NMT Day includes Earth Science Achievement Award presentation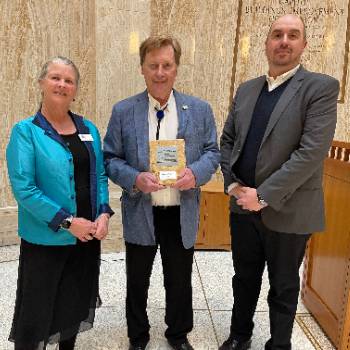 SOCORRO, N.M. – Students took center stage at New Mexico Tech Day at the Roundhouse in Santa Fe on Jan. 23, 2023, displaying their research projects, clubs and organizations, and campus support services. The event, which featured demonstrations of esports, robotics, a chemical engineering experiment, and a display showcasing an undergraduate student biology research project, aims to better familiarize legislators and state agency officials with New Mexico Tech's esteemed research divisions and wide array of campus activities.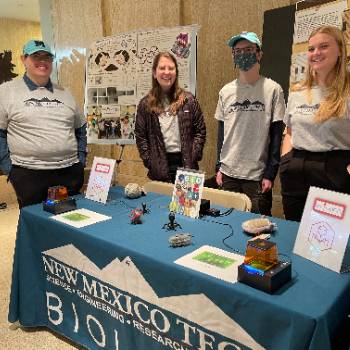 New Mexico Tech President Stephen G. Wells said the annual day at the Roundhouse provides a venue for the university to showcase its talented students and unique programs.
"I think it's important for legislators, staff from state agencies, and others to understand the high-level research we do that impacts every citizen in the state," he said. "With a focus on earth sciences and natural resources, it's an honor to be here. It's a key opportunity to bring students, faculty, and staff from across the campus to the Capitol."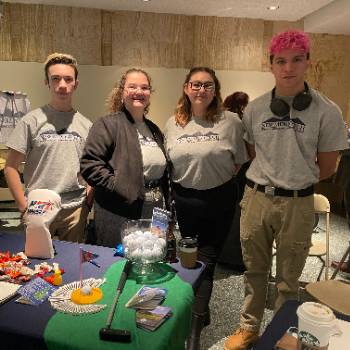 Research divisions represented at the Roundhouse event included the Institute for Complex Additive Systems Analysis (ICASA), the Bureau of Geology and Mineral Resources (NMBGMR), and the Energetic Materials Research and Training Center (EMRTC). The New Mexico Cybersecurity Center of Excellence and the Office of Innovation Commercialization also shared information about their activities at tables staffed by students and staff.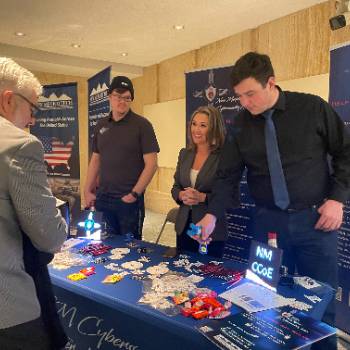 Student clubs and activities represented at NMT Day included esports, lunabotics and robotics, the Office of Student Life, Career Services, and biology and chemical engineering organizations.
The day's events also included a noontime ceremony in the Rotunda and presentation of the Earth Science Achievement Award. Dennis McQuillan of Santa Fe received the annual award from the New Mexico Bureau of Geology and Mineral Resources in cooperation with the state Energy, Minerals and Natural Resources Department. The award is given to a public servant who advanced the role of earth science in public policy. At the New Mexico Environment Department longtime former staffer McQuillan developed new regulatory frameworks and programs aimed at advancing the health and safety of all New Mexicans through citizen engagement and education.