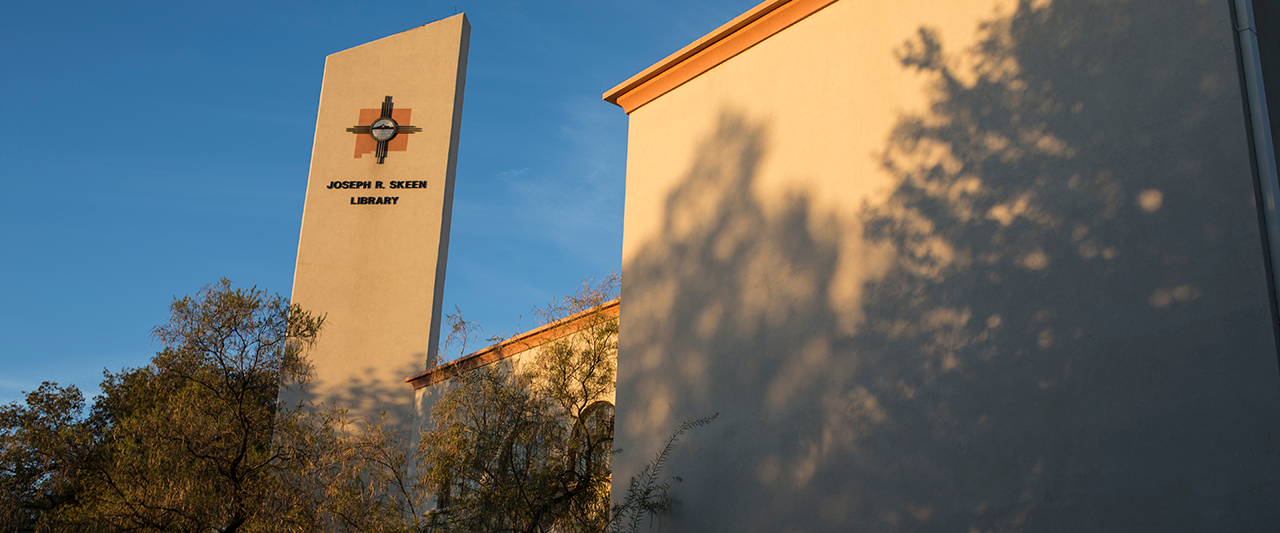 New Mexico Tech
Skeen Library

Welcome to Skeen Library!
Library Resources
Library Hours, Reservations, and Contact Information
Building Hours (Fall Semester: Monday, August 14th - Thursday, November 30th ):
Monday - Thursday: 9am - 10pm
Friday: 9am - 5pm
Saturday: 10am - 2pm
Sunday: 12noon - 10pm
Finals Week Building Hours (Friday, December 1st - Thursday, December 7th):
Friday (12/1): 9am - 6pm
Saturday (12/2): 10am - 4 pm
Sunday (12/3): 12pm - Midnight
Monday - Wednesday (12/4-12/6): 9am - Midnight
Thursday (12/7): 9am - 10pm
Winter Break Building Hours (Friday, December 8th - Thursday, December 21st):
Monday - Friday: 9am - 5pm
Saturday - Sunday: Closed
Online Chat and Reference:
Mon-Fri: 9am-5pm
View all of our hours here
---
Contact Information
We are available to you in a variety of ways:
Online chat and reference from any Skeen Library web page
Email: nmtlib@nmt.edu
Phone: 575-835-5614
Text: 575-214-7621
or
Accessing Your Library Account and Online Resources
Online resources are available 24/7/365
(You must have an active Library Account in order to access electronic resources online. Need to check your account, or having issues with your log in? Try this)
Learn more about Skeen's Electronic Resources
Start the semester on the right foot and download the LibKey Nomad browser extension. You'll be doing research and getting direct links to articles and PDFs in no time. Click on the links in the box below for more information.
NMT Joseph R. Skeen Library
801 Leroy Place
Socorro, New Mexico, 87801
575-835-5614
email: nmtlib@nmt.edu