State Street Ballet Returns to Socorro with 'The Jungle Book'
March 31, 2023
---
Dance workshop April 13 at NMT's Macey Center welcomes newcomers to learn about ballet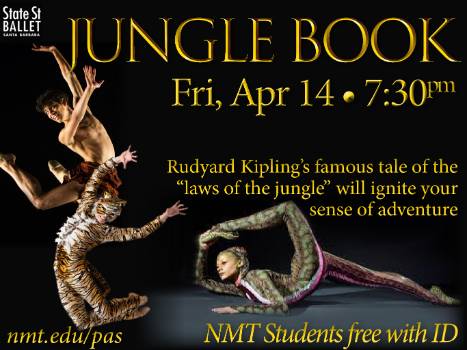 SOCORRO, N.M. – Longtime ballet fans and those seeking to learn about this and other types of dance will have an opportunity this month when a popular tale takes the stage at New Mexico Tech's Macey Center. State Street Ballet of Santa Barbara, California, will present "The Jungle Book" Friday, April 14, 2023, at 7:30 p.m. A piece in the second act will feature students from the Rising Star Dance School in Socorro.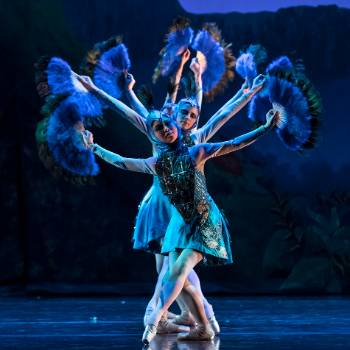 The dramatic and daringly athletic adaptation of Rudyard Kipling's story about the life of Mowgli, a boy who is raised by animals in the jungles of India, will be preceded by two special events:
A pre-show social hour and storytime will be held Friday, April 14, 2023, from 6 to 7:30 p.m. at Macey Center and is aimed at families. Socorro Public Library's Children's Librarian Kathy Spring will read the intro to "The Jungle Book," setting up the story for the ballet performance. Other family activities offered during the story hour include: face painting, coloring, fun dessert snacks, punch, and a variety of teas provided by NMT's Tea Club. Children age 14 and younger must be accompanied by an adult to attend the pre-show social hour. The cost is $5 for adults and free for children. Kids under 14 must be accompanied by an adult. Tickets are available separately on the NMT Performing Arts Series (PAS) website: nmt.edu/pas
A free dance workshop will be held Thursday, April 13, at 4 p.m., at Macey Center for interested students in grades four to 12, and adults. Participants do not need to have any background in ballet as this is a general dance workshop offered by State Street Ballet of Santa Barbara, though ballet students are welcome to attend.
Tickets for "The Jungle Book" ballet performance are $15 for adults, $12 for seniors age 65 and older, $5 for youth age 17 and younger, and free for NMT students, and are available online at: nmt.edu/pas.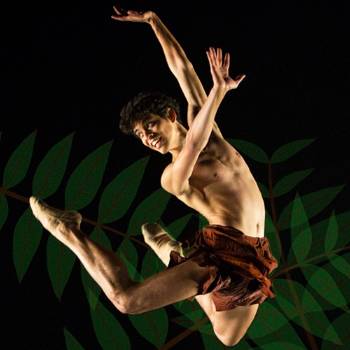 State Street Ballet goes on tour for two months every season, bringing original dance and education programs to theaters and schools around the world. This is the company's fifth Socorro appearance and New Mexico tour, according to PAS Director Ronna Kalish.
"Each performance has almost sold out because the company is so talented, accessible, fun and popular," she said. "The costumes and staging are excellent."
Sponsors are Positive Outcomes, Nusenda Credit Union, EMRTC, the National Endowment for the Arts, and the Western States Arts Federation.