'Little Shop of Horrors' To Bring Music, Comedy, and Horror to the Stage
April 10, 2023
---
NMT students, Socorro residents to star in local community theater production April 21-23
SOCORRO, N.M. – A comedy rock musical starring New Mexico Tech students and Socorro-area residents aims to delight students, families, and fans of community theater with three performances this month. "Little Shop of Horrors" is the annual musical presented by the New Mexico Tech CLASS (Communication, Liberal Arts, and Social Sciences) Department and Socorro Community Theater.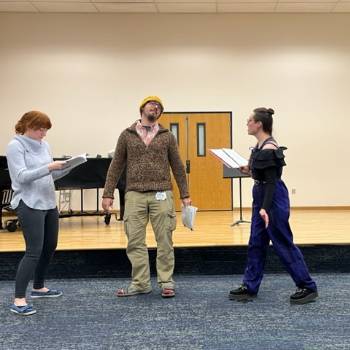 The performances are at 7 p.m. on Friday, April 21, and Saturday, April 22; and 2 p.m. on Sunday, April 23, at NMT's Macey Center. Tickets are $16 for adults; $12 for seniors age 65 and older, $8 for youth age 17 and under, and free for NMT students. Tickets are available online at: nmt.edu/pas
Many will recall the story of the hapless floral shop worker, his co-worker crush Audrey, her sadistic dentist boyfriend, and the man-eating plant that threatens them and the world as we know it from the 1986 movie starring Rick Moranis and Steve Martin. The musical comedy features songs such as "Somewhere That's Green" and "Suddenly, Seymour," originally written for the Broadway musical, with music by Alan Menken and lyrics and book by Howard Ashman.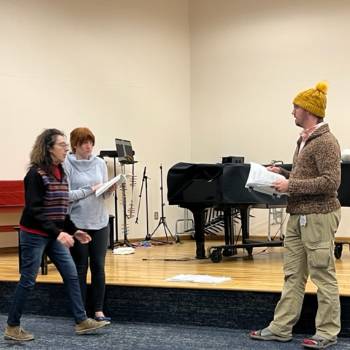 The local production is directed by Theresa Apodaca, who teaches education courses and theater at NMT, and Professor Steve Simpson, dean of Arts and Sciences, serves as the production manager.
Dr. Simpson said people looking for a good night out will find it with "Little Shop of Horrors."
"It's funny and exciting and has all of the elements that Techies will want," he said. "It very much fits the Techie vibe and will appeal to community members as well."
NMT students make up 75% of the cast, with other roles played by talented community members, Dr. Simpson said.
"Students really came out this year," he said. "They get to stretch their creative muscles. I was really impressed with how much work they are putting into this production. It's a good opportunity for students and a fun event for all."
Besides Socorro Community Theater and the CLASS Department, additional sponsors of the performances are: NMT President Stephen G. Wells, the NMT Office of Student Life, the NMT Performing Arts Series, State Rep. Tara Jaramillo, and Positive Outcomes. Check the PAS website, nmt.edu/pas, for live streaming links.
Cast of "Little Shop of Horrors"
Danny Tallon, Seymour Krelborn
Emma Nourse, Audrey
Santiago Montoya, Mushnik
Minnie Mao, Dr. Orin Scrivello, D.D.S.
Deven Raman, Audrey II (voice offstage)
Jalethzie Peña, Audrey II (Puppeteer)
Ekaterina Makhnina, Mrs. Luce/Ensemble
Genna Crom, Ronnette
Katie Teems Norris, Crystal
Ngoc Bui, Snip
Christopher Hathaway, Interviewer/Ensemble
Jay Blanchard, Customer 1/Bernstein
Cameron Caruso, Chiffon
Suzanne Eisenberg, Patrick Martin
Warren Marts, Ensemble/Wino
Clint Richardson, Ensemble/Wino
Greg Miller, Ensemble/Singing Wino
Haley Cordova, Ensemble
Estevan Ortega, Ensemble
Shane Collins, Ensemble
Ella Hooks, Ensemble
Betsy Long, Ensemble
Lloyd Tozier, Voice
Fita Apodaca, Ensemble/pushing a cart
Production Crew
Theresa Apodaca, Director
Kristal Kent, Music Director
Eileen Comstock, Set design and construction
Steve Simpson, Production Manager
Heather Sanchez, Accompanist/Vocal Coach
Sophie Bauer, Prop Master / Backstage Crew
Haley Hanson, Costume Master / Backstage Crew
Vanessa Cordova, Stage Manager
Musicians
Heather Sanchez, pianist
Tom Fenton, guitar
Jim Ruff, Bass
Rob Long, drums