New Mexico Tech Rugby Team Outreach Effort Plants Seeds of Interest
April 13, 2023
---
Miners Coach Chris Hathaway visits elementary students in Socorro, San Antonio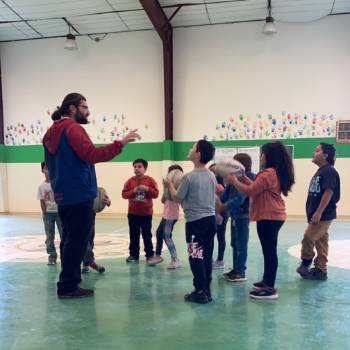 SOCORRO, N.M. – Elementary students who were unfamiliar with the game of rugby have been introduced to the sport as part of an effort by New Mexico Tech to sow seeds of interest among youth. To drum up enthusiasm for the sport that has long been popular at the college level and to build connections and support in the community, Chris Hathaway, New Mexico Tech rugby coach and intramurals coordinator, has been teaching basics to students at Cottonwood Valley Charter School, Parkview Elementary School, and San Antonio Elementary School.
The elementary school rugby outreach effort got underway earlier this year, Hathaway said, with him teaching during gym classes and then providing after-school instruction.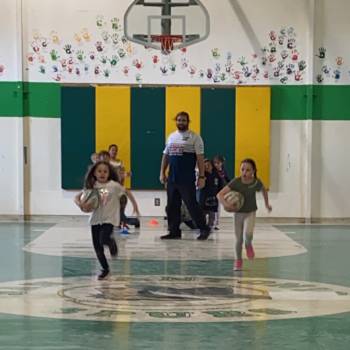 "I just took over the gym class for a couple of weeks, taught the kids about rugby, and played some games," he said. "They got all excited, which is good."
Hathaway said some students are aware that NMT has a rugby team, but don't know much more about the sport, and few know how to play the game. Rugby, he said, is a great sport for kids to pick up because boys and girls of varying athletic abilities can learn it quickly and enjoy the exercise and team spirit.
"It's a world sport," he said. "Having them know about rugby just creates more opportunities for them if they want to play or just get involved with the sport in general."
Hathaway said meeting local students and sparking their interest in the sport he played while a student at Davenport University in Grand Rapids, Michigan, and now coaches at NMT is part of a larger effort to recruit future players and build support and enthusiasm for the team and the game in the Socorro community.
"The idea is – doing all this rugby outreach – hopefully we'll be able to develop a youth rugby program here in Socorro," he said, similar to programs in Albuquerque at the middle and high school level.
Hathaway said NMT's rugby team enjoys loyal support among families, students, alumni, and community members, who turn out regularly for games at the university's athletic field. Recently, he said, the Miners hosted a National Collegiate Rugby (NCR) Small College National Qualifier Tournament and also competed in the LA Invitational. The Miners took fourth place out of eight teams in the tournament and watched some "awesome international-level rugby."