Research, Design Experiences Help Grad Student Find Success
March 9, 2023
---
Tech student's prestigious scholarship supports radiation shielding research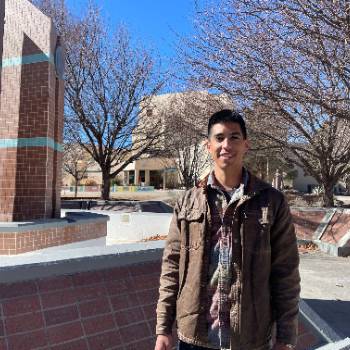 SOCORRO, N.M. – The support from his advisor and the opportunities a graduate student has received at New Mexico Tech have allowed him to use his expertise and research and design skills to earn a prestigious scholarship, showcase his research at an international conference, and give back to the community. Gabriel Maestas, a doctoral student in mechanical engineering, recently received the 2023 Roy G. Post Foundation Scholarship for his investigation related to safe management of nuclear materials. The $3,000 scholarship allowed Maestas to present at a symposium widely regarded as the premier international conference for the management of radioactive material and related topics and will help fund his research into radiation shielding designs and solid mechanics of composite materials.
"This scholarship is given to individuals who are extremely accomplished and outstanding and driven students who excel both inside and outside of their academic role," said Dr. Ashok Ghosh, associate professor of mechanical engineering and Maestas' master's and doctoral advisor. "Gabriel Maestas is one of our bright graduate students."
Roy G. Post was the founding chief executive of WM Symposia, the sponsor of the annual Waste Management Conference, an international conference for the management of radioactive material and related topics. The foundation is a nonprofit formed by Post's students, peers, and protégés to provide scholarships to help students develop careers in the safe management of nuclear materials and to participate in the conference. Dr. Post was a University of Arizona professor of nuclear engineering.
Maestas was invited to attend the 2023 Waste Management Conference, held Feb. 26 to March 2, 2023, in Phoenix, Arizona, presenting a paper and poster titled "Robust Simulation of Radiation Shielding Effectiveness of a Layered Composite." An Albuquerque native, Maestas is in his second year pursuing his doctorate and spends much of his time performing experiments and on the design of composite materials to shield radiation, even using the human skull as inspiration for his design work.
"What I focused on was the application to space radiation," Maestas said of his scholarship application. "You can extrapolate that to any type of radiation, whether it's on Earth or in space."
Maestas also mentored NMT's SunChaser 2k22 Design Clinic Team, which developed a solar education trailer, and he serves as a board member for the New Mexico Solar Energy Association.