Pre-Valentine's Day event to feature jazz, dancing, sweetheart dinner
Jan. 27, 2023
---
Albuquerque Jazz Orchestra to perform at Macey Center Feb. 10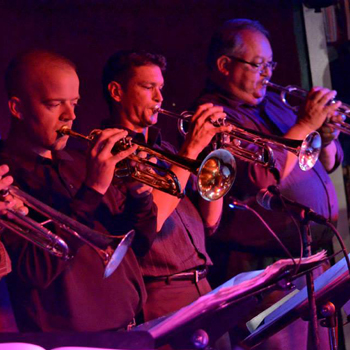 SOCORRO, N.M. – Jazz music, swing dancing, and a buffet dinner are the ingredients included in a special pre-Valentine's Day evening planned for Feb. 10, 2023, at Macey Center at New Mexico Tech. The Albuquerque Jazz Orchestra will perform at 7:30 p.m., preceded by a free swing dance workshop in the upper lobby of Macey Center conducted by the New Mexico Tech Ballroom Dance Club from 6:30 to 7:15 p.m. A Sweetheart Soiree dinner buffet with cash bar will be available prior to the show at 6 p.m.

Tickets for the Albuquerque Jazz Orchestra performance are $15 for adults, $12 for seniors age 65 and older, $5 for youth age 17 and younger, and free for New Mexico Tech students, and are available online at at nmt.edu/pas. Tickets for the Sweetheart Soiree dinner buffet, which will feature lemon and rosemary roasted chicken (bone-in) with garlic jus, mixed green salad, rolls, scalloped potatoes au gratin, roasted broccoli with cherry tomatoes, and cheesecake with strawberry sauce, are $20 for the general public and $10 for NMT students. Tickets for each event are sold separately.

The Albuquerque Jazz Orchestra will feature the big band sounds of saxophones, trumpets, trombones, piano, guitar, bass, and drums on songs like "On a Misty Night" and "Where or When" (live recordings are on the AJO website: albuquerquejazzorchestra.org.) Founded in 1982, the 18-member orchestra led by University of New Mexico jazz studies professor Dr. Glenn Kostur includes professional and semi-professional musicians and public school and university educators. The band has performed for audiences throughout the Southwest for more than 30 years. Hillary Smith will join the orchestra as its featured vocalist. Smith performed at Macey Center with HoneyHouse, a female vocal-based trio, in November 2019 and at SocorroFest with guitarist Chris Dracup. Her gutsy blues, rock, gospel-style vocals have been a centerpiece of a variety of well-loved New Mexico bands.

"With music, food and drink, and plenty of space for dancing, this special event at Macey Center
promises to be memorable," said PAS Director Ronna Kalish. "We're so pleased to bring together all the elements of a romantic evening, just in time for Valentine's Day."

Local sponsors are the Betty Clark Platinum Inaugural Endowment; Penny and Jim Lommen, Paul and Kay Krehbiel, KUNM-FM, New Mexico Arts, and the National Endowment for the Arts. Check the PAS website, nmt.edu/pas, for live streaming links.