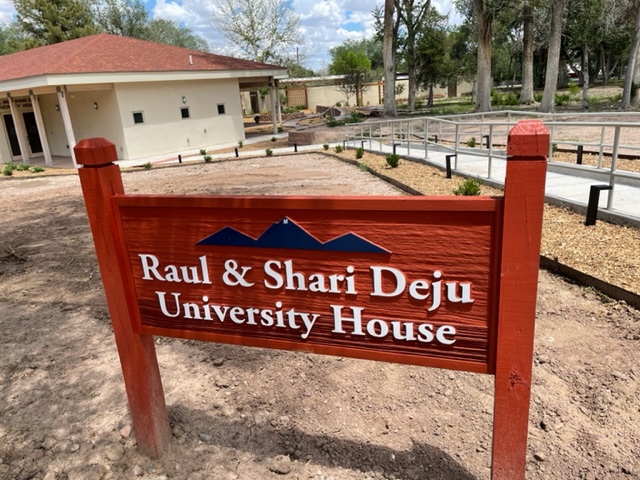 New Mexico Tech
The Raul & Shari Deju University House
Location
The Raul & Shari Deju University House is conveniently located on the NMT Campus next to Macey Center and the NRAO building. We are able to host a variety of events ranging from meetings, lunches, cocktail receptions, networking events, conferences, award dinners, and much more.
About the Space
The Raul and Shari Deju University House is a new 5,200-square-foot facility that will have the capacity to host events for up to 175 people suitable for one-on-one meetings or large conferences. It is designed to be a warm and inviting space, easily accessible by visitors, with parking in the Macey Center lot. The structure feature s indoor and outdoor dining and gathering spaces, house all the latest technology for teleconferencing, a kitchen, and an open backyard.
Facility Rates(rates will change as of July 2023)
| | | | |
| --- | --- | --- | --- |
| Space | Internal Groups | External Groups | Cleaning Fee |
| Use of indoor & outdoor space | $350.00 | $450.00 | $100 |
| Use of outdoor space only | $250.00 | $400 | $50 |
| Wedding & Quinceanera Minimum | | $5,000 | (included in minimum) |
Note: For wedding and quinceanera minimum details speak with the Event Specialist.
| | |
| --- | --- |
| Special Services | Rate |
| Liquor Services (including permitting) | $300.00-$400.00 |
| Security (required for events with liquor | $105.00 per hour per officer required |
| Technical Services | $35.00 per hour |
| Wireless Access | $75.00 |
| Bartenders | $16.00 per hour per bartender |
| | |
| --- | --- |
| Equipment | Daily Rate |
| Poster Panels | $5.00 |
| TV/VCR | $20.00 |
| Microphone | $25.00 each |
| LCD Projector | $50.00 |
| Computer | $35.00 |
| Flip Chart | $10.00 each |
| Whiteboard | $15.00 |
| Podium | $25.00 |
| Table Skirts | $3.00 each |
| Table Covers | $2.00 each |
| Socializer tables | $6.00 each |
| Classroom Setup | $6.00 per table |
| Special Chairs | $1.50 each |
| Centerpieces | $5.00 each |
| Setup changes day of event | $50.00 minimum |
| Large setup fee (125 people or more) | $100.00 |
NOTE: Standard event tables (6 foot longs and banquet rounds), chairs (black chairs only), and overhead sound system are included in room rate. The room rate is valid for a nine (9) hour period. These room rates apply to any length of the event. For additional information please speak with the Event Specialist. If we do not have the needed equipment in our inventory there will be an additional delivery fee for Macey Center.
Let us take care of YOU!
For more information or to book your event you can contact us by email dejuhouse@nmt.edu or call Gloria at 575-835-6545.
Who is Raul & Shari Deju?
Dr. Deju's life story and journey to New Mexico Tech is an incredible one. Raul was born to a middle class family in Havana, Cuba. He came to the US at the age of 13 on a one-way student visa as a part of Eisenhower's Peter Pan program, a resettlement program for Cuban children which became the largest recorded unaccompanied child refugee exodus in the Western Hemisphere.
After finishing his primary schooling under the instruction of Catholic nuns at Barry
University in Miami, at the age of 16, Raul headed to Socorro to study math.
In just 4 years and at the age of 20, Raul graduated from New Mexico Tech with a B.S. in Math in 1966 and later with his PhD in Hydrology in 1968 at the age of 21.
After NMT, Dr. Deju went on to have a successful career serving in leadership positions with companies like International Technology Corporation, URS, Inc., and Waste Management. He has a passion for entrepreneurship and building businesses and currently serves as Partner of Brightstar Capital Partners, a private equity firm.
Dr. Deju has served as an advisor to the US Secretary of Commerce and the US EPA
Administrator. He was named one of the top 25 Latinos in the San Francisco area. His philanthropy supports major hospitals, high school programs, targeted research, internet education, entrepreneurship, and programs for veterans.
Dr. Deju is a long-term supporter of New Mexico Tech. He has served on the New MexicoTech Foundation Board for seven years, currently serving as a Trustee and member of the Executive Committee. Dr. & Mrs. Deju have also contributed significantly to New Mexico Tech initiatives including, but not limited to: being a substantial funding partner in the construction of the Raul and Shari Deju University House, initiating and funding the Bright Stars Program, supporting undergraduate positions at the Bureau of Geology; and developing the Hantush-Deju Center for Hydrologic Innovation, a research center that will further solidify NMT in the world of hydrology and that was inspired by Raul's experience working under hydrology legends Dr. Mahdi Hantush and C.E. Jacob during his time at NMT.
The Deju House Quilt by Shari Deju
Pieced with love by Shari Deju Long-armed quilted by the very amazing Kathy August with Margaret Linderman's Artistic guidance and advice. October, 2021
Central Location: NMT Campus

Elegant Indoor & Outdoor Spaces

Exclusivity: We host only one event at a time

Indoor Capacity: Up to 75 Guests Seated / or 100 Cocktail Style

Outdoor Capacity: Up to 125 Guests Seated/or 175 Cocktail Style

Outdoor Space: Beautifully-landscaped private courtyard

Complimentary parking: On-site secure Parking lot
In-house Catering

Beverage Service

Standard event tables (6 foot longs and banquet rounds), chairs (black chairs only)