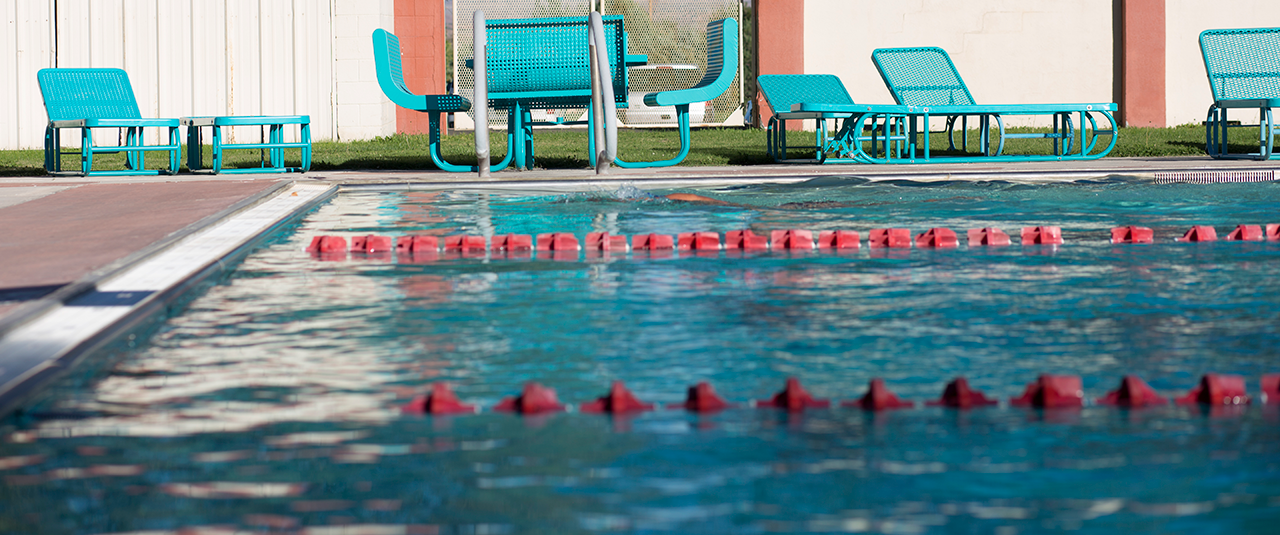 NMT Physical Recreation
NMT Swimming Center
For Your Information (FYI):

Swim Center will be Closed 08/21 & 8/22/2019 between hours of 11am-2pm
---
* Swim Center Swim Lessons form:
Posistion Announcement
Hiring summer Life Guards now, apply at the swim center.
Welcome!
The New Mexico Tech Swim Center is available year round for swimming and is free to full time New Mexico Tech students. The pool is 25 yards long and has six lap lines. There are three time periods, morning, noon and evening, designated for lap swimming in addition to two lanes being available for lap swimming during open swimming.
Evening classes in Water Aerobics are sometimes offered through New Mexico Tech's Community College. For more information please visit the Community Education webpage at http://ced.nmt.edu.
Our Mission
To complement the "quality of life" on the campus by offering educational and leisure aquatic opportunities in a safe environment.
Handicap Facilities
A chair is installed at the side of Tech pool that will raise and lower a handicapped swimmer into the pool. There is also a shower in the men's and women's locker room that is accessible for wheelchair users.
Facility Rental
Pool Rental Fee: $90.00 per hour for non affiliated groups and $45.00 per hour for New Mexico Tech affiliated groups.
Individuals wishing to rent the swimming pool must complete a NMT Swim Center Rental Form
Print the form mentioned above. Turn it in to the Swim Center or mail to Auxiliary Services at New Mexico Tech, 801 Leroy Place, Socorro NM 87801.

For more detailed information please contact the Swim Center at (575) 835-5221.
Passes
Swim Center Passes are available to all NMT Faculty, Staff, Students, Affiliates, & Community Members as well as those who require use of a pool for Medical rehabilitation.
New Mexico Tech Part Time Student Pool Pass and Full Time Student Family Pool Pass
Individuals wishing to purchase a pass must fill out our pass form, the pass form has our raters listed as well.
Lap Swimming Information
Two lap lanes remain open during recreational swim.
The New Mexico Tech pool is approx. 25 yards long. 36 laps is roughly one mile.
Lap swimming is for Tech students and persons 18 years of age or older.
Fins and boards are available for your workout.
NMT Swim Classes
FEES:
$40.00 + tax without Swim Center Pass.
$30.00 + tax with Swim Center Pass and Children's Center enrollees.
Lessons will be taught by Red Cross Certified Lifeguards.
For more information about Swim Lessons, please contact the Swim Center at 575-835-5221, or call Auxiliary Services at 575-835-5050.