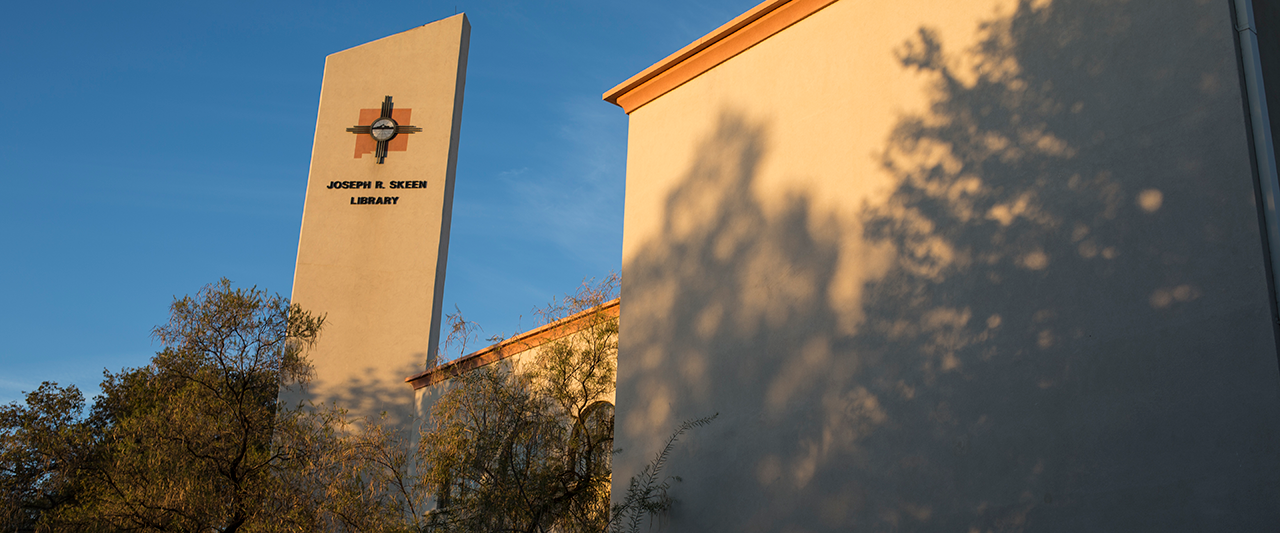 Skeen Library
Off Campus Access
Get to Skeen's eResources from off campus
It is possible to access e-books and electronic journals while off campus. Access is only offered to currently enrolled students, faculty, and staff of New Mexico Tech. The easiest method to access these resources is detailed in the steps below.
---
REQUIREMENTS FOR ACCESS
You must have an active library account
If you are experiencing difficulties and/or getting error messages when trying to log into your account, please contact us immediately so we can help get it resolved.
---

Step-by-Step Process for Logging into the Catalog with your Library Account
Go to: https://nmt.on.worldcat.org/discovery

This is were you search Skeen's catalog for physical and electronic resources.
You can also get to this page through our main library web page, by using the search button.
You can do a simple search from off campus, but access to any electronic resources require you to sign into your library account to see them. You will be prompted for your login information when you try to open them.

Go to upper right hand corner of the catalog and click "Sign In"

This will take you to a sign in page.

Enter your Banner ID # (your 900# is your username)

Remember that you must have an active account before accessing the catalog and resources. If your account is not active, you will not have access.

Enter your Library account password

If you've not accessed your library account online before, you may need to set your password. If your account is expired, or not active, it will not allow you to set/reset your password or access any resources. If you have issues, please contact us so we can help.

Once signed in, you should be able to see all the ebooks and electronic resources that we have access to. If not, contact us and we'll be happy to help!
---
Access Information and FAQs
Things you can do with your library account - see your checked out items and their due dates, renew your books online, make ILL requests, and more.
Students - your account expires at the end of your currently enrolled semester. You may extend your expiration date once you have registered for the upcoming semester. A Circulation staff member can assist you with this.
When you try to connect to a research database or electronic journal from the library's web page, you will be automatically prompted to log in. Once you log in, you will then be taken directly to the resource you were trying to access.
The EZProxy system allows authorized users to access restricted resources without using additional software or changing the configuration of your computer. When you try to connect to a

research database

or

electronic journal

from the

library's web page, you will be connected to the EZProxy login screen and prompted for your library username (banner id) and

password set by you here. Once you have been validated by the EZProxy system, a "cookie" is sent to your browser as an ongoing indication of your authorization to access these electronic resources. It will only need to be set once during each web browser session.
NMT Joseph R. Skeen Library
801 Leroy Place
Socorro, New Mexico, 87801
575-835-5614
email: nmtlib@nmt.edu