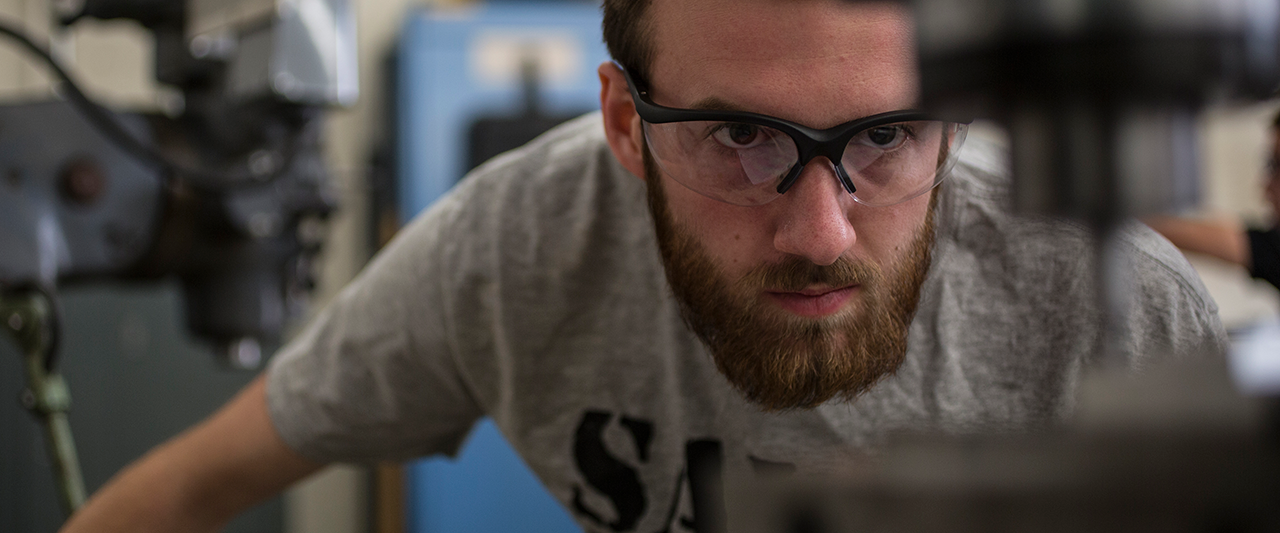 Mechanical Engineering
Undergraduate Programs
BS in Mechanical Engineering
Program Descriptions
Mechanical engineers in industry must be able to interact with many engineering disciplines, so they are required to take courses in other engineering disciplines. Also, because mechanical engineers design and manufacture components and systems, they are required to take courses that emphasize the engineering design/definition process. The mechanical engineering graduate engineer should be well equipped to undertake a professional engineering career in any technology that he or she chooses.
The mechanical engineering program at New Mexico Tech offers the students hands‐on laboratory experience in fluid and thermal sciences, mechanics of materials, vibrations, mechatronics, dynamic systems and controls, instrumentation, and measurement. Junior and senior mechanical engineering students work on design projects for two years that range from the Baja SAE® vehicles to aerospace aircraft design.
Program Outcomes
The Department of Mechanical Engineering at New Mexico Tech will produce Bachelor of Science graduates who are independent thinkers, taking ownership in identifying problems and determining effective solution strategies in a timely manner. Following working experience after graduation, they will:
Be employed successfully in government laboratories, graduate schools, industry, or other areas of the profession.
Have an understanding of the importance of lifelong learning such that they seek personal and professional growth.

Have achieved a noteworthy level of workplace responsibility.
Program Requirements
Minimum credit hours required—135
In addition to the General Education Core Curriculum, the following courses are required:
Engineering Science
ES 111 (3), 201 (3), 216 (3)*, 302 (3), 303 (3), 316 (3), 332 (3), 347 (3), 350 (3)
Mechancal Engineering
MENG 110 (1), MENG 110L (1), MENG 302L (1), 304 (3), 305 (3), 352L (1), 341(3), 381 (2), 382 (2), 405 (2), 405L (1), 421 (3), 431 (2), 431L (1), 441 (3), 451 (3), 481 (3), 482 (3), 483 (2) & 483L (1)
Materials Engineering
MATE 202 & 202L (4)
Mathematics
MATH 231 (4), MATH 335 (3) , MATH 337 (3)
Technical Electives: Three hours from upper‐division courses chosen by the student with the faculty advisor's approval.
Courses used for the degree, including the General Education Core Curriculum, may not be taken on an S/U basis except for two courses in Humanities and/or Social Science.
Mechanical engineering majors must take the Fundamentals in Engineering (FE) exam as a requirement for graduation. Passing this exam is a major step in the process of a aining professional registration. It is strongly recommended that the exam be taken in semester 7, before the graduation semester (semester 8).
* or MENG 216 (3)
(Credit for MATH 103, pre‐calculus, and MATH 104, trigonometry, is not allowed for mechanical engineering students.)
Design Projects
The Mechanical Engineering Department has among the most rigorous design clinics in the nation. Students are required to complete a full year of junior design and a full year of senior design.
Working in teams, students tackle a variety of projects that are sponsored by industry partners, faculty members, national laboratories, and other government agencies.
Minors
New Mexico Tech awards minors for your secondary field of study. While the number of credits required for a minor vary from department to department, a minimum of 18 credit hours is required. Students cannot earn a minor with either the Associate of General Studies or Bachelor of General Studies. You must declare a minor and be assigned a minor advisor prior to completing the coursework for the minor.
Minor in Mechanical Engineering
Minimum credit hours required – 18
The following courses are required:
At least eighteen (18) credit hours of Engineering Science or Mechanical Engineering courses and/or labs beyond those required for major. These courses and labs are subject to the approval of the Mechanical Engineering Minor Advisor.
Minor in Aerospace Engineering
Minimum credit hours required – 18
The following courses are required:
Aerospace Engineering:
AE 311, Aerodynamics I, AE 412, Aerospace Systems, AE Elective
One course from:
AE 313, Orbital Mechanics
AE 414, Aerospace Structures
Two courses from:
AE 313, Orbital Mechanics
AE 318, Experimental Methods in Aerodynamics
AE 318L, Experimental Methods in Aerodynamics Lab
AE 414, Aerospace Structures
AE 415, Aerodynamics II
AE 416, Aircraft Flight Dynamics and Controls
AE 417, Aerospace Propulsion
AE 418, Structural Dynamics in Aerospace Engineering
Minor in Biomedical Engineering
Minimum credit hours required – 19
The following courses are required:
BIOL 111, 111L, General Biology,
BIOL 331, Cell Biology
BIOL 351, Physiology I
BIOL 352, Physiology II
Two courses from:
MATE 351, Introduction to Polymeric Materials
MENG 460, Introduction to Biomedical Engineering
MENG 465, Biorheology
MATE 516, Biomimetic Materials
CHE 473, Polymer Materials Engineering
MENG 576, Biomedical Mechatronics
MENG 486, Special Topics in Biomedical Engineering
Senior Design Project
Students, who are interested in a minor in Biomedical Engineering, will do their Junior/Senior Design Project in the Biomedical Engineering field. This is an opportunity for them to implement their learning in the mechanical engineering and life sciences fields to tackle a particular problem in the biomedical engineering field.
Minor in Explosives Engineering
Minimum credit hours required – 18
The following courses are required:
(EXPL = Explosives Engineering)
EXPL 311/MENG 545, Introduction to Explosives Engineering
EXPL 412/MENG 549, Wave Propagation
EXPL Elective (subject to the approval of the Explosives Engineering Minor Advisor)
One course from:
EXPL 314, Theory and Application of Pyrotechnic
EXPL 413/MENG 513, Impact Dynamics
Two courses from:
EXPL 314, Theory and Application of Pyrotechnic
EXPL 316, Energetic Material Chemistry
EXPL 317, Energetic Material Safety
EXPL 320, Explosives Technology and Applications
EXPL 413/MENG 513, Impact Dynamics
EXPL 414/ChE 475, Explosives Surety
EXPL 415/MENG553, Computer Modeling of Detonations
EXPL 418, Shock Physics and Structural Response to Blast
EXPL 419, Experimental and Diagnostic Techniques