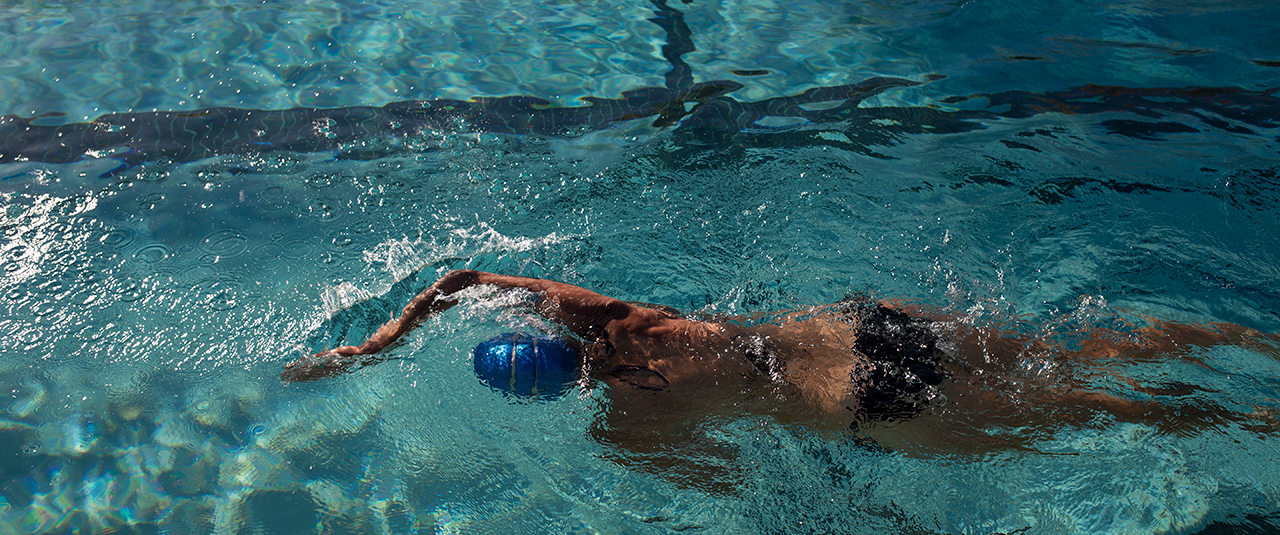 NMT Physical Recreation
Swim Center Policies
Swim Center policies were developed to assist in providing a safe and healthy environment for our patrons and employees.
Patrons disregarding rules and regulations and/or refusing to cooperate with Swim Center Staff are subject to ejection from the facility. Repeat offenders will lose Swim Center privileges.
Etiquette
Lifeguards on duty shall enforce rules at all times.
Lifeguards must be obeyed at all times and under all conditions.
No one shall swim at the pool unless the Swim
Center is open and university-approved lifeguards are on duty.
Patrons must show their swim pass or student ID to the gate guard/lifeguard each time they enter the pool.
Patrons must sign the logbook each time they enter the pool.
Patrons may bring one guest per swim pass. Guest fees are posted in the Swim Center Lobby.
Proper attire must be worn in the pool at all times. Use only swimsuits in the water. T-shirts, tennis shorts, gym shorts, leotards, or cut-offs are prohibited.
Thong swimsuits and g-string bikinis are not permitted at the New Mexico Tech Swim Center.
Shoes are not allowed on the pool deck with the exception of thongs and University employees performing specific jobs.
Profanity, intoxication, improper or vulgar behavior and remarks are prohibited.
No alcohol or drugs are allowed on the premises.
Smoking is not permitted in the facility, patio, or grassy area.
Chewing gum is prohibited in the pool area.
Glass containers are not permitted in the building or pool area. Only non-breakable, spill proof plastic containers are allowed in the facility, patio or grassy area.
We are not responsible for lost or stolen items. Items left at the Swim Center will be held for a maximum of 15 days. After 15 days, items will be subject to disposal.
Classes, teams, clubs, and special groups must wait for their instructor, coach, or leader to be present before entering water.
Child Safety
All children under the age of 10 must be accompanied and supervised at all times by a parent or an adult 18 years of age or older.
Children 10, 11 and 12 years of age may swim without a parent or an adult if their parents have signed a Permission to Swim Alone form.
Flotation devices for small children may be used only in the shallow water and only when parent or adult is in the water and within immediate reach (arm's length) of child. Large rafts are not allowed. Floatation devices are not a substitute for parental supervision.
Health
All persons are required to shower before entering the pool (NM EID Reg. 200 P1).
Persons with severe cuts, open sores, rashes, skin eruptions or known communicable diseases are not allowed in the pool (NM EID Reg. 200 P2).
New Mexico Tech reserves the right to deny pool privileges to persons with an illness or injury or history of the same, which may compromise the health, and/or safety of self and/or others.
Persons with incontinence problems must wear protective undergarment (plastic pants) while in the pool.
Safety
The pool is equipped with a flashing lightning detector and an alarm. When the alarm sounds, all patrons are required to leave the pool facility immediately. When the detector stops flashing, a 20-minute period must pass before the pool is allowed to reopen.
Conduct in the pool area must not jeopardize the safety of self or others.
Horseplay or dangerous behavior such as running, shoving, dunking is not permitted.
Ball play that interferes with other patrons will not be allowed. No hard balls are permitted.
Non-swimmers should remain in shallow water, which is designated with safety lines.
Scuba equipment (except for a mask, snorkel and fins) is not allowed unless used as part of a supervised class.
Diving Board
Do not swim in the diving area or directly under the diving board.
One person on the board at all times.
Please wait to dive until the previous diver has left the water.
Check to see that no one is under or around the board before you dive.
Dive off the front end of the board and away from the board. Swim to the nearest side and exit the water promptly.
One bounce only (for practice or diving).
Hanging on the board is not allowed.
Do not attempt complicated dives without proper training. Inward rotating dives (includes reverse dives) are not permitted.
Diving Etiquette and Safety
Diving is only allowed past the lifeline in the deep end of the pool.
Do not dive in shallow water. Enter shallow water feet first.
Lap Swimming Etiquette and Safety
Lap swimming is for Tech students and persons 18 years of age or older.
Lap swimming times are posted on the pool schedule.
Please be considerate of other swimmers. If you are not swimming laps, please move out of the lap swim lanes.