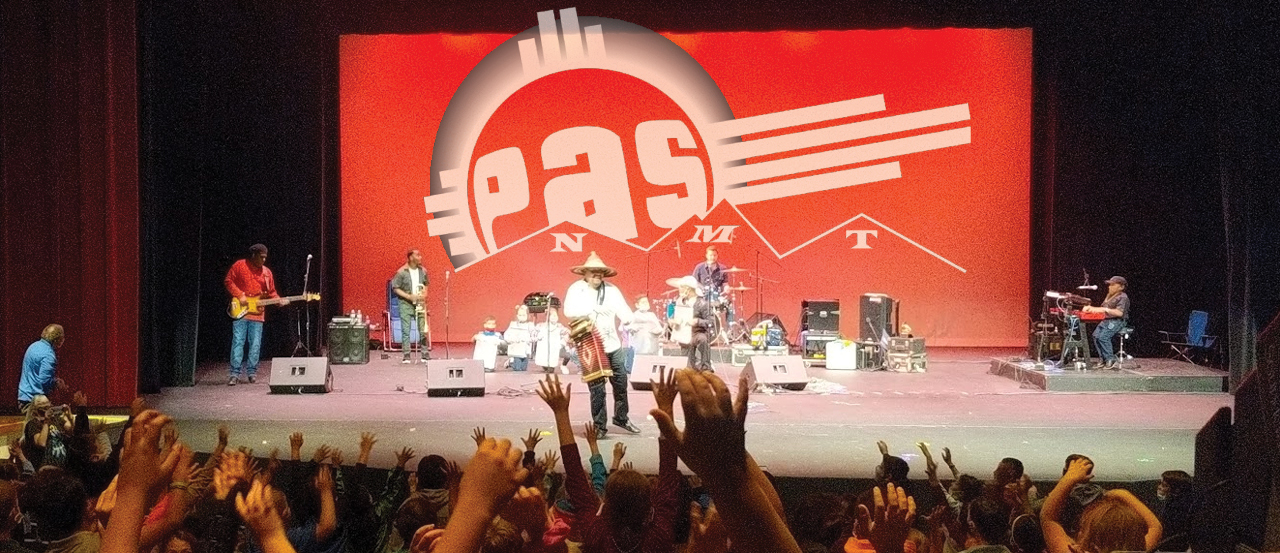 NMT Performing Arts Series
About PAS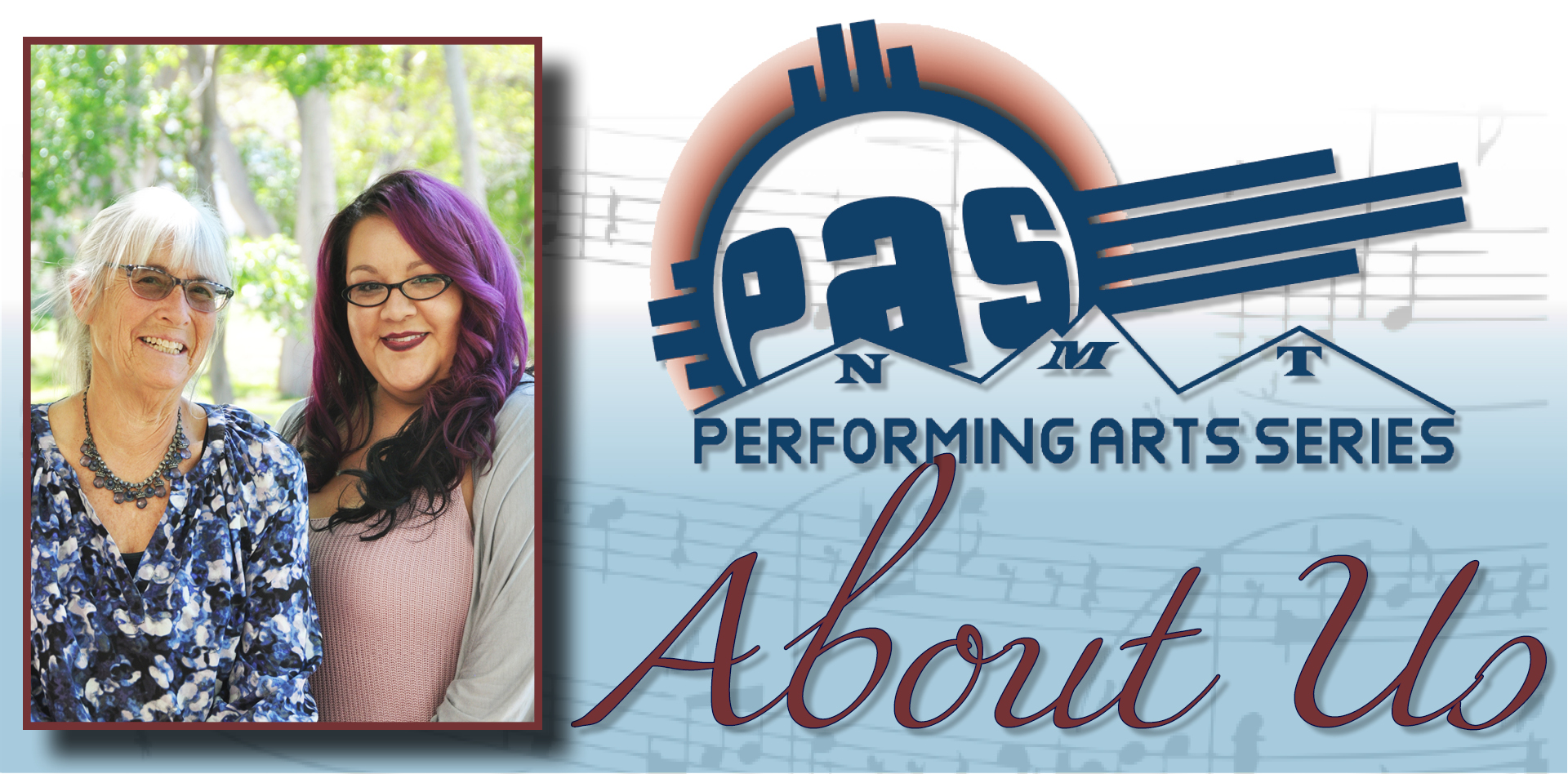 Staff
Director: Ronna Kalish
Coordinator: Dana Chavez

The mission of the New Mexico Tech Performing Arts Series (NMTPAS) is to bring the world of the arts to the families of Socorro County by presenting a variety of quality multicultural performances in popular and classical music, theater, dance, family entertainment, and arts outreach activities, that are affordable and appealing to our diverse community, and to visitors from near and far.
For 2021-2022, PAS is presenting a season of shows and special events live and in-person at Macey Center,, with an audience (you, we hope!), and also online at the NMTPAS Facebook and YouTube pages. We have lowered the price of tickets to $15/Adult; $12/Senior, 65+; $5/Youth, 17<, with a 20% discount to subscribers.
If you choose to watch online, it will be free, but we encourage you to purchase a subscription and/or donate to the Show Tip Jar or PAS during the show, which so many people did this year on the newly designed PAS website: nmt.edu/pas. Subscribers and Donors are credited in online and printed performance programs. Your subscriptions and donations are used to help pay for the rising costs of bringing quality shows and outreach programs to Socorro County. Ticket income covers less than 20% of the cost to present these amazing artists and engaging community arts events. Thanks to all of you who have been so generous, and we urge those of you who have not donated, to join in the support of the arts in Socorro!
This year, we are presenting 12 Season Shows with a mix of in- and out-of-state artists; 3 Presidential Chamber Music Series concerts with all NM artists; 4 Socorro Sessions Music Fests, featuring local and in-state musicians, which usually take place in the Macey Center parking lot; several PAS Social Hours--pre-show themed food-drink-activities happenings, often in collaboration with other NMT and community organizations; and monthly Dana's Painting Parties, where basic techniques are demonstrated while you get to create a fun and timely painting; plus our mainstay outreach programs: The National Dance Institute Residency in the Socorro & Magalena Schools, Youth Concerts, Community Arts Party and continued collaboration with the City of Socorro on the 4th of July Celebration, though it has moved to the City's Rodeo & Sports Arena.
NMTPAS never stopped during this past year's Covid 19 shut-down of in-person theater and arts events. We presented online concerts featuring fantastic in-state and local musicians, hands-on arts projects for families, Dana's Painting Parties, Socorro Sessions Socially Distanced Music Fests, Community Arts Party and NDI residency, again all online, free and accessible. We presented an event almost every single week during the shut-down!
NMTPAS collaborates with the City of Socorro and a wide array of campus and County organizations in support of quality of life on our campus and in our community. Socorro is fortunate to have a beautiful and intimate theater and conference center, Macey Center, with its elegant lobby gallery and full range of conference and special event services supported by a top-notch professional staff. Home to New Mexico Tech, a high ranking science and engineering university, with a variety of nationally recognized research entities, including EMRTC, IRIS-PASSCAL, the New Mexico Bureau of Geology, PRRC, Magdalena Ridge Observatory, plus a world-class Golf Course, Mineral Museum, Etscorn Observatory and an excellent Childcare Center.
Socorro County is a gem in Central New Mexico: home to the National Radio Astronomy Observatory, the Bosque del Apache and Sevilleta National Wildlife Refuges, the Quebradas Back Country Byway, Water Canyon, San Miguel Church, Socorro Community Theater, our new Rodeo and Sports Arena & Convention Center, a vibrant local music scene (which holds Open Mics every Wednesday on Zoom and soon to be in-person at the Capitol Bar, just email pas@nmt.edu and we will get you on the socorromusic.com email list), acclaimed visual artists and galleries, a variety of excellent restaurants for every palate, and a couple historic bars which offer live music: The Capitol Bar & Brewery and the Roadrunner at the Bodega Burger Co. Historic Magdalena is just up Highway 60, with excellent artists, galleries, events, great scenery and an Old West feel.
Socorro County has amazing annual events--some in-person, some online—4th of July Celebration, County Fair, The Great NM Chile Tasteoff, SocorroFest, NM Tech's 49ers Celebration, Enchanted Skies Star Party, OktoberFest, Festival of the Cranes (yes, happening online), Luminaria Arts Crawl & Christmas Electric Light Parade, NM State Science Olympiad and Science Fair, Magdalena's Old Timers Days, and much more.
Participating in arts and events is food for the soul. We appreciate your support of the arts!
Staff
Director: Ronna Kalish
Coordinator: Dana Chavez

Physical Address
New Mexico Tech Performing Arts Series Macey Center 909 Olive Lane Socorro, NM 87801
Mailing Address
New Mexico Tech Performing Arts Series Macey Center 801 Leroy Place Socorro, New Mexico 87801