Scholarship Recipients SPRING 2019
Earl & Bess Douglas ($1,000 each to four recipients)
| | | |
| --- | --- | --- |
| 1- | Danielle Ochoa | $1,000 |
| 2- | Dylan Jetter | $1,000 |
| 3- | Ryan Hurlburt | $1,000 |
| 4- | Colin Frost | $1,000 |
The Capitol Bar/Earl Debrine ($500 each to 2 recipients)
| | | |
| --- | --- | --- |
| 1- | Josue Fernandez | $500 |
| 2- | Valeria Nunez | $500 |
Ken Fagan (
$3,000 to 2 recipients and $2,000 to 2 recipients)
| | | |
| --- | --- | --- |
| 1- | Dylan Jetter | $3,000 |
| 2- | Dillon Mann | $3,000 |
| 3- | Edgard Parra | $2,000 |
| 4- | Colin Frost | $2,000 |
AADE Josh Kamas ($1,000 to 2 recipients)
| | | |
| --- | --- | --- |
| 1- | Carmin Vazquez | $1,000 |
| 2- | Edgard Parra | $1,000 |
---
Recipient of SPE Denver Petroleum Scholarship Award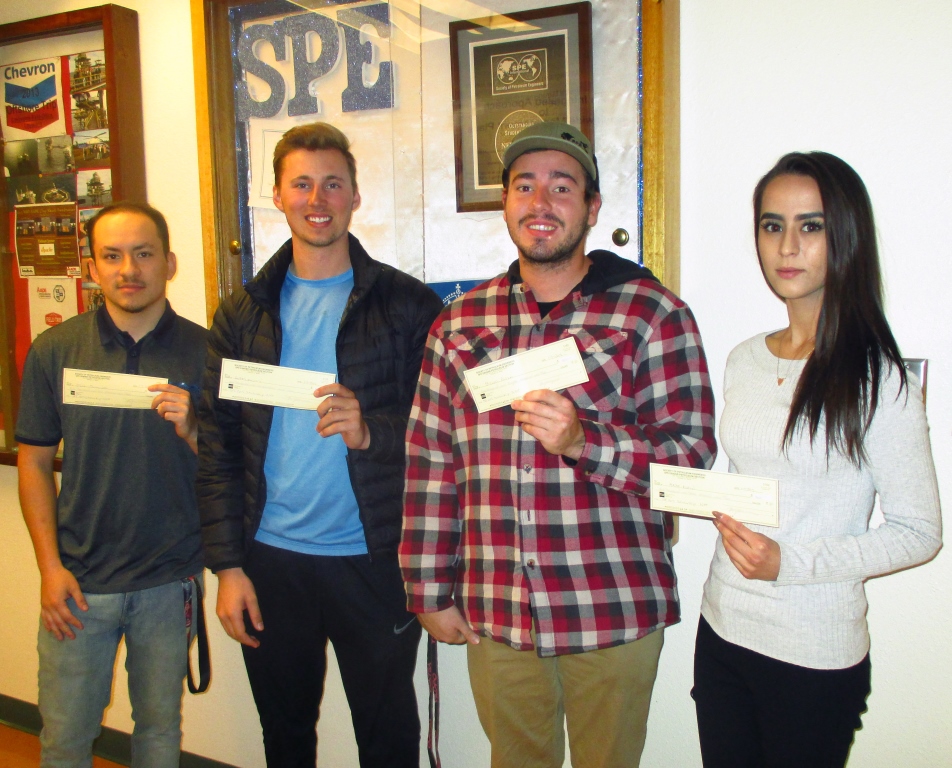 From left to right: Josue Fernandez, Colton Howard, Steven Balbo, and Arzoo Rishad
---
Spring 2019 Scholarships:
For all scholarships, read the instructions carefully to make sure that you are eligible and that you include all required materials. Unless otherwise stated, all materials must be delivered in person to Kim Royle (MSEC 300A) - emailed submissions will not be accepted.
---
SPE Scholarship:
The applications are available online through spe.org. You will need to create a login to apply.