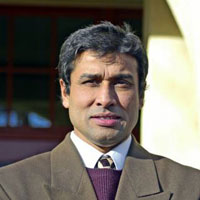 ---
Education
Bachelor of Technology (B. Tech) with Honors, Indian Institute of Technology (IIT),
Kharagpur. 1983 http://www.iitkgp.ac.in/
Master of Science in Structural Engineering, Washington State University, Pullman, Washington 1985
Thesis "Buckling of Cantilever Cylindrical Shells Subjected to Unsymmetrical Lateral Pressure" https://ce.wsu.edu/
Doctor of Philosophy (Ph.D.) in Engineering, Indian Institute of Technology, Kharagpur 1993
Dissertation "Static, Stability and Vibration Analysis of Laminated Composite Plates using Higher Order Shear Deformation Theory with Finite Element Discretization" http://www.iitkgp.ac.in/
Recent Publications
Panda, B.C., Harry, M., and Ghosh, A.K., "Concentration Retention and Enrichment of Ammonia Bicarbonate Draw Solution in Forward Osmosis Desalination", J. of Modern Environmental Science and Engineering, Volume 2, Number 12, December 2016.
Ashok Ghosh, "Acoustic Characteristics of a Multifunctional Composite for Space Application – a Concept that Mimics a Natural Structure", International J. of Aerospace Innovations 2(1): 23-28. April 2010.
K.Ghosh, A.D.Williams, J.M.Zucker, J.L.Mathews and N. Spinhirne, "An Experimental Investigation into the Acoustic Characteristics of Fluid-filled Porous Structures – A Simplified Model of the Human Skull Cancellous Structures", J. of Experimental Mechanics, April 2008.
K.Ghosh, Kerry J. Howe, A.K.Maji, B.C. Letellier, R.C. Jones, "Head Loss Characteristics of a Fibrous Bed in a PWR Chemical Environment", Nuclear Technology, Feb.2007, Vol. 157, No 2 pp. 196-207.
K.Ghosh, A. K. Maji, M. T. Leonard, D.V. Rao, B. Letellier, G. Urgessa and S. Ashbaugh, "Accumulation and Head Loss Characteristics of Selected Pressurized Water Reactor LOCA-Generated Debris", Nuclear Technology, April 2006, Vol. 154, No 1 pp. 69-84.
You can view the full list here: link
Courses Taught
Graduate Level:
MENG 583/ EM 589 Engineering Mechanics of Composite Structures
This course addresses issues related to composite structures, their macro-mechanics to structural design and development. Emphasis is given to development of analytical procedures for determining material properties and prediction of structural behavior. Development of effective experimental methods is also looked into for material characterization, stress analysis, and failure analysis using Maximum Stress criterion and the Tsai-Wu criterion.
Undergraduate level:
MENG 451 : Design of Machine Elements (a capstone class in the Solid Mechanics stream)
The purpose of this class is to integrate course material learnt in Statics (ES 201), Mechanics of Materials (ES 302), Materials Engineering (MATE 202), and Advanced Mechanics of Materials (MENG 304). In addition, there are concepts of "Mathematical Statistics" that needs to be understood before one can design of machine elements properly. Course contents are delivered in a "System's Approach" through the design of a "Gear Box".
ES 316 (Engineering Economics)
The course starts with an introduction of Professional ethics. Followed by topics as: Economic decision‐making for engineering alternatives, Use of simple and compound interest calculations to compare the relative economy of investments and procedures. Application of economic principles such as return on investment, Replacement analysis, Depreciation, Uncertainty, Income Tax, and Economic Analysis of Public Sector are also covered in detail.
Research
Mechanics of Fluid-filled Multifunctional Composites and their Applications in Engineering
Patents and Honors
Patents and Disclosures
Early Diagnostic Kit (EDK) for Covid-19 Related Pneumonia –
Patent pending (Application # 63036044) submitted 2020
Apparatus for Reducing Total Dissolved Solids of a Solution,
US Patent #9,827,533 Issued 2017
Process for Reducing the Total Dissolved Solids of a Solution
US Patent # 9,370,747 Issued 2016
Energy Attenuation Structure
US Patent # 7,947,364 Issued 2011
A Laser Based System for Vibration Analysis
Indian Patent # 209,239 Issued 2007
Layered Insulating Building Blocks (LIBB)
Indian Patent # 203,374 Issued 2007
Honors
Engineer of the Year, 2019 Spring 2019
Society of Professional Engineers, Albuquerque Chapter
https://www.nmt.edu/news/2019/ghosh_awarded_engineer_of_the_year.php
Fulbright Specialist Grant, Goa, India
Birla Institute of Technology and Science (B.I.T.S) Summer 2018
6-week Grant award to teach Entrepreneurship and Engineering Economics
http://www.dchieftain.com/news/professor-helping-build-startups/article_c8da68f8-a0b6-11e8-aba2-ab7fb68ad0ae.html
DOE Visiting Faculty Position, Los Alamos, New Mexico
Los Alamos National Laboratory (LANL)
Summers of 2015, 2016 and 2017
Certifications
Professional Engineer
State of New Mexico 2004-Current
Center for Commercialization and Entrepreneurial Training
Technology Venture Corporation 2012

Industrial Consultanty
As Professional Engineer for Solar Thermal Water Heating System Installation Project at Kirtland Air Force Base Aquatic Training Center, Albuquerque, NM, 2010
Design and Testing (Load and Nondestructive) of Highway Bridges on National Highway 5 – A World Bank Project (PI)
Design and Laboratory Investigation on Embankment using fly ash from an area Power Plant – A World Bank project (PI)
Laboratory Investigation on "Alkali-Aggregate reactivity", - A World Bank project (PI).
Community Development
Project 1: President of New Mexico Solar Energy Association (NMSEA), a Non-Profit
Project 2: Fulbright Specialist program in India during summer of 2018, Funded by US State Department
Project 3: Philadelphia Business Opportunity Compass – Connecting neighborhood minority and immigrant entrepreneurs to the thriving downtown Philadelphia tech entrepreneurial ecosystem (Co-PI). Funded by US State Department
Project 4: Carbon Valley, Wyoming- Enabling Entrepreneurship for a New Carbon World (Co-PI). Funded by US State Department
More information available here: Community Development- AGhosh