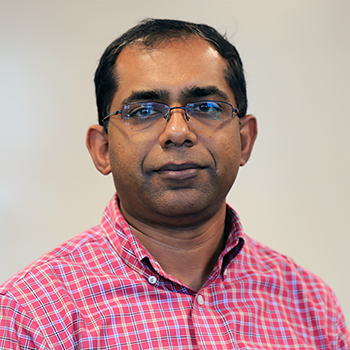 ---
Education
Postdoctoral Researcher, University of New Mexico, 2009
Postdoctoral Researcher, University of Maryland, 2007
Postdoctoral Fellow, California State University-Los Angeles, 2005
Ph.D., Analytical Chemistry, University of New Mexico, 2005
B.Sc., Chemistry, University of Kelaniya, 1997
Research Interests
Dr. Piyasena leads a multidisciplinary research group focused on developing novel bioanalytical and biomedical techniques important for disease diagnosis, pathogen detection, and analysis of bio-molecular interaction. His group is also interested in new instrument development using microfluidic and acoustic techniques. Dr. Piyasena's group has active collaborations with the Center for Biomedical Engineering at the University of New Mexico, and a startup company to build inexpensive microfluidic systems for BioMEMS applications. His research team is also working on promoting science and technology among local middle and high school students.
Group Homepage
http://infohost.nmt.edu/~menake/
Divisions
Recent Publication
Menake E. Piyasena and Steven W. Graves. The intersection of flow cytometry with microfluidics and microfabrication. Lab Chip 2014, 14, 1044-1059.
Kevin W. Cushing, Menake E. Piyasena, Nick J. Carroll, Gian C. Maestas, Beth Ann López, Bruce S. Edwards, Steven W. Graves, and Gabriel P. López. Elastomeric Negative Acoustic Contrast Particles for Affinity Capture Assays. Analytical Chemistry 2013, 85, 2208-2215.
Pearlson P. Austin Suthanthiraraj*, Menake E. Piyasena*, Travis A. Woods*, Mark A. Naivar, Gabriel P. Lopez, and Steven W. Graves. One-dimensional Acoustic Standing Waves in Rectangular Channels for Flow Cytometry. (* equal contribution) Methods 2012, 57, 259-271.
Menake E. Piyasena, Pearlson P. Austin, Robert W. Applegate Jr., Andrew M. Goumas, Travis A. Woods, Gabriel P. Lopez, and Steven W. Graves. Multinode Acoustic Focusing for Parallel Flow Cytometry. Analytical Chemistry 2012, 84, 1831-1839.
Menake E. Piyasena, Robert Newby, Thomas J. Miller, Benjamin Shapiro, and Elisabeth Smela. Nastic Actuators: Electroosmotically Driven Microfluidic Cells. Sensors & Actuators B 2009, 141, 263-269.
Menake E. Piyasena, Lilian J. Real, Rochelle A. Diamond, H. Howard Xu, and Frank A. Gomez. Magnetic Microsphere-based Methods to Study the Interactions of Teicoplanin with Peptides and Bacteria. Anal. Bioanal. Chem. 2008, 392, 877-886