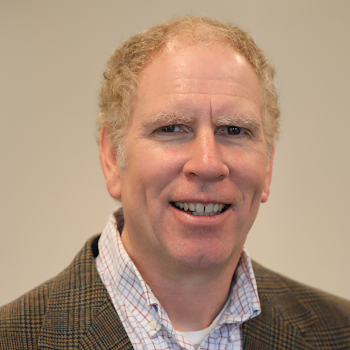 ---
Education
Postdoctoral, Massachusetts Institute of Technology, 1995-1996
Ph.D., Organic Chemistry, University of Southern California 1995
A.B., Chemistry, Franklin & Marshall College, 1990
Research Interests
The research projects in Dr. Heagy's lab involve synthetic organic chemistry as a fundamental technique for new dye synthesis. Theory and photophysics play an important role in this research as the group employs various spectroscopies, i.e. UV-Vis, fluorescence as well as quantum computational studies for the rational design of functional dyes. The applications of this research lead to fluorescent biomarkers, white-organic light emitting devices as well as dye-doped nanocomposites for solar energy conversion.
Group Homepage
http://infohost.nmt.edu/~mheagy/homepage.html
Divisions
Physical and Fundamental Research
Solar Energy and Sustainability
Recent Publication
Hanqing, P.; Chowdhury, S.; Premachandra, D.; Olguin, S; Heagy, M.D. "Semiconductor Photocatalysis of Bicarbonate to Solar Fuels: Formate Production from Copper (I) Oxide" ACS Sustainable Chemistry & Engineering, 2017 Published Dec 6, (As Soon As Published) DOI: 10.1021/acssuschemeng. 7b03244.
Bao, L.; Zou, Y.; Kirk, A.; Heagy, M.D. "Electronic and Electroluminescent OLED Features of Panchromatic Emissive N-Aryl-2,3-Naphthalimides" J. Phys. Chem. A. 2017, 121, 9708-9719.
Meka, R.; Heagy, M.D. "Selective Modulation of ICT and PET Processes in N-Aryl-1,8-Naphthalimide Derivatives: Applications in Reaction Based Fluorogenic Sensing of Sulfide" J. Org. Chem. 2017, 82, 12153-12161.
Pan, H.; Steiniger A.; Heagy, M.D.; Chowdhury, S. "Efficient production of formic acid by simultaneous photoreduction of bicarbonate and oxidation of glycerol on gold-TiO2 composite under solar light" J. CO2 Utilization, 2017, 22C, 117-123.
Bao, L.; Heagy, M.D. "The Quest for Picture Perfect Dyes in the Next Generation of Single Layer WOLED Displays: A Review of Single Chromophore White Light Emitters" Current Organic Chemistry, 2014, 18, 740-772.
Nandhikonda, P.; Heagy, M.D. "An Abiotic Fluorescent Probe for Cardiac Troponin I" J. Am. Chem. Soc., 133, 14972-14974, 2011.
Cao, Z,; Nandhikonda, P.; Penuela, A.; Nance, S.; Heagy, M.D. "N-Aryl Arenedicarboximides as Tunable Panchromatic Dyes for Molecular Solar Cells" Int. J. Photoenergy, vol. 2010, Article ID 264643, 7 pages, 2010.
Nandhikonda, P.; Heagy, M.D. "Dual fluorescent N-Aryl- 2,3- Naphthalimides: Applications in Ratiometric DNA Detection and White Organic Light-Emitting Devices" Org. Lett. 2010, 12, 4796-4799.
Nandhikonda, P.; Heagy, M.D. "An Organic White Light-Emitting Dye: Very Small Molecular Architecture Displays Panchromatic Emission" Chem. Comm. 2010, 8002-8004.
Nandhikonda, P.; Begaye, M.P.; Cao, Z,; Heagy, M.D. "Frontier molecular orbital analysis of dual fluorescent dyes: Predicting two-color emission in N-aryl-1,8 naphthalimides" Org. Biomol. Chem. 2010, 195-3201.