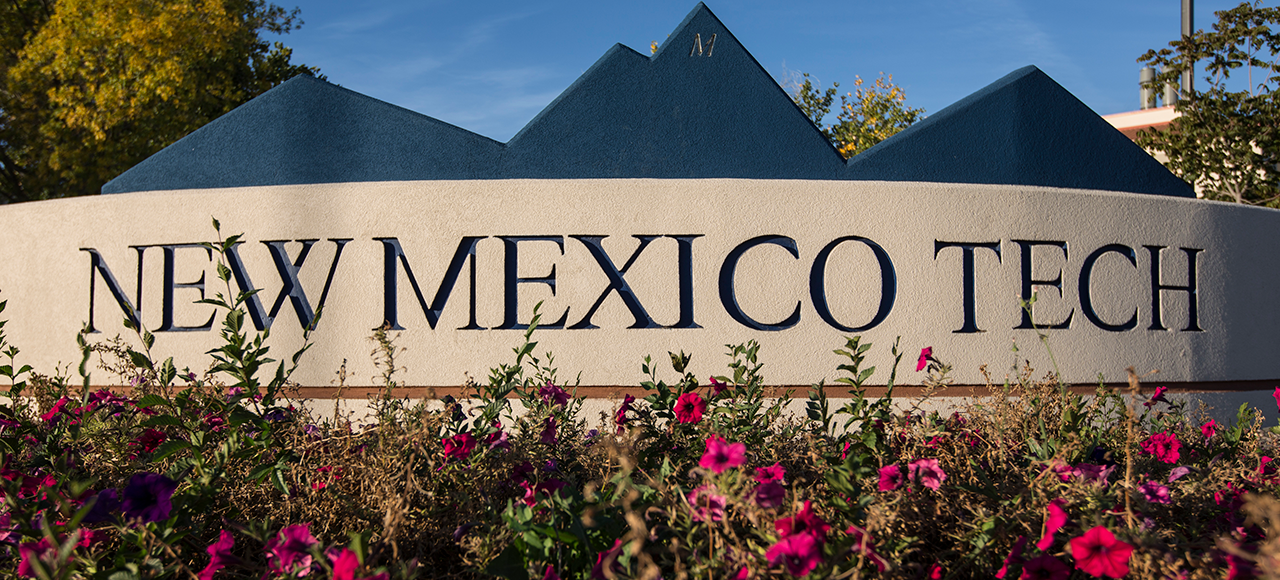 Department of Business and Technology Management
Tech's Advantage
Why should I major in Management at New Mexico Tech?
More and more, industry is looking for versatile employees, those whose education spans more than one discipline. Today's high-tech companies need business people who understand not only business applications, but also science and engineering. A degree in Management from New Mexico Tech can be your ticket to a challenging career–a career with the potential of advancing to management–in a leading business firm or non-profit organization.
The ability to adapt to change is one of the most sought after skills in today's economy. Our goal is for you to develop the skills you need to continue to learn–enhancing your ability to tackle problems throughout your career. Thus, in addition to business courses, you'll learn problem-solving skills, which will give you a competitive advantage in the job market. You'll also receive a rigorous grounding in mathematics and the physical sciences, to give you a deeper understanding of today's high-tech business problems.
How does New Mexico Tech's Management program differ from others?
New Mexico Tech's Management program offers specifically a bachelor of science degree in Management. This means that you get a strong background in general science as well as in regular business courses. A basic knowledge of science better equips you to understand business decisions made in today's complex, highly technical commercial and academic environments. With a technical background, you can better understand the practical application of technology and its impact upon various aspects of business services and products. You will more easily interact with technical and non-technical administrative personnel.
New Mexico Tech emphasizes quality teaching and research. We strive to maintain an atmosphere which is beneficial to both students and faculty. Tech has a low student-to-faculty ratio, and faculty members are very accessible to students for help with course work, as well as with independent or group research projects which students are encouraged to undertake. And because you will work closely with Tech's business professors, you can tap into their experience in the corporate world.
Advantages
Our degree is multidisciplinary (covers economics, accounting, administration, business computing systems)
Tech professors are very approachable and class size is small
Opportunities to add extensive work experience (including internships with major Fortune 500 companies)
Science and engineering programs that are recognized nation-wide complement the Management programs
Students have to work extraordinarily hard, but receive an extraordinary benefit in return.
Graduates become responsible leaders of change
Graduates have major corporations bid over them and end up working for very high salaries
What kind of job opportunities are available to me if I major in management at New Mexico Tech?
Your Management degree, along with a strong background in science, will give you varied skills to offer technical and non-technical organizations. As a New Mexico Tech graduate, you have excellent initial prospects and career mobility because of your ability to work within the technical or economic components of a business firm or government agency.
What will I study as a Management major?
Because this is a bachelor of science degree, you will take the same courses that are required of all New Mexico Tech students, namely calculus, basic physics and chemistry, and English prose. Added to this foundation are courses in accounting, finance, management, marketing, computer-based business information systems, economics, operations research, business law, and statistics. The program includes courses in psychology and the humanities, as well as electives.
Tech's Management program offers two career emphases for you to choose from. The management career emphasis prepares students for the fields of human resources management, labor relations, or general management. The career emphasis in management of technology enables students to integrate management, engineering, and science disciplines in order to address management of technology issues, including natural resource and environmental management problems.
Can I get practical experience in my Management coursework?
Yes! When you are a senior, you can take independent study courses and seminars in which you will work individually on business projects of your choice under the direction of a professor. The research emphasis at New Mexico Tech also provides you with possible employment opportunities in our offices that handle accounting, contract administration, and management in a research and development environment. Currently, plans are being made for a computer laboratory for the exclusive use of management students and faculty. Summer internships and cooperative education opportunities with major regional firms and nonprofit organizations are also available.
How do I prepare for majoring in management at New Mexico Tech?
An applicant for admission to New Mexico Tech must have taken at least the following high school courses (one unit 1 year of study):
English–4 units, with at least one unit in composition at the junior or senior level
Science–2 units with laboratories, chosen from among biology, chemistry, physics, and earth sciences
Mathematics–3 units, chosen from Algebra I, Algebra II, geometry, trigonometry, and higher mathematics
Social Science–3 units, one of which must be history
Foreign language–1 unit
For requirements for entering freshman, please visit the Admission Requirements Page. These requirements are required for the University and Management Department. We encourage students interested in business to take electives / additional coursework (and have interest in some/if not all of the following) in: science, engineering, mathematics, computer science, law/legal, information technology, business, finance, accounting, economics, & management. Also check out the main Undergraduate page.
When do I apply for admission to New Mexico Tech?
Since the priority deadline for applying for scholarships and financial aid is March 1, the best time to apply for admission is the fall semester a year before you would like to enter Tech. However, we accept applications until August 1 of the year you begin.