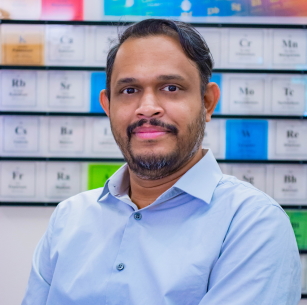 Ujith Madduma Bandarage, PhD
575 - 835 - 5007
López Hall 221
---
Education
Ph.D., Chemistry, Oklahoma State University, 2018
B.Sc., Chemistry, University of Kelaniya, 2011
Research Interests
Developing materials for potential applications in sensing and drug delivery.
Research Divisions
Solar Energy and Sustainability
Recent Publications
U.S.K. Madduma-Bandarage, H.G. Jayasinghe, S.V. Madihally, Chapter 1 - Chitosan: structure, properties, preparation, characterization, modifications, and importance in environmental cleanup, in: D.S. Kumar, S.V. Madihally (Eds.), Role of Chitosan and Chitosan-Based Nanomaterials in Plant Sciences, Academic Press, 2022, pp. 1-31.
U.S.K. Madduma-Bandarage, S.V. Madihally, Synthetic hydrogels: Synthesis, novel trends, and applications, Journal of Applied Polymer Science, 2021, 138(19), 50376.
T.J. Athauda, U.S.K. Madduma-Bandarage, Y. Vasquez, Integration of ZnO/ZnS nanostructured materials into a cotton fabric platform, RSC Advances, 2014, 4 (106), 61327-61332.