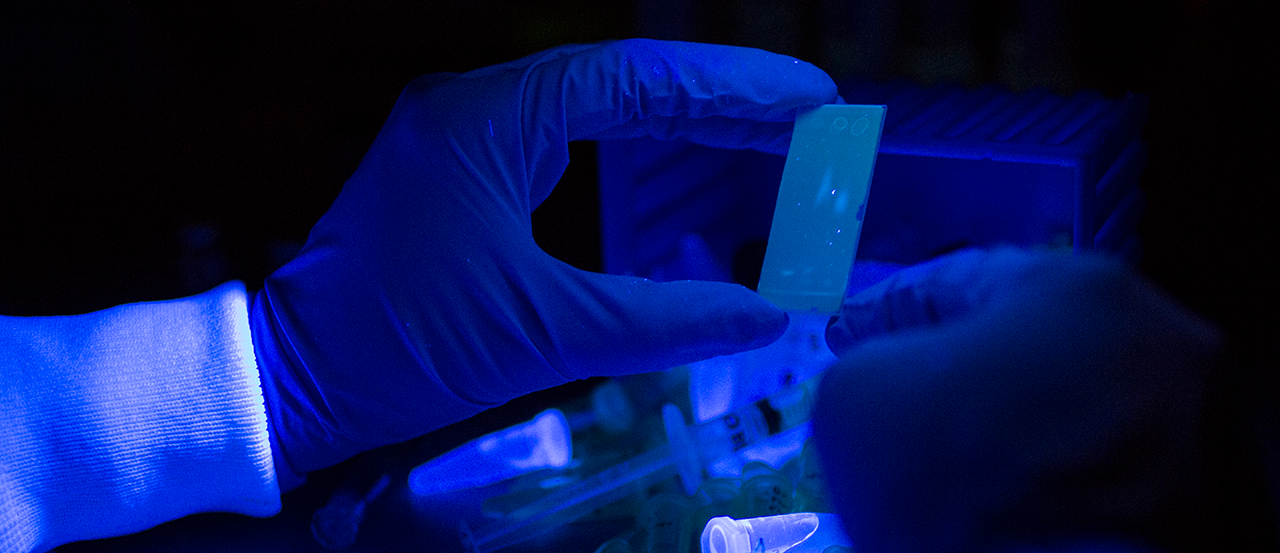 New Mexico Tech
Biotechnology Program
This PhD program prepares students at the highest level for careers in research, development, and practical applications of the tools of biotechnology (e.g., biomolecular, biochemical, biomedical, and bioengineering approaches).
Biotechnology has huge potential for solving societal problems and for the biotechnological workforce and bioentrepreneurship. Participating departments (Biology, Chemistry, Psychology, Computer Science, Mathematics, Earth and Environmental Science, Engineering Management, and Chemical, Mechanical, Materials, and Environmental Engineering) provide students with foundations across many disciplines to create new concepts, theories, methods, principles, and translations to advance this new discipline.
PhD in Biotechnology
Program Description
The prospective doctoral candidate in Biotechnology should develop a good background in biology, chemistry, and mathematics plus at least one of the following: computer science, mechanical engineering, chemical engineering, or materials engineering. Additionally, students should achieve a high level of competence in the field of specialization defined by their dissertation research. Additional information is found in the Graduate Program section of the catalog.
Research fields appropriate for the biotechnology candidate include bioengineering, molecular biology, microbiology, tissue engineering, pathogen detection, drug discovery, drug delivery, medical instrument development, neuroscience, and biochemistry. Interdisciplinary projects are strongly encouraged.
If you have any questions or want more information, contact Dr. Thomas Kieft, the program coordinator.
To download and view the Biotechnology brochure, click here.
To view a recent PowerPoint presentation on the program, click here.
Admissions Requirements
Completion of a bachelor's degree in a relevant field (e.g. biology, biotechnology, chemistry, biochemistry, bioengineering, biophysics, computer science with a biology minor, etc.) or the expectation of completing such a degree before the beginning of the first semester of graduate study.
Students are expected to have competencies in math, chemistry, and physics equivalent to those required for completion of a BS degree at New Mexico Tech. Students who are deficient in one or more of these areas will be required by their advisory committee to complete undergraduate coursework in the area(s) of deficiency.
Students should have an academic record that indicates a good potential for success in a doctoral program. An undergraduate GPA of 3.0 or higher is used as a general guideline in New Mexico Tech's Graduate School.
Program Requirements
Up to 30 credit hours from an appropriate master's degree, excluding thesis and S/U courses, may be included.
(Students are normally expected to take BIOL 501 each semester that they are in residence on the New Mexico Tech campus).
48 hours of coursework approved by the student's advisory committee, to include:
Core Biotechnology courses:
BIOT 502 Molecular Biotechnology
BIOT 503 Biochemical Technology
BIOT 504 Biophysical Technology
BIOT 505 Biomechanical Technology
12 hours of upper‐division or graduate‐level coursework outside the Biology Department.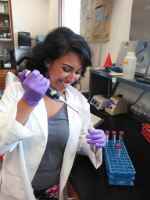 Dissertation (24 credit hours): BIOT 595
Qualifying Examination
Core competency in two or more academic disciplines relevant to biotechnology must be demonstrated. The qualifying exam will also assess a student's ability to rationally approach novel problems and apply engineering and analytical tools.
The student will take written exams in two topic areas as selected by the student with approval of the academic advisor.
Exam Topic Areas:
Molecular Biology
Bioinformatics
Microbiology
Biochemistry
Biophysics
Biomechanical engineering
Biomaterials
Biomathematical modeling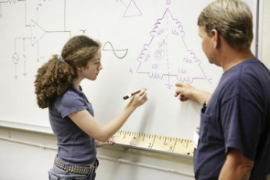 A topic from one other academic area related to the interdisciplinary Biotechnology Program can be selected with approval from the Biotechnology Advisory Panel.
The exam questions will be written and graded by faculty members with expertise in each of these disciplines. Results of these exams will be used to evaluate the student's knowledge of core topics at the undergraduate level and their ability to
a) apply advanced knowledge of mathematics, science, and engineering
b) identify, formulate, and solve problems.
The exam will be just before the start of each semester. The exam must be first taken before the beginning of the 3rd semester and is subject to the following:
Students must take exams from two selected topics at the first exam attempt.
A student who does not pass a topic exam may retake that topic exam (or another topic exam with advisor approval) at the next offering, i.e., before the beginning of the next semester; they do not need to retake exams that they have passed.
A student who has not passed exams in two topics by the completion of their second exam attempt (beginning of the 4th semester) does not advance, and will leave the program. The student may be able to pursue an MS in an appropriate NMT program subject to those degree requirements.
Biotechnology Courses
BIOT 502
Molecular Biotechnology
3 credits
3 class hours
A lecture‐supported, laboratory‐based course on molecular biotechnology of microbial and mammalian systems. Used in prokaryotic and mammalian molecular biotechnology. Recombinant DNA methodologies (DNA/RNA isolation and manipulation, restriction mapping, cloning, PCR, site‐directed mutagenesis, DNA sequencing, Crispr/CAS editing combined with classical biochemical protein (SDS‐PAGE protein gels, ELISA, Western blotting, enzyme assay) techniques.
BIOT 503
Biochemical Technology
3 credits
3 class hours
After an introduction to basic biochemistry and cell biology this course covers biotechnology routes to foods, drugs, polymers and fuels. Fermentation reactions with immobilized enzymes, bacteria, fungi, plants and animal cells are covered; also separation and purification. Offered mostly online with occasional in person classes.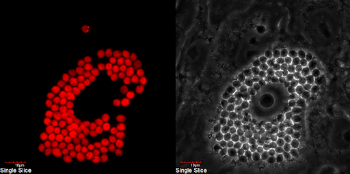 Confocal laser microscopy of Trypanosoma cruzi (agenty of Chaga's disease in Latin America) - Development of chemotheraputic agents by Danielle Turner, Biology department, NMT
BIOT 504
Biophysical Technology
3 credits
3 class hours
Covers biomedical materials and devices including properties of hard and soft tissue, orthopedic implants, cardiovascular devices, skin, cartilage and tendon, eye and ear implants, neural prosthetics, cyto‐ and biocompatibility. Offered as an online course with occasional meetings.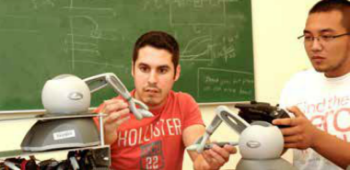 BIOT 505
Biomechanical Technology
3 credits
3 class hours
The mechanical functionality of the human body. Covers mechanics of cells, fluid mechanics of blood, respiration and lymph, muscle, bone, and joints, gait analysis, exercise, injury and orthopedic fixtures, eyes and ears.
BIOT 509
Cell and Molecular Neuroscience
3 credits
3 class hours
A study of the molecular and cellular basis of the nervous system, covering fundamentals of cell biology, principles of neuronal signaling and neuronal courses, and cell and molecular approaches to the investigation, diagnosis and treatment of the disease of the nervous system. Application of emerging technologies. Shares lecture with BIOL 409 & PSY 409 with additional expectations for graduate credit. (Same as BIOL 509.)
BIOT 510
Behavioral Neuroscience
3 credits
3 class hours
Study of the neural bases of behavior, including functional neuroanatomy of sensory and motor system, and clinical correlates of neurological abnormalities. Behavioral neuroscience plus directed review and discussion of current research in application of biotechnology in the neurosciences.
BIOT 531
Experimental Cell Biology
3 credits
3 class hours
Prerequisite: BIOL 331, BIOL 333, BIOL 333L
This advanced course explores in detail the methodological tools of experimental cell biology. These include prokaryotic and eukaryotic cell culture, cloning and gene transfections, biochemical studies of signaling pathways, membrane behavior and analysis of change in gene expression; (SEM, TEM, fluorescence , confocal) microscopy, electrophoresis, fractionation, microbiological assays (MIC/MBC) transgenic animals, pre-clinical studies for drug development as well as finding and interpreting methodologies available in the literature and other resources.
BIOT 531L
Experimental Cell Biology Lab
1 credit
3 lab hours
Lab component of BIOT 351 lecture.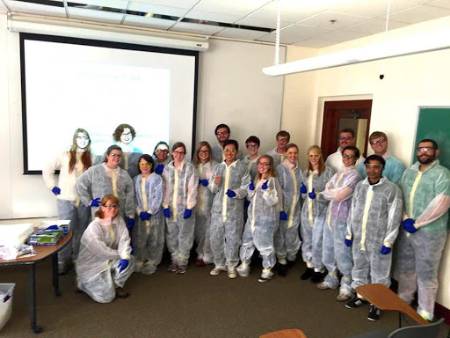 BIOT 535
Bioinformatics
3 credits
3 class hours
Prerequisite: BIOL 311 or consent of instructor
Computer analysis of biological sequence data used to perform in silico experiments. Students will design and perform experiments using public domain software and databases. Shares lecture with BIOL 435 with additional expectations for graduate credit. (Same as BIOL 535.)
BIOT 541
Applied Microbiology
3 credits
3 class hours
Prerequisite: BIOL 341 or BIOL 343, graduate standing or consent of instructor
Principles of applied and industrial microbiology and microbial technology. Application of microbes in various products and processes, biofermentors and scale‐up of microbial culturing, molecular engineering of microbes, bioenergy.
BIOT 576
Drug Delivery
3 credits
3 class hours
Focus is on current development in drug delivery techniques, with only a brief discussion of common clinical techniques. The first portion of the class focuses on various delivery mechanisms and the tools needed to validate successful targeted drug delivery (both in vitro, in vivo and diagnostic tools). The second part of the course focuses on current developments in drug delivery based on published research articles. Students will read, digest, and critically analyze scientific work from leading research laboratories. Students will also gain valuable communication tools, as each student will present an article of interest to the class. Finally, the third part of the course focuses on important materials characterization methods such as biological sample prep, SEM, TEM, DSC, flow Cytometry, Fluorescence Microscopy, ELISA Assays. Same as MATE 576. Shares lecture with ChE 476 with additional expectations for graduate credit.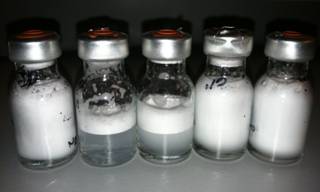 Drug Delivery via micro-bubbles by Dr. Michaelann Tartis and Students, Chemical Engineering Department, NMT

BIOT 578
Principles of Drug Design
3 credits
3 class hours
Principles in Drug Design course provides an overview of the multilayered and multidisciplinary processes involved in starting from a druggable‐problem and ending with a novel clinically‐used drug. This includes molecular or phenotypic target identification, compound design (including computational, combinatorial chemistry and structure‐based drug design methods), drug synthesis, development of model assays, discovery of a lead, optimization of the lead, identification of mode of action, kinetics of molecular targeting, pro-drug design and drug development from this in vitro analysis via preclinical studies to clinical studies and introduction of new drugs into clinical practice. Regulations pertaining to each of these steps will be discussed.
BIOT 580
Entrepreneurial Biotechnology
3 credits
3 class hours
Rules and regulations governing product development and post‐approval marketing from medical devices and pharmaceuticals. From cGMP compliance to federal regulations. Introduction of students to the creation of a company; from pitching a concept and securing funding as a venture capital investment. Current research and industrial trends in the evolution of a biotechnological idea to a biotech venture. Strategic and tactical approaches for marketing of biotechnological products and services.
BIOT 595
Dissertation
Credits to be arranged
Prerequisites: Successful completion of PhD candidacy exam and Academic Advisor recommendation for candidacy.
Learning Outcomes
Students in the Biotechnology Ph.D. Program will develop the following skills and competencies:
critical thinking
problem solving
communication (written and oral)
breadth of knowledge, ability to function well in an interdisciplinary, multi-disciplinary enterprise
depth of knowledge in one or more areas of research
knowledge and hands-on skills in a broad range of laboratory and computational techniques and use of a wide range of scientific instruments
conceptual ability to design and technical ability to implement a complex science-and engineering-spanning research project
understanding the entrepreneurial mindset, including intellectual property laws, biotechnology commercialization and marketing approaches
appreciation of ethical issues and potential consequences associated with biotechnology