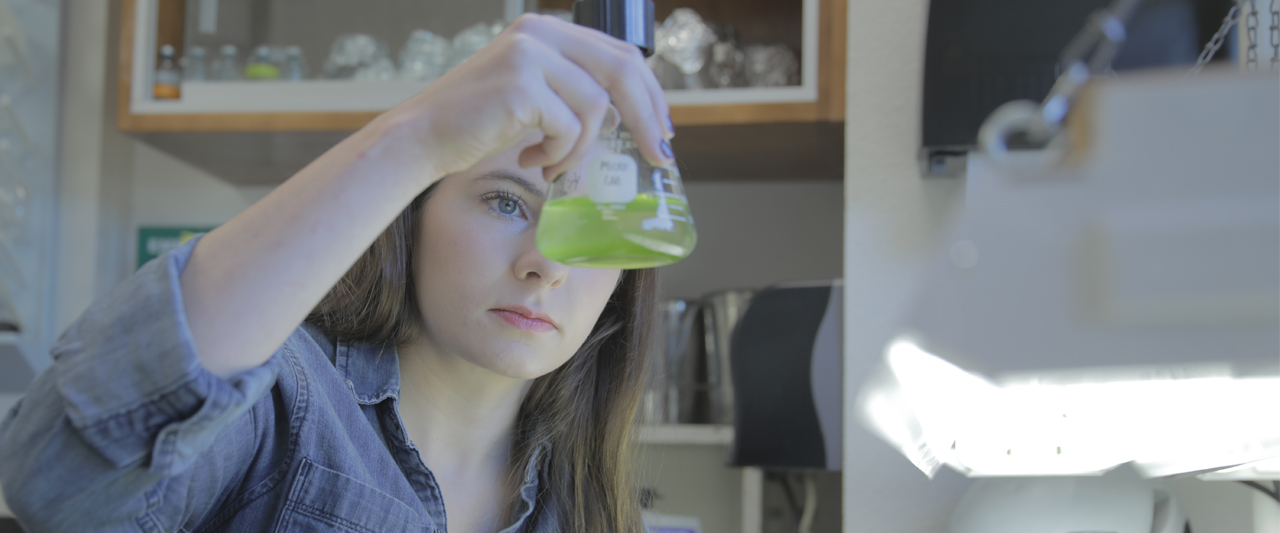 New Mexico Tech
Department of Biology
The Biology Department offers cutting-edge research opportunities in high-tech laboratories. Students engage in research projects in molecular biology, microbiology, ecology, cell biology, and physiology. NMT biology graduates are also well-prepared for medical, dental, and veterinary school.
Scroll down for department seminars and events.
Biology Department News
♦ Newly graduated Masters Student Bridie Alexander-Lawrie also has her first paper published - "Inhertance through the cytoplasm" in Heredity. Read it here!
https://doi.org/10.1038/s41437-022-00540-2
♦ Asst Professor Joel Sharbrough awarded prestigious NSF CAREER Award!
♦ The Biology Department is excited to announce that New Mexico Tech will be the first college in New Mexico to join over 200 other colleges in over 40 states as part of the SEA-PHAGES program which is part of the Howard Hughes Medical Institute Science Education Alliance (HHMI-SEA). The first group of students will be freshman from the Biology and Biomedical Sciences programs. During this year-long course, students will hunt down, capture, and characterize viruses that infect bacteria (called "bacteriophages") from the environment. Each student has the opportunity to name their novel phage, and contribute a sample to the national data bank at the University of Pittsburgh. The class as a whole will select one phage that will have its DNA sequenced, and in the second semester, this sequence will be fully analyzed and annotated by the class. Phages discovered by undergraduate students through this program have been used to treat patients suffering from multi-drug resistant bacterial infections (see this link). While only a few students are able to participate in this pilot course, the Biology Department plans to expand enrollment next year as part of our mission to increase opportunities for students to participate in authentic research experiences.
Click here for a list of scholarships for women
Biology Department Events Fall 2021 / Spring 2022
Spring 2022 Monday seminars are combined with Graduate Seminar and will be from Noon to 12:50 pm Mountain Time in Jones-Annex 101 unless otherwise noted. Speakers may be in person or remote.
10/4/2021 Seminar, Robert "Bob" McLean, PhD 3:40-4:30 pm MSEC 105
10/11/2021 Seminar, Michael A Bauer, PhD 3:40-4:30 pm MSEC 105
10/18/2021 Seminar, Jesus Valenzuela, PhD 3:40-4:30 pm MSEC 105
10/19/2021 MS Defense, Betty Fish 5:00 pm Zoom
11/1/2021 Bradley Stevens, St. Jude 3:40-4:30 pm
11/8/2021 Seminar, Sidra Hussain, PhD 3:40-4:30 pm
11/15/2021 Seminar, Mendi Marquez 3:40-4:30 pm MSEC 105
11/29/2021 Seminar, Nicole Pietrasiak , PhD 3:40-4:30 pm
1/24/2022 Seminar, Maxwell Baymiller 12:00-12:50 pm Jones-Annex 101
1/31/2022 MS Progress Updates, Bridie Alexander-Lawrie & Joe Couls
2/14/2022 MS Progress Updates, Raymond Castillo & Casia Esparza
2/21/2022 MS Progress Updates, Ankita Schwarting & Cameron Steffensen
Ankita Schwarting "Determining the Acute Effects of Melatonin on Reproductive Cancers". Cameron Steffensen " Mitochondrial function in sexual vs. asexual lineages of Potamopyrgus antipodarum "
2/28/2022 MS Progress Updates, Hannah Lambertson & Kasandra Velarde
3/7/2022 MS Progress Updates, Marina Hein & Catherine Batchelder
3/14/2022 Spring Break - No Seminar
3/21/2022 Seminar Dr. Kurt Williamson
3/28/2022 Seminar Dr. Indranil Malik
4/4/2022 Seminar Dr. Phil Nelson
4/8/2022 MS Thesis Defense, Kasandra Velarde 2:00 pm, MSEC 105
4/11/2022 Seminar Dr. Benjamin Sullivan
4/18/2022 Seminar Dr. Karen Barnard-Kubow
4/25/2022 Seminar Dr. Katie Hossler
5/9/2022 MS Thesis Defense - Catherine Batchelder Noon, MSEC 105
5/10/2022 MS Thesis Defense - Bridie Alexander-Lawrie 9 am, MSEC 105
5/20/2022 MS Thesid Defense - Ankita Schwarting 1 pm, MSEC 105
Click for printable pdf directions to the Biology Department