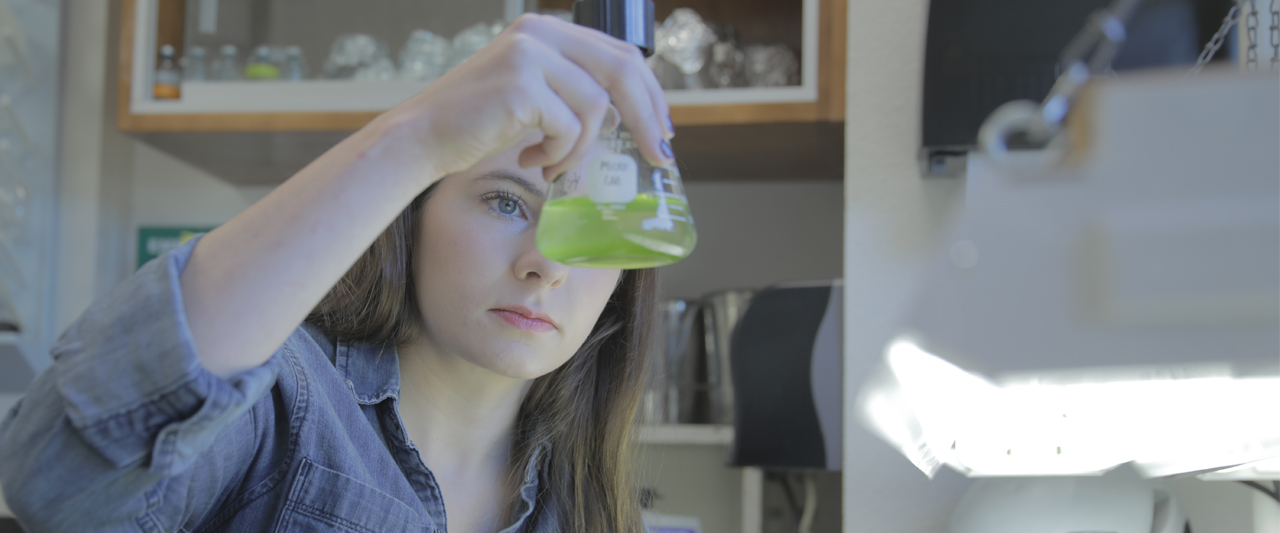 New Mexico Tech
Department of Biology
The Biology Department offers cutting-edge research opportunities in high-tech laboratories. Students engage in research projects in molecular biology, microbiology, ecology, cell biology, and physiology. NMT biology graduates are also well-prepared for medical, dental, and veterinary school. Click Here for Spring 2021 Course Offerings!
Scroll down for department seminars and events.
Biology Department News
BMS graduate Wayne Vigil, Jr, now at UC-Riverside has published his first paper "Spectral deconvolution of redox species in the crotonyl-CoA-dependent NADH:ferredoxin oxidoreductase from Megasphaera elsdenii. A flavin-dependent bifurcating enzyme" in the Archives of Biochemistry and Biophysics https://doi.org/10.1016/j.abb.2021.108793
Congratulations to graduate students Marina Hein and Katie McLain for seeking out funding opportunities and being awarded a grant from the Native Plant Society ofNew Mexico to further their research.
We are proud to announce that new Biology Accelerated MS student Catherine Batchelder is the recipient of a Macey Scholarship for 2020-2021!
Click here for a list of scholarships for women
Biology Department Events Fall 2020 / Spring 2021
Seminars and Defenses are expected to all be via Zoom for Fall 2020. Monday events will be from 3:40 pm to 4:30 pm Mountain Time unless otherwise noted.
Email the Admin for a link or invitation at Biology.Dept@npe.nmt.edu the week before.
9/7/2020 No Seminar Labor Day
10/5/2020 Seminar, R. Taylor Raborn, PhD 3:40-4:30 pm Zoom
10/12/2020 Seminar, Robert T. Todd, PhD 3:40-4:30 Zoom
10/19/2020 Seminar, Serita Frey, PhD 3:40-4:30 Zoom
11/2/2020 Seminar, Maggie C. Y. Lau, PhD 3:40-4:30 pm Zoom
11/9/2020 Seminar, Omera Matoo, PhD 3:40-4:30 pm Zoom
11/16/2020 Seminar, Lindsay Snyder, PhD 3:40-4:30 pm Zoom
11/23/2020 No Seminar Thanksgiving Break
11/30/2020 Seminar, Susan Amundsen, PhD 3:40-4:30 pm Zoom
12/7/2020 No Seminar Finals
12/11/2020 MS Defense, Angelica Cave 1:00 pm Zoom
1/25/2021 Seminar, Dick Greene, PhD 3:40 pm - 4:30 pm Zoom
02/02/2021 NMT Peace Corps 4 pm Zoom
02/15/2021 Seminar Seth Daly, PhD 3:40 pm - 4:30 pm Zoom
02/22/2021 COVID-19 Vaccine Information Panel 3:40 pm - 5:00 pm Zoom
03/01/2021 Seminar Giovanni Luchetti, PhD 3:40 pm - 4:30 pm Zoom
03/08/2021 Seminar William A. Petri, PhD 3:40 pm - 4:30 pm Zoom
03/15/2021 Seminar Brian Kvitko, PhD 3:40pm - 4:30pm Zoom
4/5/2021 Seminar Clemencia Rojas, PhD 3:40pm - 4:30pm Zoom
4/9/2021 MS Thesis Defense Primal Silva 2:00 - 3:00pm Zoom
4/12/2021 Seminar Patrick Collins, PhD 3:40pm - 4:30pm Zoom
4/26/2021 Seminar Marta Tomaszkiewicz, PhD
Click for printable pdf directions to the Biology Department