Top Student Awards Announced At Commencement
May 18, 2020
---
Three undergraduates and two graduate students received the top annual scholastic awards
SOCORRO, N.M. – New Mexico Tech blazed new territory Saturday, May 16, with a commencement ceremony that was completely online.
The top five student award winners were introduced from the Class of 2020, which has 387 members. The ceremony featured keynote speaker Dr. France Cordova, past director of the National Science Foundation. The pre-recorded event proceeded without a hitch and was viewed online by hundreds of students, faculty, staff, alumni, and family members.
The top undergraduate award is the Brown Award, named in honor of Mr. C. T. Brown, who was for many years a member of the Tech Board of Regents. It is presented to the member of the graduating class who, in the opinion of the Faculty, ranks highest in scholarship, conduct, and leadership. The award consists of a plaque and a prize of $1,000 dollars.
Evelyn Byrd, Brown Award Winner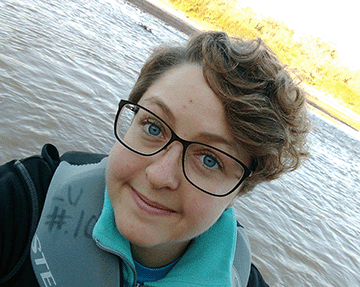 The 2020 Brown Award winner is Evelyn Byrd, a graduating senior in the Biomedical Science program.
Evelyn was an overwhelming choice for this award, as voted by the Faculty Senate. She is graduating with a 4.0 GPA and a resume full of research activities. Not only has Evelyn made her mark in the classroom and the laboratory, she's also been a positive influence on her peers on many levels.
Notably, Evelyn has been an active leader in the Engineers Without Borders chapter and the Socorro Search and Rescue group. Evelyn led a team of NMT students to Guatemala on two occasions to help a rural community with water infrastructure needs. She has also been involved in numerous search and rescue over the past three years, including missions that have put herself in peril.
Evelyn has also been involved in the Biomedical Engineering Society, Tri Beta, the biology honor society, and Quasar, the LGBTQ activism group on campus.
All of that volunteer and service work is in addition to her top-notch academic work and research. She has worked on projects with Dr. Tom Kieft in the biology department, and Dr. Sally Pias in the chemistry department.
The Cramer Awards were established to honor Tom Cramer, an engineer and a member of the Tech Board of Regents for 26 years. They are awarded to two graduates in engineering who rank highest in scholarship. Each winner receives a certificate and a $400 cash award.
+++++++++++++++++++
The Cramer Award recipients are Alicia Nieto of the Civil Engineering Department and William Hale of the Chemical Engineering Department.
Alicia Nieto, Cramer Award Winner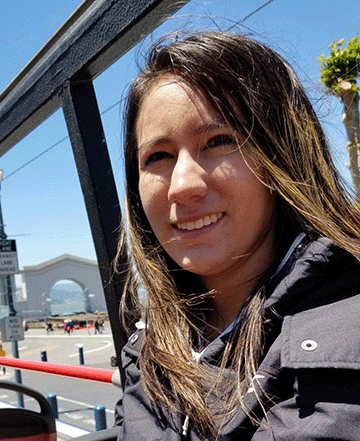 Alicia Nieto graduated in December with her bachelor's in civil engineering and with a minor in history with a 3.95 GPA. Since January, she's been a design engineer with the Fluor Corporation in Aliso Viejo, Calif.
Her advisors recognized her for her diligence, leadership, and high level of aptitude for engineering. She has participated in professional conferences and student projects. She was on the steel bridge construction that competed at the 2019 American Institute of Steel Construction, in which she modeled the design alternatives using a finite element analysis software.
She worked as a grader for three semesters at NMT. She also completed two internships, one with the San Francisco Public Utility Commission and another with the Albuquerque office of HDR.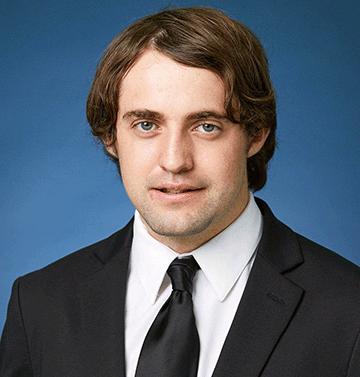 William Hale, Cramer Award Winner
William Hale graduates in May 2020 with a perfect 4.0 GPA and a bachelor's in chemical engineering.
William graduated from Sue Cleveland High School in Rio Rancho. Since coming to NMT, he's been involved in a variety of student clubs. He was named a national Tau Beta Pi scholar for 2019.
William has been working under the supervision of Dr. Pabitra Choudhury in the Chemical Engineering Department, doing research focused on developing efficient bi-functional electrocatalysts. This work is vital to the new generation of electrochemical energy storage and conversion devices such as electrolyzer, fuel cells and metal-air batteries.
Graduate Student Awards
Every year New Mexico Tech presents two awards for graduate students – the Langmuir Award and the Founder's Award.
The Langmuir Award honors an outstanding scientific research paper by a student or recent graduate of New Mexico Tech. This award consists of a plaque and a $400 cash award.
This year's voting for the Langmuir Award included four worthy candidates. Yet our clear winner was Mendi Marquez, doctoral student in the Chemical Engineering Department.
Mendi Marquez, Langmuir Award Winner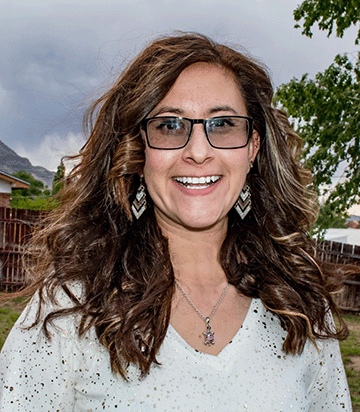 Marquez went to high school in Lovington, New Mexico. She earned her bachelor's here in chemical engineering and her master's in materials engineering. She is now a Ph.D. student in the Biotechnology Program.
Mendi won this award for her publication titled "Phospholipid Pro-Drug Conjugates of Insoluble Chemotherapeutic Agents for Ultrasound Targeted Drug Delivery," in the journal "Nanotheranostics."
Her advisor Dr. Michaelann Tartis nominated her for the award. Dr. Tartis said the paper encompasses several years of research, where the techniques implemented span many disciplines. Mendi mastered data analysis, laboratory skills, and coordinated all the experimental work, which took place in four department lab spaces.
Dr. Tartis said the paper holds great value for her because it represents Mendi's growth and transformation into a fully reliant, capable biomedical researcher
Dr. Eshani Hettiarachchi, Founders Award Winner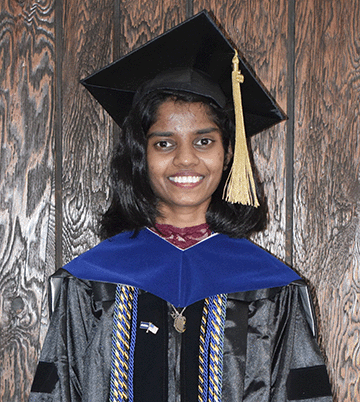 The Founder's Award honors the people responsible for founding the New Mexico School of Mines in Socorro in 1889. It is given to the person graduating today with an advanced degree who is judged to have made an outstanding contribution to the Institute through scholarship, research, and involvement in campus affairs. The award consists of a plaque and a $800 cash award.
Our 2020 winner of the Founders Award is a person who is familiar to many people on campus. Dr. Hettiarachchi has been very active in campus life since coming to NMT in 2016. Last year at graduation, she won the other top graduate student award, the Langmuir Award.
Hettiarachichi earned her bachelor's degree in Sri Lanka in chemistry, before coming to NMT. She is earning her doctorate today, also in chemistry.
Hettiarachichi has published six papers during her time at New Mexico Tech and has four more publications in the works. She was nominated for the Founders Award for her body of work in research, teaching, and service to the institute.
Her advisor Dr. Gayan Rubasinghege nominated her for this award, and several other faculty and staff members supported that nomination.
Her work sheds light on the potential health impact of legacy uranium mines in New Mexico. Notably, her work demonstrates what sort of uranium presents more health risks, which had never been studied before.
Her advisor said "I rate Ms. Hettiarachchi to be one of the brilliant young scientists working in the field of environmental science. NMT has benefited enormously from Eshani's extraordinary communication skills, her dedication, her intellect, her willingness to build bridges … and passion to inspire … and her desire to solve environmental problems."
Eshani has been an active leader in numerous outreach projects, recruitment events, and student clubs. In addition to being active in the NMT Caving Club, she's also helped cave restoration efforts with the BLM at the Fort Stanton Caves. On top of all that, she was a chemistry T.A. for five years and was always considered one of the best.
In addition to the academic work, Eshani has mentored an undergraduate student throughout the process.
-- NMT --