Dr. Sharon Sessions Wins 'Women of Influence' Award
January 31, 2020
---
Business magazine honors NMT physics professor for her outreach efforts
SOCORRO, N.M. – Albuquerque Business First, the weekly publication, recently announced that New Mexico Tech Physics professor Dr. Sharon Sessions will be honored as one of its 2020 Women of Influence Award recipients.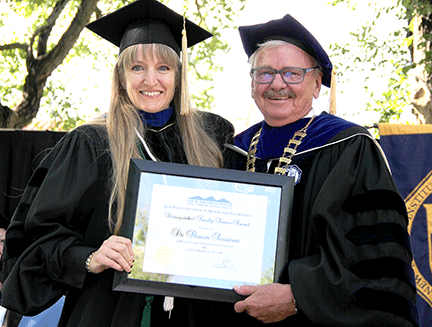 The media outlet selected 24 honorees for the 16th annual Women of Influence awards. While each recipient has a different background, from health care to law and everything in between, they all have one thing in common, their dedication and contributions to the community around them. The awards ceremony will be Monday, Feb. 24, at Sandia Resort and Casino. The awards and luncheon will be preceded by Bizwomen Mentoring Monday, an event in which attendees will have the opportunity to participate in one-on-one coaching sessions with various mentors, as well as take part in roundtable discussions.
Sessions was nominated for the award based on her community outreach efforts. She has spearheaded programs that have brought the New Mexico Tech and Socorro communities together, as well as gotten NMT students involved with the local school system. Her efforts are improving the quality of life for both the campus and the community.
Dr. Sessions has built programs from scratch to address the underlying issues with learning in our schools. One such example is the MATCH Program, which stands for Mentoring and Tutoring Create Hope. This program pairs NMT students with local at-risk third-graders. Her largest and most ambitious effort is the STORM FORCE, which stands for STEM Outreach and Mentoring: Fueling Opportunity through Relationships, Community, and Education. This relatively young committee is already achieving its goals of creating opportunities for students, encouraging lifelong learning, and empowering local residents.
This marks the 16th year that Albuquerque Business First will honor women who have made a positive and influential impact in the New Mexico business community. Albuquerque Business First's judges, leaders in the business community including multiple alumna of the award, evaluated the applicants on professional achievement, leadership and community involvement.
For her efforts, Dr. Sessions was also the winner of New Mexico Tech's inaugural Distinguished Service Award this past May.
A native of Santa Fe, Sessions graduated from Capital High School. She earned her bachelor's at NMT in math and physics, then went to the University of Oregon for her master's and Ph.D. in physics. She returned to NMT in 2003 after finishing a post-doc at the Max Planck Institute.
– NMT –