NMT Biology Dept Donates 280 Gallons of Hand Sanitizer to Native American Communities
June 9, 2020
---
NMT team has made 880 gallons and donated 530 gallons to underserved communities
SOCORRO, N.M. – The Biology Department team completed yet another delivery of newly manufactured hand sanitizer on Friday, June 5. New Mexico Tech donated 250 half-liter bottles to Native American communities in New Mexico.
To date, the team has produced 880 gallons of hand sanitizer and donated more than 530 gallons. The recipients have been in every corner of New Mexico and Navajo Nation communities in Arizona, including nursing homes, pueblos and reservations, health care centers, libraries, and other critical locations.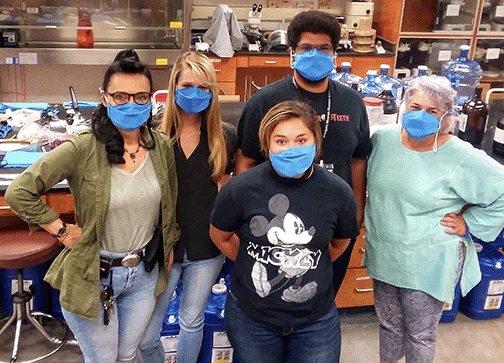 In Socorro County, the donated hand sanitizer has been supplied to dozens of locations, notably over 70 liters to the Alamo Navajo Reservation, which has been a hotspot for COVID-19.
(The Biology Department hand sanitizer crew are (fromleft) Dr. Snezna Rogelj, Dr. Danielle Turner, Ida Hernandez, Eric Bartlett and department secretary Vanessa Quinones.)
They also donated 500 hand sanitizer-filled spray bottles to the Albuquerque Hispano Chamber of Commerce to be distributed to small businesses that are struggling to find economical sources of hand sanitizer.
Biology professor Dr. Snezna Rogelj and post-doc Dr. Danielle Turner have spearheaded the effort. They've relied heavily on undergrads Ida Hernandez and Eric Bartlett and department secretary Vanessa Quinones.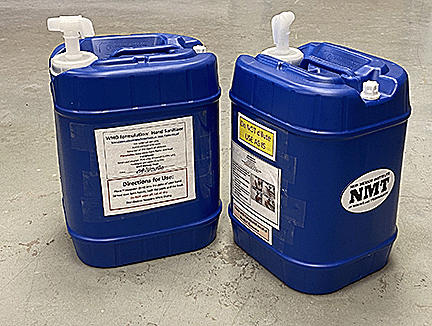 On an average day, the team takes delivery of a 55 gallon drum of isopropyl alcohol – donated from NMT's explosives research division, Energetic Materials Research and Testing Center. The team then spends about two hours mixing ingredients, per the World Health Organization's accepted proportions and procedures. The end product is then packaged and labeled by hand (pictured at left). All told, at full capacity, they can produce about 250 gallons in a week.
"It's a full-time job," Dr. Rogelj said. "But it's really more than a job. It requires a sense of purpose because it is repetitious and energy-consuming and mind-numbing. But it is undoubtedly worthwhile because we may be saving people's lives."
Since the pandemic started spreading across the globe, the demand for hand sanitizer – and other health products – have outpaced the supply. Rogelj and Turner said they expect the shortage to last for many months to come.
"The supply will continue to be challenging," Rogelj said. "Isopropyl alcohol is the limiting – and now very costly - resource. We aim to help the most underprivileged people here in New Mexico and Arizona."
"The reality is that everyone is in danger," she said. "Even if you aren't in danger of dying, you can carry the virus and spread it. It is of utmost importance to contain our pathogens to ourselves."
Dr. Turner is the site coordinator for the project and has been working with many offices on campus to secure materials and support in distribution.
"This spans much further than New Mexico Tech or Socorro," Turner said. "I have been coordinating with the Governor's NM COVID-19 Emergency Supply Collaborative and people across the state to deliver our donations of hand sanitizer where it is needed."
The team is also making facemasks to be donated to the Socorro and Magdalena communities as well as NMT employees and students. Vanessa Quinones has rallied community volunteers to sew more than 500 masks to be distributed free to local residents. A separate design is made by the students for an on-campus use; thus far, more than 200 masks have been handed out to NMT employees. Turner said they are now prepping kits for graduate students who are returning to campus to conduct research over the summer.
"As for the return of graduate students this summer, our team is putting together kits that contain hand sanitizer, 70 percent isopropyl alcohol surface disinfectant, and our Folded NMT face masks for each department to support a healthy and safe environment."
Rogelj said that only about 6 percent of COVID is thought to be acquired via surface contact. The remainder is from person-to-person, which makes containment the prime concern for campus safety.
"This is a community effort and not just Danielle and me," Rogelj said. "It's President Wells. It's Van Romero. It's Carlos Romero. It's the EMRTC's Tom Pleva and others. The undergraduate workers. The community seamstresses. It's all these people with normal jobs who are doing extra work to contribute to this effort. Like Vanessa Quinones who is already the busiest secretary on campus. There's a lot of stuff to do. But when people come together to address a profound need, the outcomes can be much bigger than the sum of the individuals. Being able and willing to come together synergistically is what makes New Mexico Tech unique and impactful."
– NMT –