Bureau Scientist Gets National Distinguished Service Award
September 18, 2019
---
Ginger McLemore honored for her lifetime achievements in geology and mining
SOCORRO, N.M. – Dr. Virginia "Ginger" McLemore is the 2019 recipient of the Society for Mining, Metallurgy and Exploration (SME) Environmental Distinguished Service Award. The award was made in honor of McLemore's positive involvement with the SME Environmental Division over many years, and her willingness to contribute her time and expertise towards the division's mission, in a range of areas. The award will be presented at the SME Annual Meeting in February 2020.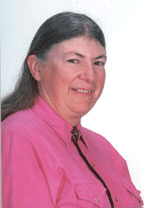 McLemore (pictured at right) is the Bureau's principal senior economic geologist, as well as the minerals outreach liaison. Some of the topics an economic geologist examines are how these minerals form, where natural resources found, the history of mining, new economic locality exploration, how to mine these resources, and how to reclaim these sites after mining. She has published numerous papers on New Mexico's deposits of rare earth elements, gold, copper, tellurium, and uranium.
Dr. Nelia Dunbar, State Geologist and the Director of the Bureau of Geology, said McLemore has been energetic in her support of the Society of Mining, Metallurgy and Exploration. She has published widely in SME journals and served on their education and publications committees. McLemore currently serves as one of the editors-in-chief for the SME journal "Mining, Metallurgy and Exploration."
"Her long dedication and service to this organization make her a perfect candidate for this award, and I'm very glad that she is receiving this recognition," Dunbar said. "Ginger has been a valued member of the Bureau of Geology community for many years. She has an encyclopedic knowledge on the topics of ore deposits and mining in New Mexico, and is well-known and respected in both industry and academic circles. She is tremendously energetic and productive in her work supporting understanding, and documentation of ore deposits and mining in New Mexico."
McLemore was recently invited to present an overview of "Mining in New Mexico" at a New Mexico Mining Association meeting, held at New Mexico Tech in September 2019, which is a tribute to her standing in the community.
McLemore previously won the 2018 SME Environmental Stewardship Service Award.
As the outreach liaison, McLemore provides mining and minerals-related information to decision makers, the public, scientists, environmental groups, the mining industry and consulting firms.
Her public service efforts include serving on the N.M. Copper Mining Rules Committee, and the N.M. Mining Commission. She has been involved with the N.M. Environment Department's studies of the 2015 Gold King Mine Spill and its effects on the Animas River in the Four Corners Region.
McLemore also finds time to teach a graduate-level course every spring and is the faculty sponsor and coach to the NMT Shooting Sports Club. Not just the club advisor, McLemore competes in shooting events regionally and nationally. She has set national records a variety of rifle marksmanship events.
– NMT –