Three Undergrads Win AIChE Research Poster Awards
November 2, 2018
---
10 Chemical Engineering students presented posters at the annual conference in Pittsburgh
SOCORRO, N.M. – More than 20 students from New Mexico Tech attended the annual conference of the American Institute of Chemical Engineering in Pittsburgh on October 28 and 29.
Ten Techies presented posters at the conference, with three stand-outs from the Chemical Engineering Department bringing home awards for their research.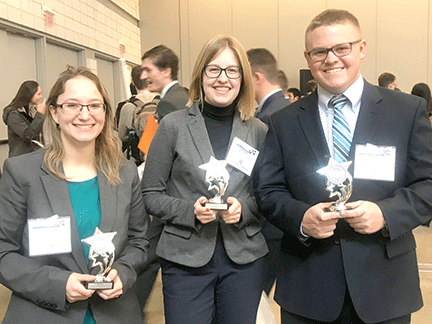 Meghan Hill won first place in the Food, Pharmaceutical, and Biotechnology category. Her posted was titled "Synthesis of Chemotherapeutic Prodrugs for Enhanced Delivery using Lipid-Based Vehicles." Hill is a 2018-19 Macey Scholar, Tech's highest academic award.
(Pictured at right are Meghan Hill, (from left) Margaret House, and Jeremy Herman).
Margaret House won second place in the Materials Science and Engineering category. House also is a Macey Scholar this year and won a national Tau Beta Pi scholarship. Her poster was "Potential Catalyst Replacements in Epoxy-Anhydride-Alcohol Encapsulant Formulation."
Jeremy Herman won third place in the Materials Science and Engineering category. His poster was titled, "Dynamic Self-Assembly in Polybutadiene-Containing Block Copolymers Induced by In Situ Metathesis."
– NMT –