NMT Sees Successful Return of Summer Mini-Course
July 16, 2018
---
Three-day classes give 45 High Schoolers a taste of campus life
SOCORRO, N.M. – New Mexico Tech successfully relaunched the Summer Mini-Course program this year, with 45 high schoolers enrolled in the three-day experience.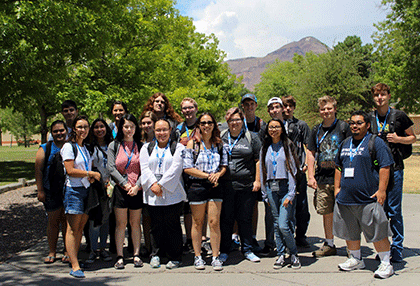 Admission Director Tony Ortiz said the feedback was overwhelmingly positive from the students, 40 of whom are from New Mexico.
"Ultimately, this is a recruitment initiative," Ortiz said. "But more importantly, this gives high school students an opportunity to experience campus life and experience the college classroom with our instructors."
(Pictured at right are the students in the ICASA mini-course).
In years past, Tech offered a weeklong Summer Mini-Course with up to 200 high school students taking courses and doing research. That was discontinued about eight years ago. This new effort was supported with grant funding from Nusenda Credit Union and the Petroleum Recovery Research Center (PRRC), which also hosted one of the three courses. The participants were mostly rising seniors, with a few rising juniors. The cost was only $250, thanks to the sponsor's assistance.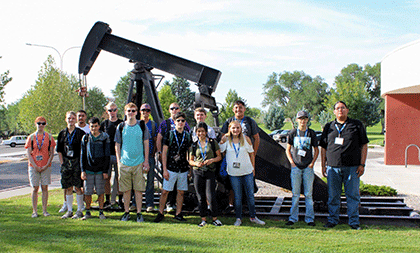 In addition to academic and research activities, the Summer Mini-Course included a barbecue, pool party, star party, and an explosives demo. The 45 students lived in the dorms, along with two NMT graduates who served as R.A.'s and mentors.
(Pictured at right are the petroleum engineering mini-course students.)
Joe Romero of the Admission Office coordinated and oversaw the event, which went from Sunday, July 8, to Wednesday, July 11. He said the Mini-Course proved to be successful in recruiting – more than half of the participants submitted admission applications before the event was over.
"This helps students because they get a taste of the college lifestyle right away – taking classes, living on campus and using our facilities," Romero said. "That goes a long way to help them make a college choice. The feedback was extremely positive about the classes, instructors, and New Mexico Tech as a whole. The biggest thing kids asked for was to make it longer."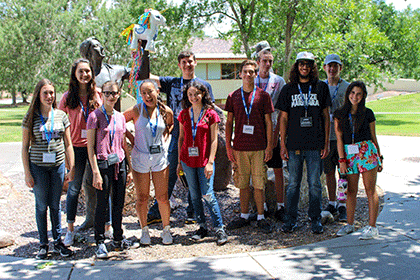 In addition to the PRRC, the Biology Department and the NMT's Institute for Complex Additive Systems Analysis, or ICASA, also hosted events. Ortiz and Romero put out a call for volunteers to host events early in 2018. They said they hope to grow the program in 2019, adding at least one more course. Eventually, they'd like to return the Mini Course to its former weeklong format.
(Pictured at right are the Biology Department mini-course students.)
The Biology cohort explored New Mexico field environments, collected plant and animal samples, and the microbes. They learned about experimental design for testing scientific hypotheses and used hands-on laboratory techniques.
The PRRC cohort learned different aspects of the oil and gas industry, including geosciences. They learned about various methods to get oil and gas out of the ground, including enhanced recovery. Students got hands-on activities, simulations, and classroom discussions.
The ICASA cohort examined a variety of computer science topics, including data streams on the Internet, data collection, and data analysis. Students got a chance to learn about ICASA's proprietary software, DAVE, or Data Analysis and Visualization Environment. This course also included a segment on social media analysis.
"The Summer Mini Course gives departments and research divisions the opportunity to showcase what they're doing," Ortiz said. "The Biology Department stepped up this year and the kids got exposed to people in the department. ICASA and PRRC also generously volunteered their time. As we grow the Mini Course, we hope to get more involvement so other departments can showcase their work."
– NMT –