Petroleum Student Club Wins Selective International Honor
June 26, 2018
---
NMT chapter of SPE wins Outstanding Student Chapter Award for second straight year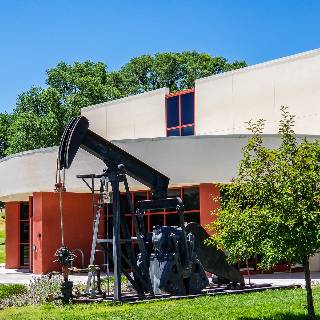 SOCORRO, N.M. – For a second year in a row, the New Mexico Tech chapter of the Society of Petroleum Engineers has won the national SPE Outstanding Student Chapter Award.
This is the highest honor any student chapter across the globe can receive and only 10 percent – about 40 chapters – are recognized. The 2018-19 chapter officers will travel to the ATCE conference in Dallas in September to receive this award.
Karen Hellinger, staff advisor to the chapter, said, "As the 2017 SPE Regional Team Leader for the conference, the NMT students were extremely professional and visible as conference bag stuffers and greeters. They were my go-to team when SPE needed student paper contest moderators at the last minute."
The club officers are as follows:
Danielle Ochoa, president
Lorenzo Yardman, vice president
Jennifer Essomba, secretary
Ryan Hurlburt, treasurer
Andrew Bushman, grad student liaison
Michael Medulla, events coordinator
John Ward, membership chair
Dillon Mann, communications chair
Hellinger said, "We are very proud of their accomplishments and thrilled to learn they won the award once again. The student leaders and members are some of the best stewards for not only their chapter and the Petroleum Engineering Department, but for New Mexico Tech as a whole. They continue to put New Mexico Tech on a global map."
The chapter had more than 160 members. Volunteers worked the Oil and Gas Day during the N.M. Legislative session earlier this year. They also volunteer for the N.M. Science Fair and Science Olympiad. Each year, they hold food drives to support the Socorro Storehouse. Later this summer, chapter members will be working with the three-day Mini-Course with high schoolers from across the nation.
– NMT –