Physics Grad Students Lawrence and Güth Take Top Awards
May 12, 2018
---
NMT announces Langmuir and Founders Awards at Commencement 2018
SOCORRO, N.M. – New Mexico Tech recognized graduate students Zac Lawrence and Dr. Tina Güth, both of the Physics Department, for their achievements and contributions to the university during the commencement ceremony on Saturday, May 12.
Lawrence won the Langmuir Award, which honors an outstanding scientific research paper by a student or recent graduate of New Mexico Tech. Dr. Tina Güth won the Founders Award, which honors the member of the Class of 2018 who has made the most significant contributions to the NMT community. These awards consist of a plaque and cash awards.
This year's voting for the Langmuir Award included four worthy candidates. Lawrence, a doctoral candidate in the Physics Department, was the clear winner.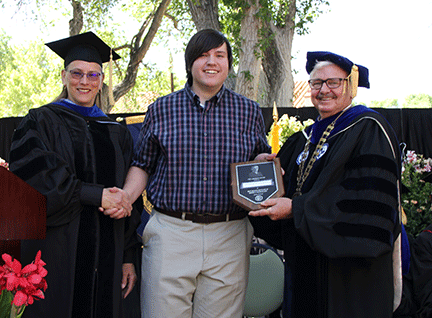 Lawrence went to high school in Estancia, New Mexico. He earned his bachelor's at New Mexico Tech and stayed on for his doctorate.
(Pictured at right: Zac Lawrence with Graduate Dean Lorie Liebrock and President Stephen Wells.)
He won the Langmuir Award for his publication, "Characterizing Stratospheric Polar Vortex Variability with Computer Vision Techniques," which was published in the Journal of Geophysical Research in August 2017.
His nomination was supported by not only his research advisors at Tech, but also by letters from three scientists at the University of Colorado, and another at the University of Paris. His paper has already been cited by other researchers, who have called Zac's work among the most significant advances in this area and perhaps the most creative presentation on this topic.
In 2016, Lawrence won a three-year NASA Earth and Space Science Fellowship to work on this project. This publication is the cornerstone of that grant, along with future publications. Lawrence developed new software techniques for studying atmospheric vortex regions in the upper atmosphere. He presented this work at the 2017 American Meteorological Society conference, where he won the award for best student presentation.
His work has far-reaching implications. His modeling could also be used to characterize similar atmospheric features on the gas giant planets in our solar system.
The Founder's Award honors the people responsible for founding the New Mexico School of Mines in Socorro in 1889. It is given to a member of the Class of 2018 with an advanced degree who is judged to have made an outstanding contribution to the Institute through scholarship, research, and involvement in campus affairs. The award consists of a plaque and a cash award.
Dr. Tina Güth finished her Ph.D. in astrophysics in December 2017. Throughout her time at New Mexico Tech, she has been among the most active members of the Graduate Student Association.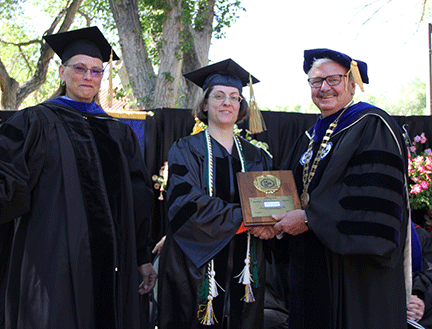 She first arrived at Tech in 2011 as a master's student, which she completed in 2013. Her research focus is in spectral lines of variable stars and many of her colleagues have taken note of her exceptional work in this area. One of her professors called her "a ninja in data reduction."
(Pictured at right: Founders Award winner Dr. Tina Güth (center) with Graduate Dean Lorie Liebrock and President Stephen Wells.)
Güth has consistently been involved in outreach efforts as well, visiting dozens – if not hundreds of elementary schools with demonstrations on optics. She has also been involved with the Science Olympiad and Science Fair.
Through the GSA, she has been the events coordinator for many semesters. She has gone above and beyond the call of duty to organize the fall barbecues, the GSA Thanksgiving dinners, and the spring picnics. In 2015, she was awarded the GSA Student Appreciation for all her efforts.
She has also developed a reputation for her culinary skills. One professor supported her nomination by saying that Tina makes a "wickedly good chocolate cake."
– NMT –