Bureau of Geology Wins Award For Six-Volume Publication
June 1, 2018
---
Comprehensive book series highlights mineral resources of New Mexico

SOCORRO, N.M. – The New Mexico Bureau of Geology won a prestigious national award for its recent publication "Energy and Mineral Resources of New Mexico: New Mexico Bureau of Geology and Mineral Resources, Memoir 50."
The publication is a six volume compendium that chronicles the energy and mineral resources of New Mexico and was jointly published with the N.M. Geological Survey.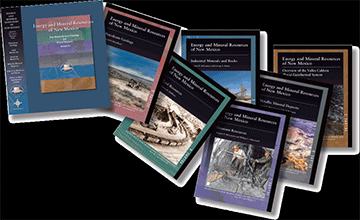 The six volumes are:
Petroleum Geology by Ronald F. Broadhead
Coal Resources by Gretchen K. Hoffman
Uranium Resources by Virginia T. McLemore and William L. Chenoweth
Metallic Mineral Deposits by Virginia T. McLemore and Virgil W. Lueth
Industrial Minerals and Rocks by Virginia T. McLemore and George S. Austin
Overview of the Valles Caldera (Baca) Geothermal System by Fraser Goff and Cathy J. Goff
For more about the publications, go to https://geoinfo.nmt.edu/publications/monographs/memoirs/50/
The Charles J. Mankin Memorial Award award is sponsored by the Association of American State Geologists (AASG) for the best nominated publication in the field of regional, energy, or mineral resource geology with an emphasis on surface or subsurface geologic mapping, compilations, and associated reports published by a state geological survey during the past three years. The report was chosen by a three person panel among a number of excellent contenders.
The award is named for Charlie Mankin (1932-2012), who earned a Ph.D. from the University of Texas in 1958. He joined the University of Oklahoma in 1959, and from 1967 to 2007 he was Director of the Oklahoma Geological Survey. He was AASG President in 1975-76, AGI President in 1978-79, and Campbell Medalist in 1987. Mankin played a key role in establishing STATEMAP, a program crucial to the state geological survey role in geologic mapping.
The award will be presented at the GSA Annual Meeting, to be held in Indianapolis in November 2018. The award will be presented at the AASG mid-year meeting.
– NMT –