NMT Welcomes Largest Graduating Class at 2018 Commencement
May 12, 2018
---
LANL Director Terry Wallace returns to his alma mater to deliver an inspirational keynote address
Watch the full 2018 Commencement Ceremony
Saturday, May 12, 2018
SOCORRO, N.M. – New Mexico Tech hosted an explosive 2018 Commencement Ceremony on Saturday, May 12, featuring the largest graduating class in the history of the institution.
The ceremony was punctuated by two explosions and confetti cannons shot off by the platform party. President Stephen Wells read the first verse of the theme song from "The Big Bang Theory" as EMRTC set off explosions on the athletic field.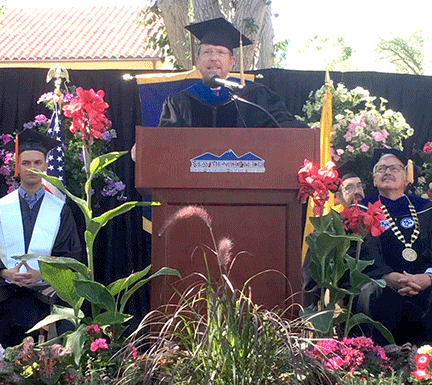 The Class of 2018 includes more than 480 graduates – about 350 bachelor's recipients, 130 master's recipients and 16 Ph.D.'s. Roughly 300 graduates participated in the event.
Dr. Terry Wallace, (picture at right) director of Los Alamos National Laboratory, delivered an inspiring keynote address on the 40th anniversary of his own graduation from New Mexico Tech. Wallace talked about the professors who inspired him – and drove fear into his heart with their impossible exams.
Wallace said New Mexico Tech molded him into a successful scientist and leader. He credited the institution with inspiring generations of Techies to pursue knowledge and nurture their passions and skills.
"I did not get here with a plan; I got here because of opportunities—and because I seized these opportunities," Wallace said. I was armed with the same tools that you are today as you graduate: knowledge and curiosity. … I urge you to never stop learning, never stop being curious, and never stop 'doing the right thing'."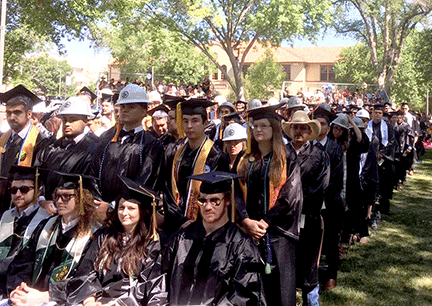 Gabe Montoya, former president of the Student Government Association, delivered the student speech.
The top undergraduate awards were announced during the ceremony. Matt Davenport of the Chemical Engineering Department won the Brown Award. The Cramer Award winners are Kari Erickson of the Computer Science Department and Thomas Dearing of the Physics and Math departments.
The top graduate student awards were also announced during the ceremony. Dr. Tina Guth, who received her Ph.D. in Physics, won the Founders Award. Zac Lawrence, doctoral candidate in physics, won the Langmuir Award for his publication on modeling vortex regions in the stratosphere.
The top faculty awards for 2018 were presented. Dr. Ivan Avramidi of the Mathematics Department won the Distinguished Researcher Award. Scott Chadde of the Computer Science and Engineering Department won the Distinguished Teaching Award.
The NMT Alumni Association recognized three alumni. Kenneth Silsbee presented the Distinguished Achievement Award to Dr. Oreste Lombardi of the Class of 1957. The Distinguished Service Award was given to Dr. Eileen Comstock, Class of 1988, and Warren Marts, Class of 1990.
The Student Government Association recognized student Ben Katko, staff member Brent Nourse, and faculty member Curtis O'Malley. The Graduate Student Association recognized student Ivan Kurnia and faculty member Jolante van Wijk.
Click here for the official program from the 2018 Commencement Ceremony.