---

Dates:
March 25-26, 2022

Times:
See Below for Each Activity
Online Location:
Facebook ; YouTube
Location:
Macey Center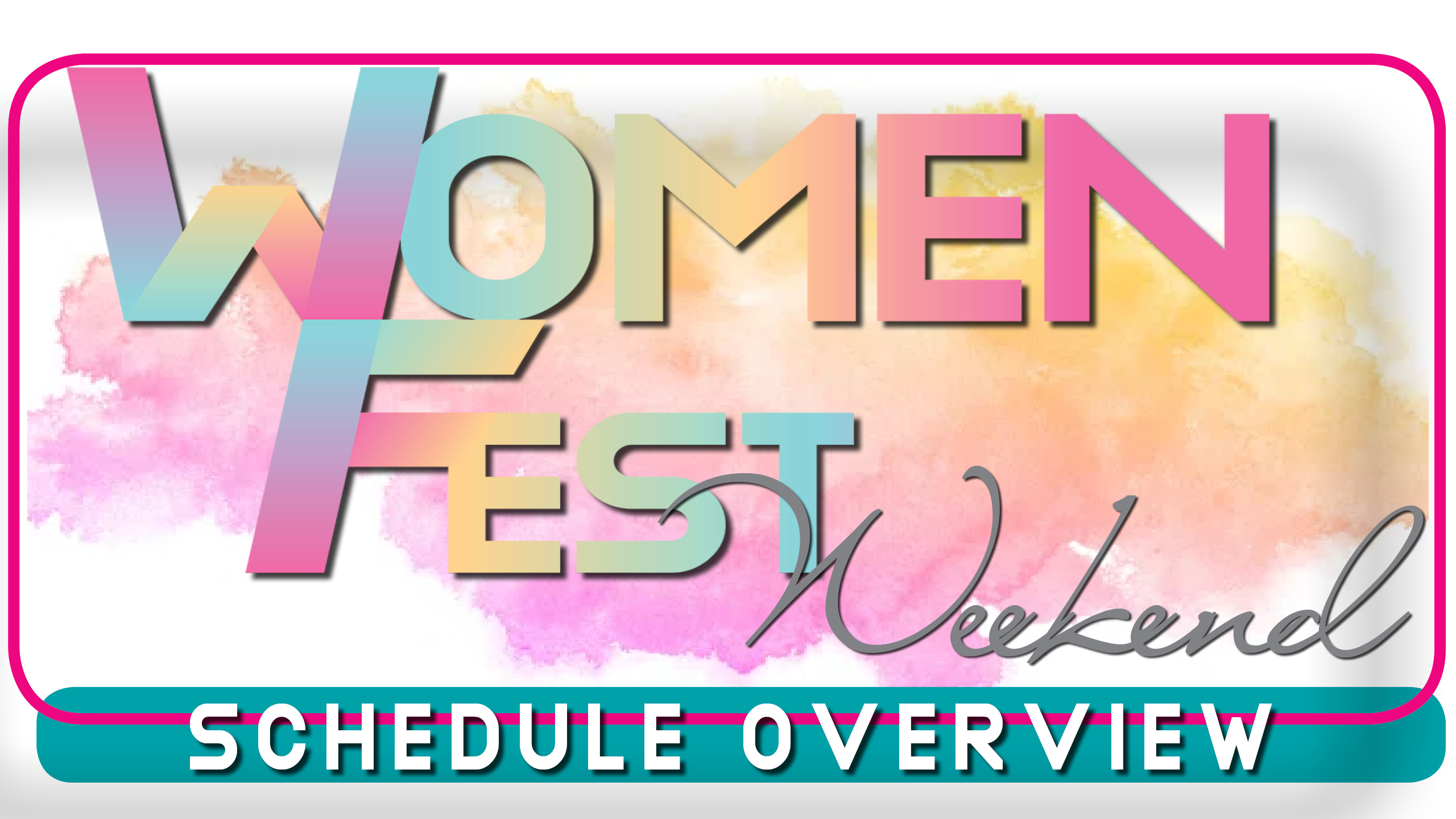 About the Weekend
Inspired by Women's History Month, NMT PAS is collaborating with a variety of campus and Socorro organizations to create a mutifaceted event. Below is a summary of the whole weekend.

Friday-Saturday, March 25-26, 9am-7pm, Around Town
Women at Work - Visit women at their place of work and learn more about what they do. Please rsvp pas@nmt.edu with what you want to attend.
Belle Rehder, Potter, 3/25, 9am-11am; 3/26, 9am-12pm; NM Tech Community Education, Fine Arts Building, Canyon Drive
Cari Powell, Roots by the Rio, Cactus, 3/25: 11am-5pm, 214 School of Mines
Catherine DeMaria, Warehouse 1-10 Gallery, 3/25, 12-4pm, 110 N. Main Street, Magdalena
Cathy Cook, El Defensor Chieftain, 3/25, 9am-Noon, 200 Winkler St
Diedre Vinson, Yo Mama's Grill, 3/25, 2-4pm, 913 N. California
Heidi Stange-Love, EMRTC--VIEW AN EXPLOSION! 3/25, 10:30am, FILLED UP as of 3/24/22
Jeanne Dixon, Desert Herbals, Acupuncture & Herbal Healing, 3/26, 11am-1pm, 205B School of Mines
Judy Richardson, Artist Studio, 3/25, 12-4pm, 104 N. Main Street, Magdalena
Laura Barker, NMT Counseling Center, 3/25, 1-4pm, NM Tech Fidel Center
Pam McGroarty, Grow Four It Veggie Farm, Polvadera, 3/25, 1-4pm (must rsvp for directions)
Sharon Fullingim Art Studio, 3/25, Noon-4pm, 2310 State Road 1, Luis Lopez
Tara Jaramillo, Positive Outcomes, 3/25, 9am-5pm, 115 N. California

Friday, March 25, 1:00pm, Macey Center, Free Admission
Voices of Women: Our Climate * Our Community, a panel of New Mexico women who work in climate change science, preesented by the American Association of University Women Socorro chapters. A reception will follow the panel in the upper lobby. Register for Zoom Attendance

Friday, March 25, 6:00pm, Macey Center, Free Admission
Reception: WomenFest Artist Showcase / Featuring Socorro County Women
Over 30 Socorro County Women Artists have two pieces in a variety of mediums on display in the upper lobby of Macey Center March 2-31. Many of the artists will be at the reception, with refreshments and a cash bar. More info HERE.

Friday, March 25, 7:30pm, Macey Center, $15/Adult; $12/Senior; $5/Youth; Free/NMT Students
PAS Concert - Two award winning New Mexican singer songwiters: G Precious, hip-hop and spoken word; and Nacha Mendez Trio, Pan-Latin. More Info HERE.

Saturday, March 26, 1:00pm-7:00pm, North Side & Around Macey Center
WomenFest Mall - Inspiration stations showcasing Socorro County Women (or connected to Socorro County) organizations, businesses and individuals who serve women and/or are women in a variety of professions including Arts, STEM, Health & Well Being, business owners, as Exhibitors, Vendors, doing Demonstrations, Workshops and more. Come mingle with our amazing community of women! See All Participants Here

Mainstage - Music concerts, dance performances, speakers & more. Complete schedule, bios and photos HERE.

Mainstage Schedule
1:00-1:30 Julie Ford/Fullish Professors
1:35-1:45 Shelbi Etscorn
1:50-2:20 Terri Sunflower & Heartsleeve
2:25-2:40 Crystal Gutierrez – KRQE Newscaster
2:45-3:15 Val & Ben Thomas
3:20-3:30 Socorro High School Dance & Cheer Teams
3:35-4:05 Aditi Natesa - NMT Belly Dance Troupe
4:15-4:45 Colleen Gino's Horror Chicks & Lunatics
4:50-5:10 Zumba with Studio Z
5:15-6:00 Tuesdays @ 2
6:15-7:00 Tori Murillo Band

Workshop & Speaker Schedule
Lawn South of Macey Center Fountain
1:00 Yoga with Marisa Wolfe
2:00 Self-Defense with Dug Corpolongo, NMT Tai Chi Instructor
3:00 Yoga & Energy Techniques with Melissa Begay, NMT Recreation Director
Lower Lobby, Macey Center
1:30 & 3:00 Mandala Painting with Nicole
Spotlight Sessions & Workshops - Upper Lobby Macey Center
1:00 Theater Games,Theresa Apodaca, NMT Theater Professor; Science Teacher
1:30 Making Your Passion Your Profession: Publishing, Promotion & Pay Checks in the Digital Age,
Liz Gipson, Weaver, Writer, Educator
2:00 Creating a Non-Traditional Career, Sharon Sessions, NMT Physics Professor & Outreach Director
2:30 Writing Down the Bones: Freeing the Writer Within...Fast Writing, Karin Williams, Educator
(bring a notebook or paper)
3:00 Intro to Mindfulness, Maureen Wilks, Geologist, Artist
3:30 Purposeful Travel, Vannetta Perry, Ed.D, Certified Travel Director & Guide; Soulful Traveling
Are you interested in participating in the WomenFest Mall? Email pas@nmt.edu.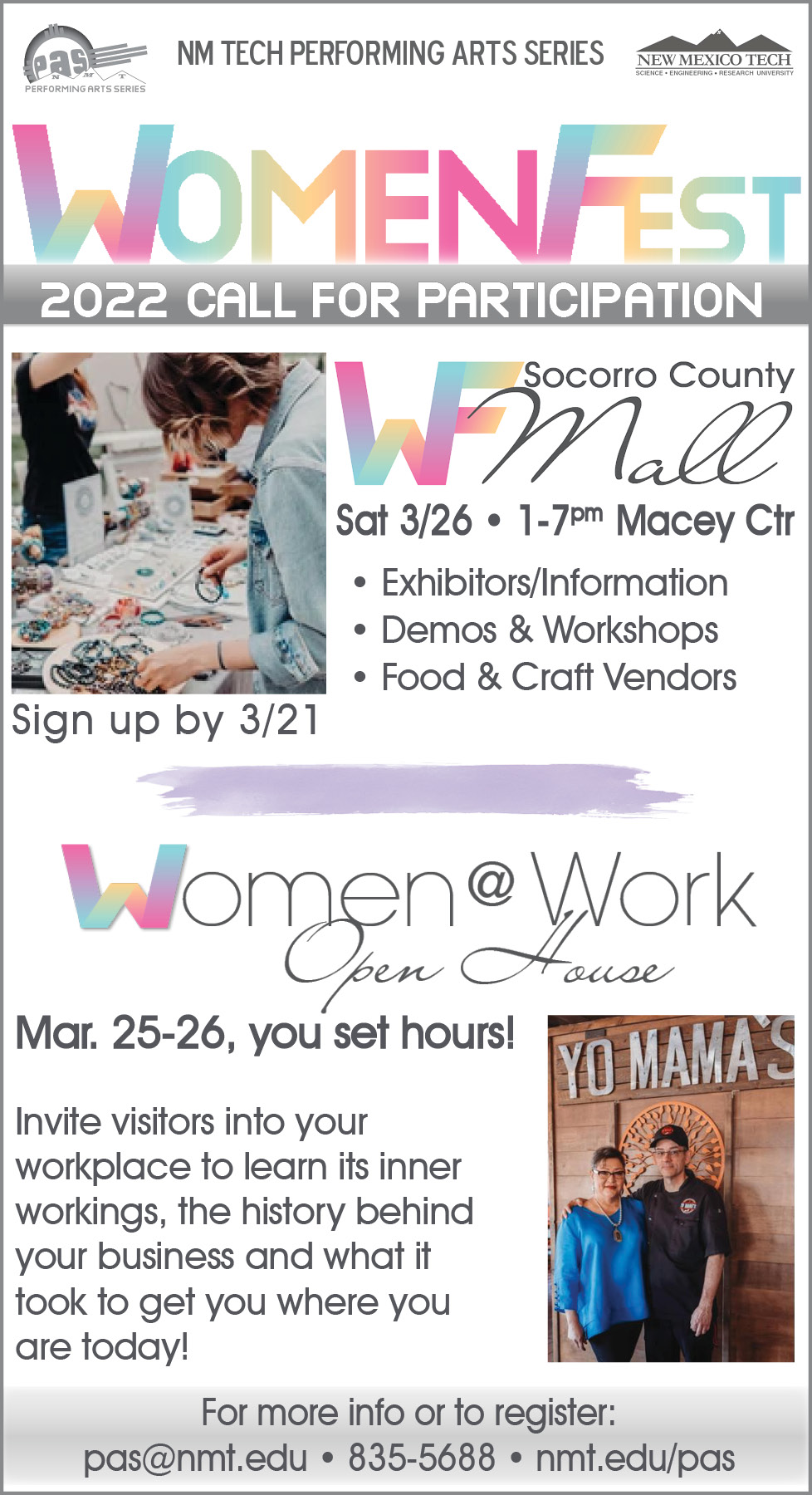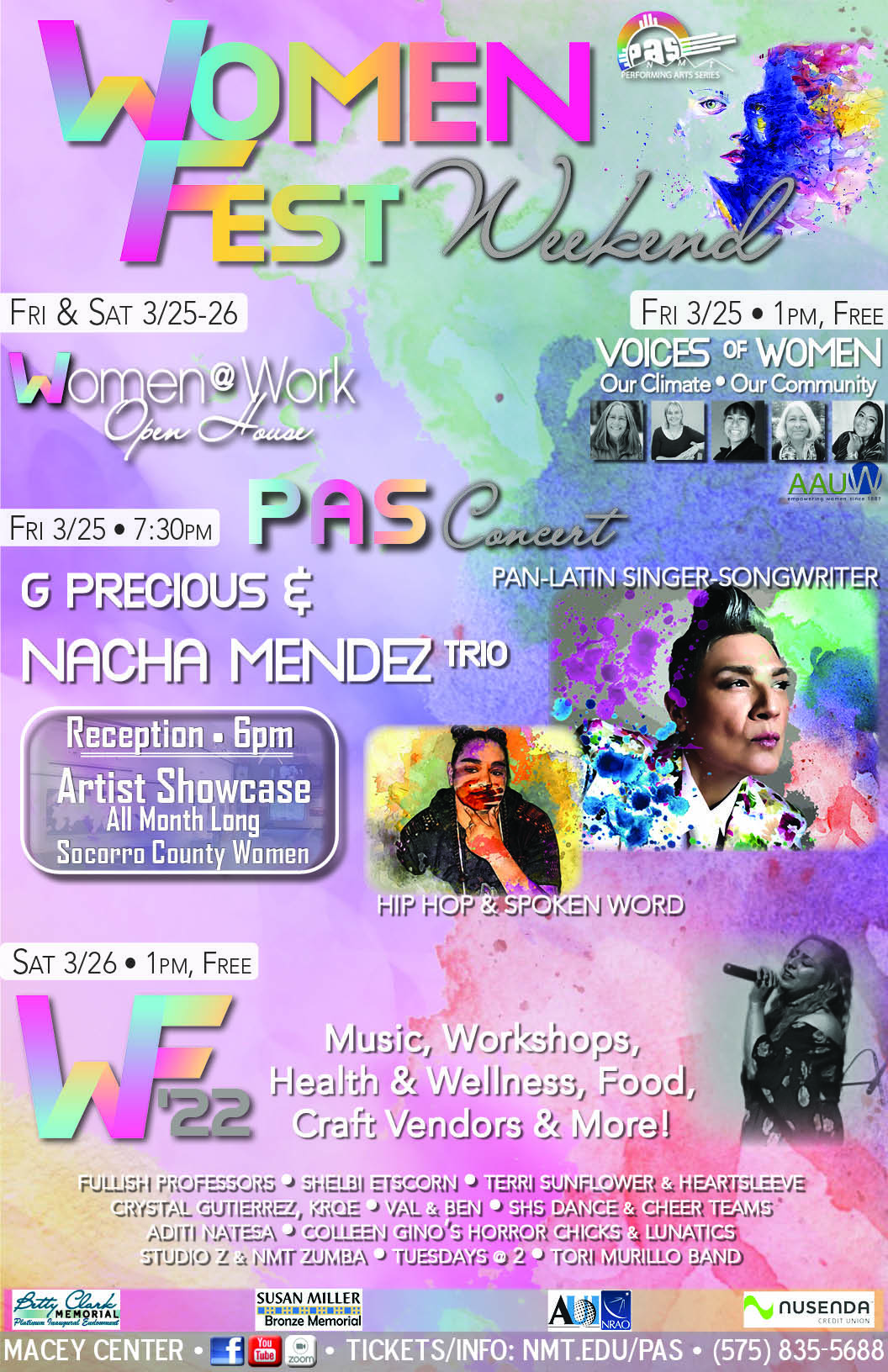 Our Partners and Sponsors