---

Showtime: 7:30pm
Price: $15/Adult; $12/Sr, 65+; $5/Youth, 17<;
Free/NMT Students
Online Location: Facebook; YouTube
Location: Macey Center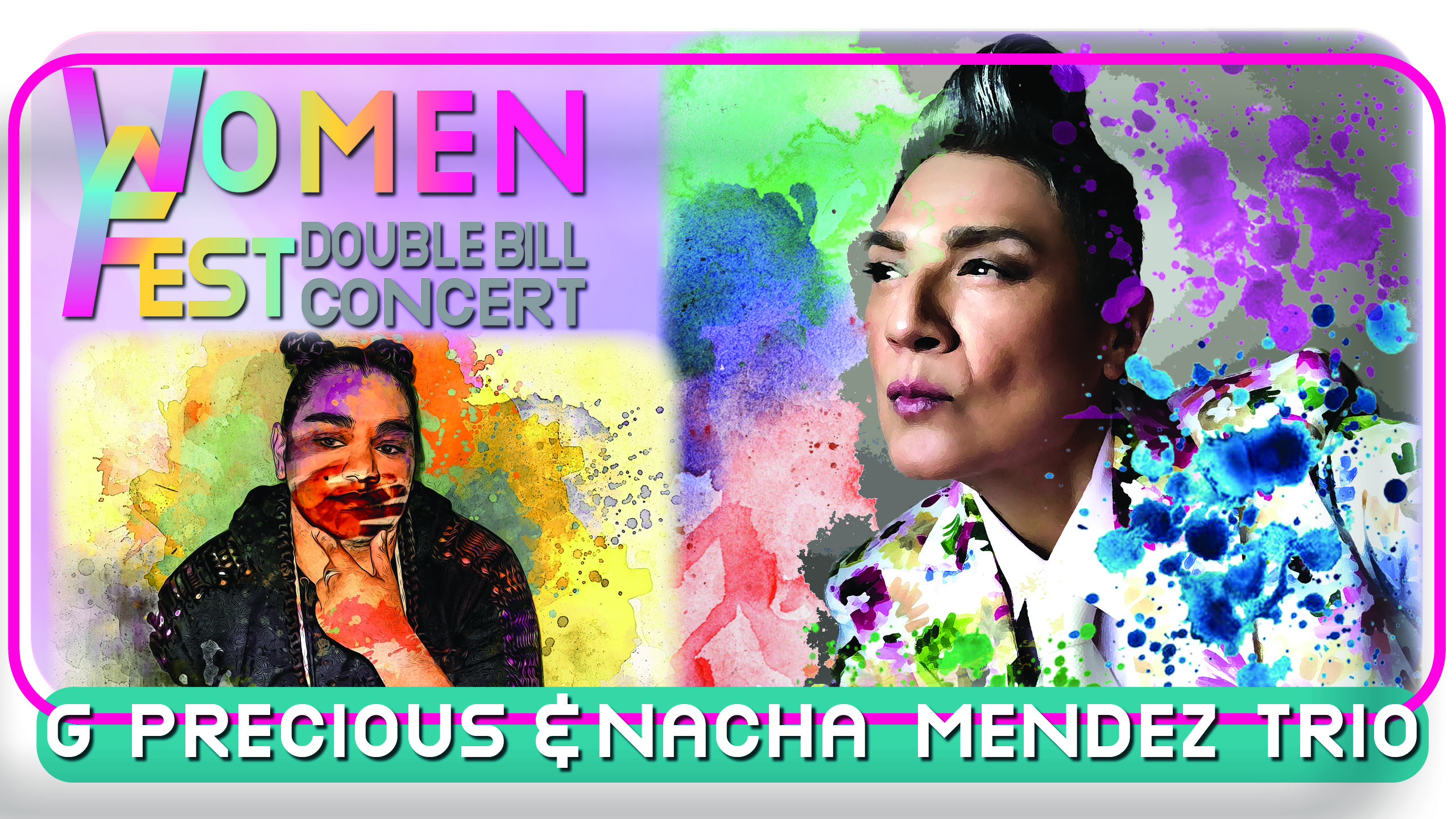 About the Show
Inspired by Women's History Month and the International Women's Day theme of "Break the Bias," PAS sought out two New Mexican women musicians who are outspoken in support of the women of NM, in all fields, but also breaking boundaries in music and performance. G Precious, a young Native American hip-hop spoken word singer songwriter and Nacha Mendez, an established singer songwriter in a variety of musical styles that can be described as Pan-Latin, are both strong, award winning women of color from New Mexico, and amazing artists. We welcome them as our PAS performers for WomenFest 2022.

Nacha Mendez Trio
Nacha Mendez, guitar, vocals, songwriter, grew up in the tiny border town of La Union, in southern New Mexico, where she began singing and playing the guitar at an early age. She learned traditional Ranchera canción from her grandmother and performed in border towns near El Paso with her cousins, the Black Brothers, sons of ex-Mothers of Invention drummer Jimmy Carl Black.
She went on to study classical voice and electronic music at New Mexico State University before moving to New York City, where she studied flamenco guitar with Manuel Granados of the Music Conservatory of Barcelona, Spain. In the early '90s, she was a principal singer in Robert Ashley's opera company, touring Europe and Japan and translated the libretto for Ashley's opera Now Eleanor's Idea. She performed trouser roles in three of his operas throughout Japan, at the Avignon Music Festival, Brooklyn Academy of Music, Strasbourg, France, Graz, Austria, and Berlin.
Nacha has also collaborated with celebrated composer Steve Peters who produced "Bodega de Amor" and "Volando." "My Burning Skin to Sleep," a song on the 2004 CD release Shelter by Steve Peters and distributed by the Cold Blue Label features the voice of Nacha Mendez. Her recordings include "Slowly Rising" (as Dueto Le Momo), and "Blue Silence," "Bodega de Amor," and "Volando" (as Nacha Mendez). Since 1990, she has worked on several projects with Steve Peters and has collaborated with composer Raven Chacon, writer Melody Sumner Carnahan, visual artist Harmony Hammond, filmmaker Catherine Gund, and Producer/Director Daresha Kyi.

Mendez/Cordero received a National Endowment for the Arts Award and a fellowship from Mutable Music in New York. In February 2011, she was honored by the New Mexico Committee of the National Museum of Women Artists. She was voted Best Female vocalist in Santa Fe, New Mexico in both 2009 and 2010. Voted Best Family Friendly Entertainer Santa Fe Human Rights Alliance 2012 Pride Alliance Awards and in 2013 she was awarded the Best Latin Production at the New Mexico Music Awards. She received a New Mexico Platinum Music Lifetime Achievement Award in 2018. She performs under her grandmother's name, Nacha Mendez, touring regionally with her band, playing her original, eclectic pan-Latin-style songs. She also paints and sculpts and exhibits her work in Santa Fe, New Mexico.
Melanie Monsour, piano, is a composer and Adjunct Professor at Santa Fe University of Art and Design, Contemporary Music Program. She is a pianist for the National Dance Institute of New Mexico, where PAS Director Ronna Kalish first met her as pianist for the Alamo-Navajo School's summer NDI program, "which happened many years ago," says Ronna. Melanie has performed in Europe, Australia, Chile and Greece. She has recorded five CDs of original solo piano music and one of the music of Gurdjieff/deHartmann.
Polly Tapia Ferber, percussion, is a music educator, performer, and recording artist who specializes in hand percussion from the Balkans, the Middle East, Turkey, North Africa, and Spanish Andalucia. She is noted for her melodic style of playing on several percussion instruments including the doumbek, frame drums, the Middle Eastern tambourine, and Spanish wooden box-drum (cajon). She is a member of several bands from New York to New Mexico, playing various musical styles.
G Precious
G Precious born Brenda M. Atencio was raised on the Indian Reservation of Ohkay Owingeh - Village of the Strong (formerly San Juan Pueblo) by her grandmother Gregorita T. Atencio. The 2nd of 8 children, she began creative writing at the young age of 6, identifying herself as BMA Chill - part of a group known as Chill, Funky, Ice which included her cousin Jay Funky and her little brother GMT Ice. BMA Chill continued writing as a means to deal with the dynamics of life - alcoholism, drugs, suicide, and abuse.
At the age of 12, BMA Chill became G Precious. With the deaths of her aunt Sandy, her older brother Ivan, her aunt Rose, and her grandmother, it proved difficult for G Precious to deal with their deaths as these were people who all had an influence on her life and were a part of her main support system growing up. Their deaths sparked a new flame pushing G Precious to return to the recording studio, complete and release her first album titled, "On My Shoulders." This was the heartbreaking, long awaited debut album from G Precious, a Native American woman and upcoming Hip Hop Artist; she put her life, her heart, her family, her struggles, the courageous hope and healing process into this album.
Since the release of "On My Shoulders" G Precious has been hard at work releasing several additional albums titled, "Hip Hop & Hotdogs Vol. 1," "Abomination," "Walk On Water - Evolution," "ECLECTIC," her Traditional CD "Bow & Arrow Songs of Ohkay Owingeh," and she is currently working on her soon to be released "The Forgotten" featuring Grammy Award Winner Macy Gray. G Precious has been recognized and nominated for an Indian Summer Music Award (2016, 2017) and won the New Mexico Music Award for Hip Hop & Native categories (2017,2018) and nominated for a Native American Music Award (Nominee - 2018). Her music is played on Singing Wire, Moccasin Wire and KUYI Hopi Radio.
G Precious has proven that no matter the life you've lived, the struggles you've faced, with determination and positive thoughts nothing can stop you.
If you set your heart and your mind to it anything is possible!


---
Our Partners and Sponsors