---

Showtime: 7:30pm
Tickets: $25/Adult, $20/Senior, $10/Youth
Location: Macey Center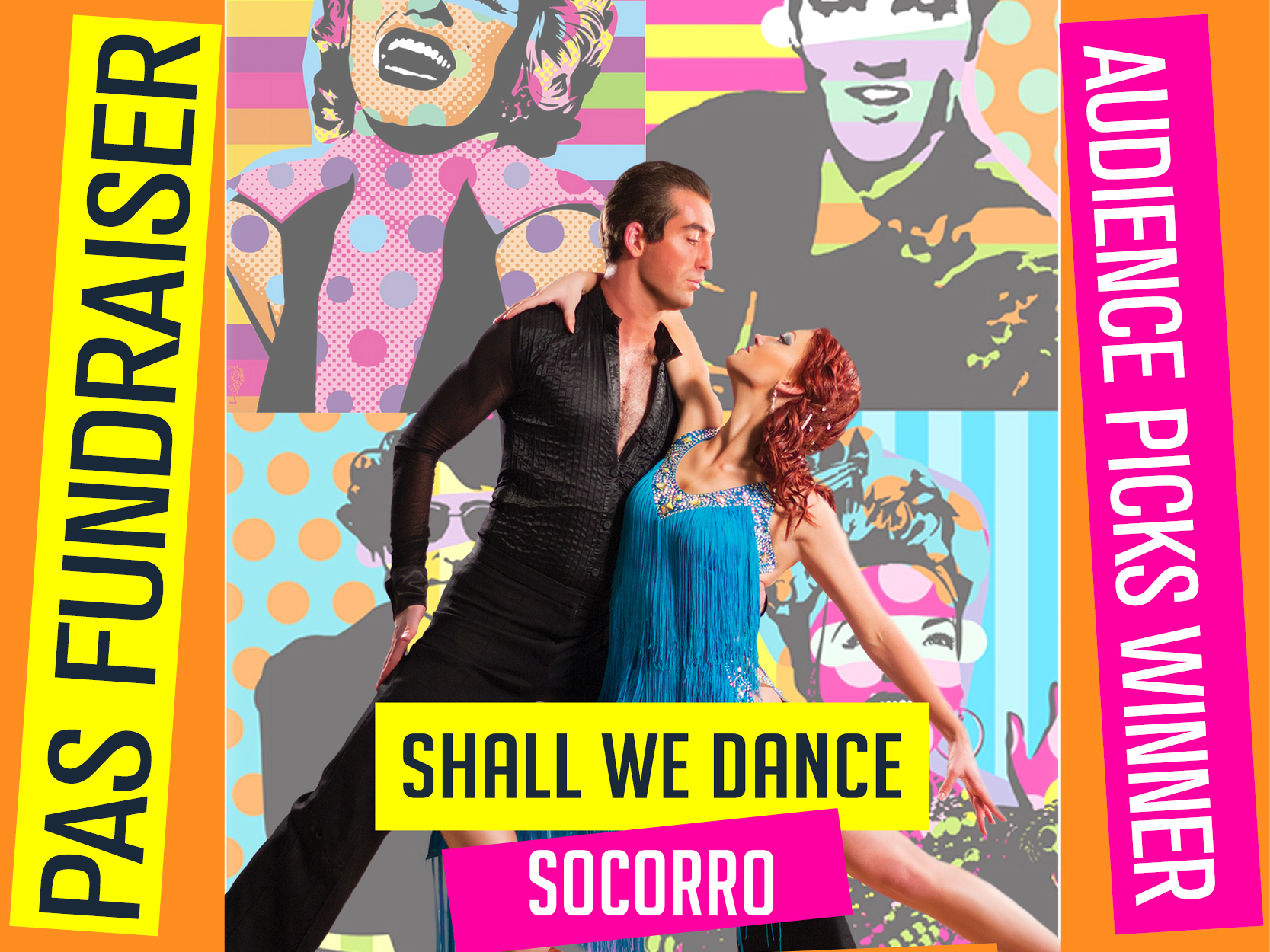 About the Show
The Utah Ballroom Dance Company returns with season 2 of Shall We Dance Socorro?!- Music Legends Night. This season promises to be the BEST yet with all new contestants dancing as iconic musicians throughout history. Audiences will be treated to a 9 to 5 Dolly Parton Quickstep, a Shakira Hips Don't Lie Salsa, a Michael Jackson Beat It, Paso Doble and so much more. Add in some incredible costumes, video highlights, a fun local luminary judging panel--Theresa Apodaca, Melissa Begay & Bobby Olguin--and you have a show that you have to see to believe.
Over the course of a week our "celebrities" will refine their skills as they prepare to compete onstage in front of a live audience.
Drum Roll Please! This year's dancers are: Sheri Armijo--Spanish Teacher, CVCS & Director, La Pastorela; Catherine (Chavez) Barela--Music Teacher, Magdalena Schools; Floyd Bell--NMT Student; Francie Deters--NMT Alumnus, musician, property manager; Chelsey Hargather--NMT Professor; Cynthia Lam--First State Bank Administrator; Tony Ortiz--Director, NMT Admissions; JC Trujillo--SCS School Board & Positive Outcomes.
Dancers will get points towards winning from the audience vote, the amount of $$ they raise, and the number of tickets they sell. If you buy your tickets from one of your favorites, and make a donation in their name at the show, they will receive extra points.
The best part is the audience votes for who will win and take home the coveted mirror ball trophy.
We have a great SILENT ART AUCTION open for viewing and bidding starting NOW (Tuesday, March 27) and closing at the end of intermission at THIS show.
The silent auction includes paintings by Jenny Blomquist, Karyn DeBont, Climente "Cotike" Deister, Mary Fuqua, Georgette Evans Grey, Natasha Isenhour, Skeeter Leard, Margi Lucena, Leon Miler and Estelle Roberge. Isenhour's pastel of a colorful bird includes an extraordinary frame; Leard's oil painting depicts a friendly New Mexico-themed doorway. Miler's watercolor features a feathered neighbor.Also on display are framed photographic works by Darrell Bender, John Bertrand, Don Boyd, John Courtney, Bill Giebitz, Colleen Gino, Sharon McElvain and Catharine Stewart-Roache.Dona Nowicki donated stained glass art and a fruit bowl, with pottery from Chrysann Spreng and Georgia Raymond.Other items include a beautiful quilt and table runners by Lea Graham, Sherry McGuire and the Socorro County Fiber Arts guild, and a lovely crane wall hanging and pillow by Jana Svobodva. Internationally acclaimed weaver and instructor at NM Tech, Liz Gipson, donated a hand-woven table runner. Retired high school art teacher Laurie Heintz donated two hand-woven scarves. Her wood-working husband Olaf donated a clever bird-shaped item which fans out to hang clothes or linens.
---
Our Partners & Sponsors