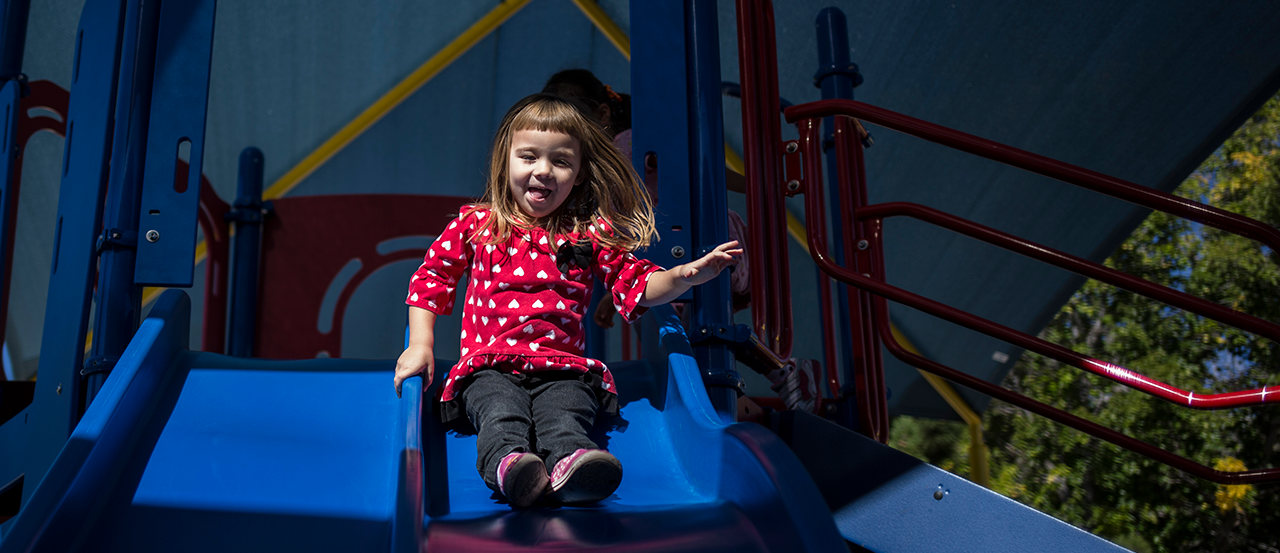 NMT Childcare Center
Our Mission
Mission Statement
The Children's Center mission is to complement the service and education objectives of the university by:
Providing education, care, and nurturing for the children of students, staff, faculty, and community members
Utilizing culturally and developmentally appropriate practices
Serving as a role model of child care excellence for the community at large.
Our Philosophy
At the Children's Center our philosophy is to provide the best possible environment for the care, education, and development of your child/children. We believe that your child/children are entitled to the best that modern knowledge makes available about the education, care and guidance of children. Our philosophy is expressed in a curriculum that encourages:
A program that are designed to be different, flexible, and encourage active hands-on learning because all children are unique with individual skills and interests
Freedom and opportunity to develop physical, cognitive, and social skills at a child's own pace
A warm relationship with adults that gives children a feeling of support while developing a sense of self-worth and independence
Consistent and understanding adult guidance, which supports needs yet limits actions and promotes a child's gradual growth towards responsibility and self-control.
Program Goals
Our goal is to build and maintain a strong, diverse, and inclusive organization that allows us to achieve the following objectives:
Supporting families in achieving their own goals
Providing opportunities and resources for children to develop cognitive, motor, communication, and social skills
Promoting developmental progress of a child's self-care, self-esteem, and self-control
Promoting child engagement, mastery and independence
Providing and preparing for life experiences.
Program Standards
The Children's Center maintains exceptional program standards. Our program standards provide opportunities and resources that allow for a healthy environment and constructive education for children through developmentally, culturally, and linguistically appropriate practices.
Developmentally Appropriate Programming
Our program incorporates developmentally appropriate practices into our curriculum. Our program is designed to reduce gender, racial, and cultural stereotypes and to foster positive intercultural relationships through a conscious effort to integrate an anti-bias model within the curriculum. Our program is developed to provide an environment that builds self-esteem, teaches personal life skills, enhances health, and promotes social responsibility.
Additionally, our programs provide a group experience where children learn social-interaction skills and make individual and/or group decisions.
Culturally and Linguistically Appropriate Programming
Our program is designed to support and encourage understanding and appreciation of various cultures, customs, and languages. We promote an understanding and appreciation of similarities and differences through culturally and linguistically appropriate methods.
Culturally Sensitive
The program supports each child's construction of a knowledgeable and confident self-identity including both personal and group identity emphasizing confidence, not superiority.
The program supports each child's critical thinking about intolerance by helping children develop the cognitive skills to identify stereotypes, comments, and behaviors directed at one's own or another's identity.
The program supports each child's ability to stand up for herself/himself and for others in the face of bias.
Linguistically Sensitive
The program supports each child's understanding, acquisition, and appreciation of her/his language(s) as a valid way of communicating with others.
Families and Children
We believe that families are the child's first teacher and are to be valued as such. Our program provides a safe and supportive environment that extends and enhances the family's role and supports families in their child rearing efforts.
We are committed to respecting and responding to the diverse needs and interests of families and children from many social and economic environments. Our program maintains a policy of openness without regard to ethnicity, religion, gender, handicapping conditions, economic status or national origin.
Children with Diverse Abilities
Our program supports and encourages the inclusion of children of diverse ability. The staff has the education and experience to provide high quality, developmentally appropriate programming to children with diverse abilities. We strive to support the right of each child to play and learn in inclusive programs, to the fullest extent, consistent with the best interests of all involved.
Program Outreach to Families
We place immense value on open communication between your family and our organization. As a result, our program supports outreach to families through:
Monthly newsletter
Informal meetings between staff and families
An open-door policy
Child progress conferences
Parenting groups and workshops when interest is demonstrated
Phone calls and written communication with families
Family involvement in their child's experience as time and energy permit.
Qualified Personnel
At the Children's Center, we are committed to providing your child/children with a safe, nurturing, and stimulating educational environment. Our staff is comprised of thoroughly screened Early Childhood professionals with the education and experience to promote the developmental progress of children. Additional, all staff members abide by the National Association for the Education of Young Children's Code of Ethical Conduct. (To obtain a copy of the Code, please make your request to the Children's Center manager.)
We maintain a low adult/child ratio in our program by utilizing college work-study students, field experience students, foster grandparents, and community volunteers to assist our staff. We work together as a team, striving for communication between children, families, staff, and the community.
All professional staff members maintain current First Aid and CPR certifications. Furthermore, our professional staff has been trained to identify signs and symptoms of child abuse/neglect.