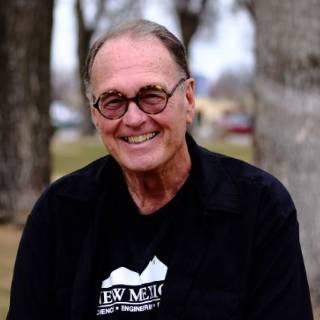 Frank Etscorn, PhD
Professor Emeritus for Psychology & Education
frank.etscorn@nmt.edu




Available by email but not actively teaching
---
Research Areas
Conditioned flavor aversion learning
Percutaneous drug delivery
Behavioral effects of nicotine and tobacco smoke
Behavioral pharmacology and toxicology
Conditioned immune responses
Non-toxic, environmentally safe techniques for suppression of animal damage
Effects of exposure to 70kv electromagnetic fields
Patents Held
First patent holder for the nicotine patch for use in tobacco cessation. The patent was licensed to Ciba-Geigy, now Novartis, and sold as the Habitrol patch. It is also marketed over-the-counter by Walmart (Equate), Kroger and Walgreens.
Etscorn, F. & NM Tech Research Foundation. Title: Transcutaneous application of nicotine Issued July 1, 1986. U.S. Patent Number 4,597,961
Etscorn, F. & Lorenzo Torres. Title: Animal repellent. Issued October 7, 1997. U.S. Patent, Number 5,674,496.
Academic Positions
Kennedy Center Scientist, The John F. Kennedy Center for Research on Education and Human Development,
Institute on Mental Retardation and Intellectual Development, Comparative-Developmental Laboratory, Nashville, TN
Professor of Psychology, New Mexico Tech
Dean of Students New Mexico Tech
American Cancer Association, Celebrity Speaker's Bureau
New Mexico Academy of Science and New Mexico Tech Visiting Scientist Lecture Program
Awards
Named in most influential Kentuckians of the 20th Century. Lexington Herald-Leader
"Products of the Year." "Innovation." for the Nicotine Patch (Habitrol). Fortune magazine
"The Best Products of 1992." Habitrol Nicotine Patch. Time magazine
Winner of the first New Mexico Inventor Of The Year award. Presented by the New Mexico Entrepreneurs Association, The Greater Albuquerque Chamber of Commerce and The Rodey Law Firm
Winner of 1990 Distinguished Teaching Award. NM Tech