NMT Inks Partnership With ABQ Hispano Chamber
June 20, 2018
---
Five-year agreement focuses on economic development and higher education on an international scale
ALBUQUERQUE, N.M. – New Mexico Institute of Mining and Technology (New Mexico Tech) and the Albuquerque Hispano Chamber of Commerce are partnering to promote new opportunities in education, research and business development to New Mexicans.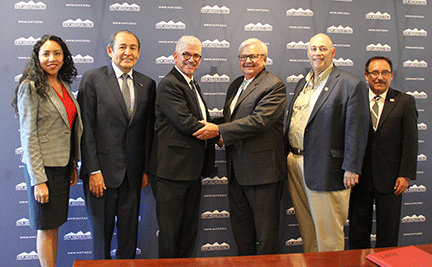 The two institutions held a joint ceremony at the Chamber to sign a five-year agreement on Tuesday, June 19, formalizing a partnership to promote economic development from Latin America to Albuquerque and the rest of New Mexico.
(Pictured: New Mexico Tech and Albuquerque Hispano Chamber of Commerce officials at the official signing ceremony Tuesday. From left are Yuriria Morales (Chamber), Dr. Juan de Dios Pineda (NMT), Chamber CEO Ernie C'de Baca, NMT president Dr. Stephen Wells, Dr. Van Romero (NMT), and Jim Garcia (Chamber).)
New Mexico Tech President, Dr. Stephen Wells, and Albuquerque Hispano Chamber of Commerce President and Chief Executive Officer, Ernie C'de Baca, signed the agreement.
"The significance of this agreement is that we will leverage our collaboration to promote economic development for New Mexico and our partners in Mexico and Latin America and promote the advancement of educational endeavors for institutions of higher education in New Mexico and in Mexico and Latin America," Wells said.
The two organizations have already partnered on international efforts. The Chamber hosted the inaugural Americas Conference of Mayors in September 2017, with Dr. Wells serving as the keynote speaker. The partners will the second annual conference in November 2018.
With assistance from the Hispano Chamber, NMT hosted a conference with seven Latin American universities earlier this year and signed MOUs with two universities in Mexico.
New Mexico Tech launched its Research Office for Latin American Initiatives in January 2018, which is the first step towards growing these opportunities. Wells said this initiative plays a vital role in developing relationships with international higher education institutions – and the Hispano Chamber is a key player in these endeavors.
C'de Baca said he's delighted and grateful to see the Hispano Chamber join with NMT for future collaborations. He said he hopes to attract more conferences and tourist events in Albuquerque, particularly those that bring new business to New Mexico.
"Through New Mexico Tech, the Hispano Chamber has hosted people from Mexico who are interested in investing in our community," C'de Baca said. "Hopefully this will lead to more visits. We are looking for direct foreign investment, as well as conferences and tourism."
Dr. Van Romero, V.P. of Research at New Mexico Tech, said the university has already established new research collaborations and student exchange programs in astrophysics and the Masters of Science for Teachers program. NMT hopes to formalize a research agreement with Consejo Nacional de Ciencia y Tecnología, or CONACYT, to help bring Mexican scholars and students to New Mexico.
– NMT –