Poster Sessions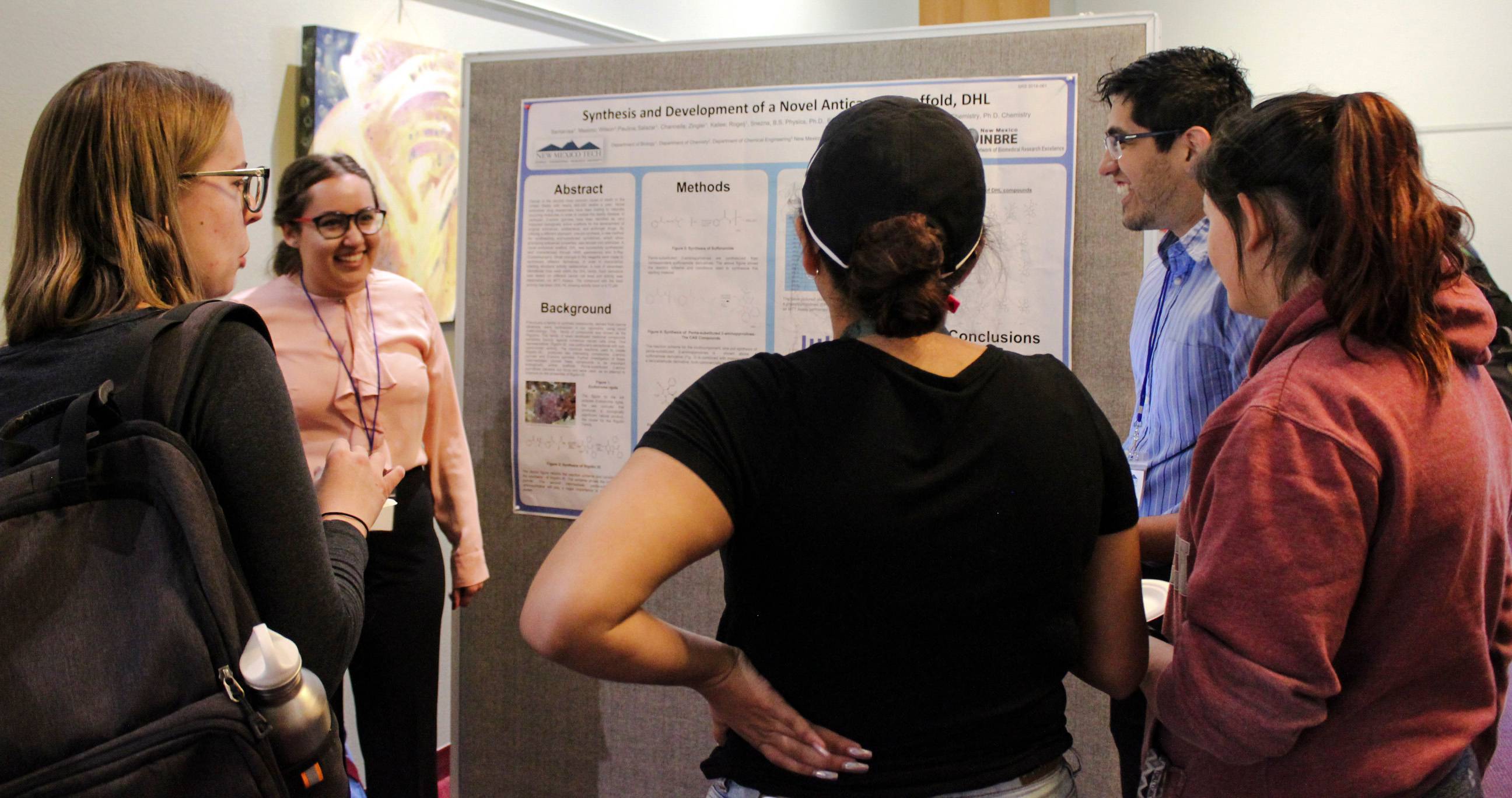 (Photo from Poster Session at 2018 SRS)
To be eligible for this event, you must be a registered student at NMT or a New Mexico Community or Junior College.
---
EVENT INFORMATION
Poster Session 1: April 14 @ 10am - 12pm
Poster Session 2: April 14 @ 1pm - 3pm
Poster Session 3: April 15 @ 10am - 12pm
Poster Session 4: April 16 @ 10am - 12pm
Posters are due by 5pm on Friday, April 9th. Submit your poster to srs@nmt.edu.
Event Coordinator: SRS Staff (srs@nmt.edu)
Register and submit your abstract at the bottom of this page
There are four, one-hour poster sessions and each session has space for 25 posters. With only 100 total entries accepted, space is limited so register early. The sessions will take place virtually on Zoom.
Posters may be presented by one student or a team, on any topic. However, you must submit an abstract to be accepted for a poster presentation.
Posters must be submitted to the SRS in PPT format. See below for more information.
All of the posters will be uploaded onto the SRS website where the public can view them. Each group will be live in a Zoom meeting, with a moderator and questions will be accepted for each poster presenter. Student presenters will be able to interact live with attendees asking questions about their work. These live rooms will be open for the entire session, and will be open for anyone to participate.
Electronic Posters (PPT format) Due: Friday, April 9th at 5 PM
Submit to: srs@nmt.edu
For general information, please email srs@nmt.edu.
Printed posters must be 36" x 48" and include the SRS Registration Number at the top. There are two poster templates available for use below, or create your own. Please see the requirements below.
---
POSTER RESOURCES
Poster Templates
Here are some templates to get you started. You will be assigned a registration number which you are required to include at the top of your poster. You do not have to use these templates, but any poster that you submit MUST have your SRS Registration Number at the top of the poster.
These templates are available for download as a pdf, or PowerPoint (pptx).
Template Example #1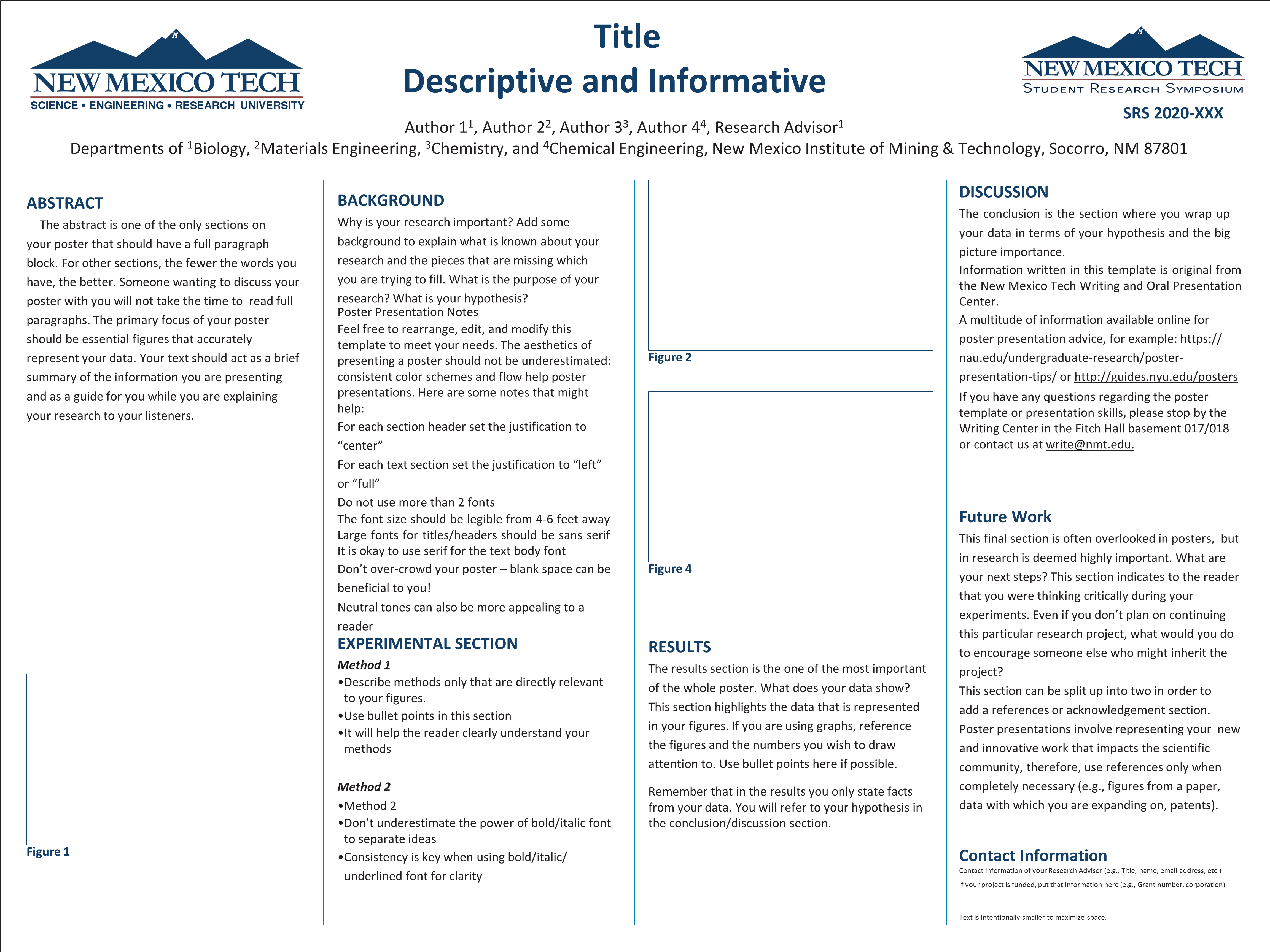 Download this template:
Download Poster TEMPLATE 1 PDF
download poster template 1 pptx
Template Example #2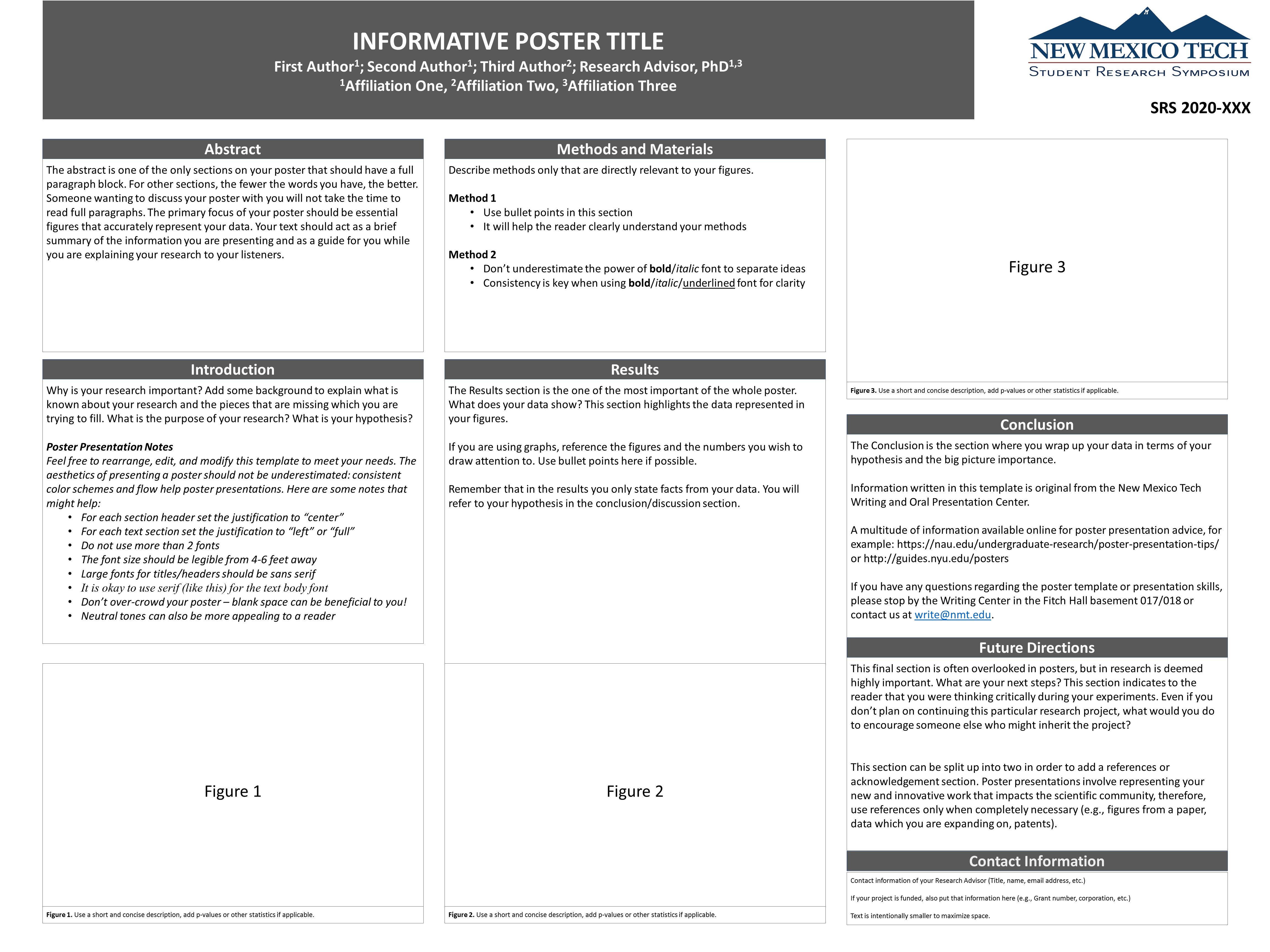 Download this template:
Download poster template 2 pdf
download poster template 2 pptx
Poster Workshop
The poster workshop will be held on Zoom from 6pm-7:30pm on Thursday, March 4, 2021. Register here.
---
FAQS
How will I know if I'm selected to present?
All applicants will be notified through email of your selection. The email will also include your assigned Poster Session.
How are Poster Session assignments determined?
Assignments are based on registration date. You will get priority for sessions based on when you registered.
What if I can't make it to my assigned Poster Session?
If you know you won't be able to attend your assigned poster sessions, email us at srs@nmt.edu ASAP so we can work out other arrangements. Register early so you have a good chance of getting the session you want!
How will I be evaluated for my poster presentation?
Evaluation for your presentation is done by two types of people: Evaluators and Reviewers.
Evaluators are assigned certain posters for review. (Your poster will be reviewed by multiple evaluators.) Using the Poster Presentation Review Criteria, they will provide detailed feedback and evaluate your presentation. Anyone wishing to be an evaluator must sign up in advance.
Reviewers can be anyone, and their review can be done anytime (during your presentation). This is anonymous, general feedback that occurs for all three event types. No sign-up is required to be a reviewer.
Your evaluation information will be provided to you after the SRS is over and the information has been compiled. You may also get instant feedback from your evaluators and reviewers on-site.
Is there a poster workshop to help me with my presentation?
Yes! We're still working on workshop dates, so stay tuned!
Have other questions?
Please email us at srs@nmt.edu with any questions you may have. We're happy to help!
---
READY TO REGISTER FOR THE SRS?
It's time to Register & Submit your Abstract!
Registration closes at 5pm on Wednesday, March 10
Abstracts are due by 5pm on Wednesday, March 10
REGISTER FOR THE POSTER WORKSHOP (3/4)
---
Need more information or clarification?
For general information, please email srs@nmt.edu
---
The Student Research Symposium (SRS) is an initiative of the Office for Student Learning (OSL) and the Joseph R. Skeen Library. The SRS is further enriched by the support of the Office of Student Life, the Center for Graduate Studies, and the Student Government Association (SGA).