---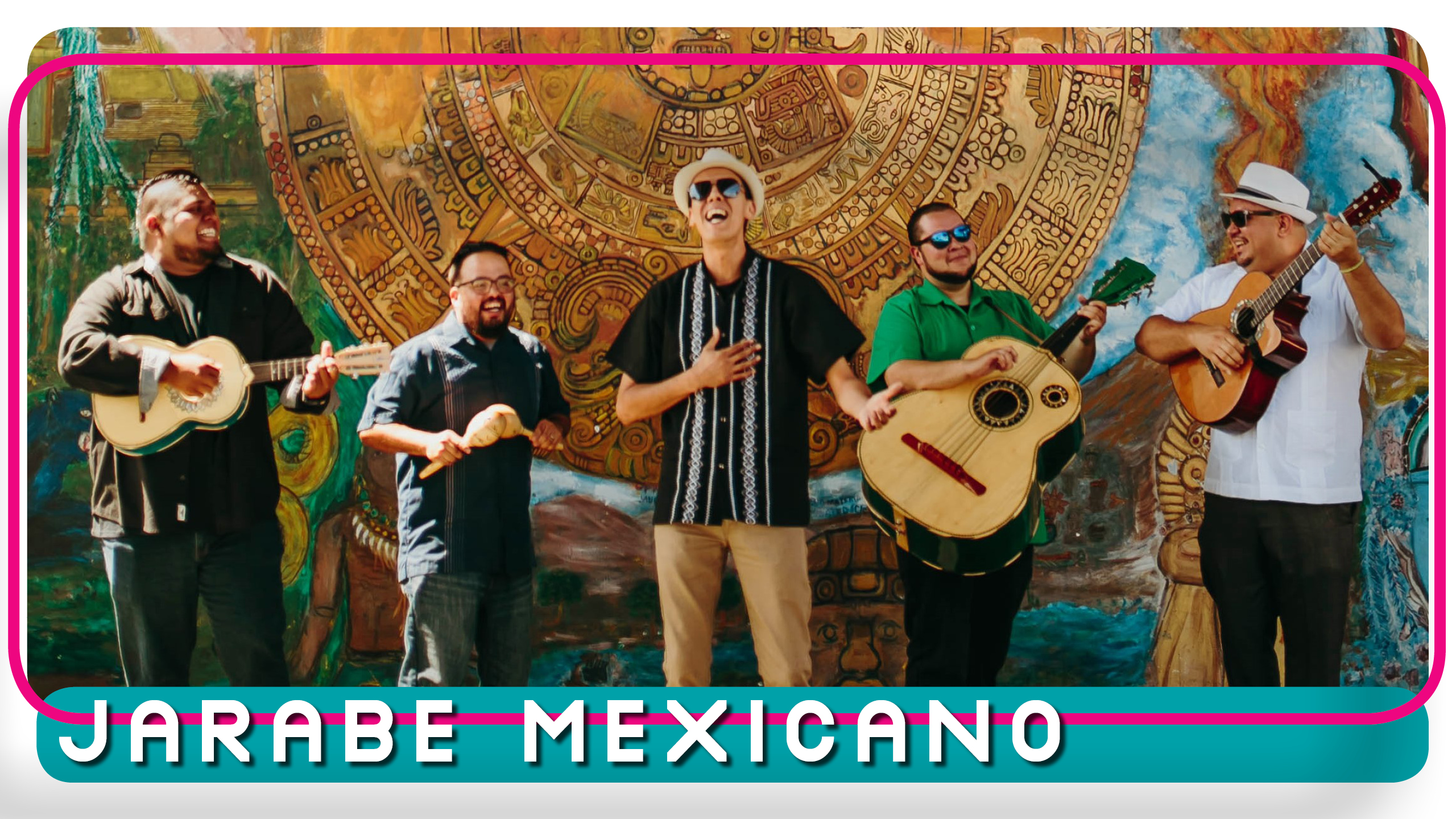 About the Show
Jarabe Mexicano invites audiences on a joyride through a versatile songbook of Mexican Folk as well as Rock & Roll, Tex-Mex, Latin Rock, and Reggae-Cumbia. Performing on stringed folk instruments accompanied by lively percussion, Jarabe's dramatic, harmonized vocals in Spanish and English have gained them the admiration from audiences across the country.
The quintet, with its eclectic border spirit, stands out with performances by lead vocalist Gustavo Alcoser, José Martín Márquez on requinto, Kevin Lomes on vihuela, Chris Behrens with his guitarrón, and musical director Danny Brito on percussion. Cultural anthropologist, distinguished author, and admirer Dr. Alejandro Lugo raves that Jarabe's musicians "are truly excellent and bring new blood to the musical traditions they perform... their version of La Malagueña is simply the best I've heard in decades, if not ever."
For Jarabe, every performance is an opportunity to create a deeper and more inclusive sense of family and community. As advocates for the arts and education and with a special commitment to underserved communities, Jarabe Mexicano has forged fruitful collaborations with an array of both public and private organizations, academic institutions, and government entities--all in their effort to help bridge the frontiers between musical genres, diverse cultures, and generations.
About the Artists
Gustavo Alcoser (lead vocals) received his Associates degree from Southwestern College in Chula Vista, CA and went on to receive his Bachelor of Arts in Music from San Diego State University, with a minor in Latin American Studies. Trained as a classical vocalist, Gustavo was a founding member of the SDSU Chamber Choir and the San Diego Pro Arte Voices professional choral ensemble. Gustavo is now completing an interdisciplinary Master of Arts degree in Latin American Studies with a focus on transborder identity and its effects on gender, creative processes, and artistic performance. He is also currently the lead vocalist and Executive Director of the touring band Jarabe Mexicano as well as the San Diego-based ensemble Tavo & Mariachi 3.0.
Danny Brito (percussion) is a drummer, percussionist, composer, and visual artist based in Tucson, Arizona. Raised in Nogales, AZ, Danny's early interests in both the visual and performing arts allowed him to become an artist that crosses the borders of both major mediums. In music, he has participated in masterclasses with many of the top drummers and percussionists in the industry. These include Dave Weckl, Horacio Hernandez, Ed Thigpen, Steve Houghton, John Santos, Antonio Sanchez, and Avashai Cohen to name a few. Danny's knowledge and respect for the art of music has crafted him into a versatile, creative percussionist whose experience expands across a colorful array of genres. Danny now plays percussion and is the Artistic Director for Jarabe Mexicano.

Christopher Behrens (guitarrón & vocals) was born and grew up in San Diego's South Bay region, surrounded by the influences of both Mexican and American culture. Chris' passion for music began at age 5 and continued through the years as he taught himself to play the guitar while his love for reggae and hip-hop music flourished. Chris began playing mariachi music in middle school and he eventually enrolled at Southwestern College, where he took voice lessons with Michelle Tolvo-Chan. He then moved to Denver, CO for two years, working there as a professional mariachi. Chris returned to his native San Diego where he works for the touring band Jarabe Mexicano as well as the San Diego-based ensemble Tavo & Mariachi 3.0.
Kevin Lomas (vihuela & vocals) was born and raised in San Diego, CA and played in marching band and sang in choir at Granite Hills High School. Kevin went on to receive his Bachelorof Arts in Music Education with an emphasis on classical voice from San Diego State University. He has performed in groups such as the SDSU Marching Aztecs, with whom he has traveled throughout the U.S. to states such as Louisiana, Washington, Idaho, North Carolina, Hawaii, and Nevada. Kevin was also a founding member of the SDSU Chamber Choir, with which he has traveled to Europe. Kevin is also a member of the San Diego Pro Arte Voices professional ensemble. In addition to performing, Kevin teaches music privately and at community schools such as the City Heights Music School.
Jose Martin Marquez (requino & vocals) is a professional Mariachi musician with more than twenty years of experience in Mariachi and Mexican folkloric music. José Martin's past experiences include participating as both student and instructor at Tucson's renowned International Mariachi Conference as well as at El Encuentro Internacional del Mariachi in Guadalajara, México, and at the Las Cruces Internacional Mariachi conference. Jose Martin has also worked with famous artists such as Paquita la del Barrio, Jennifer Lopez, and the Quintanilla family. Most recently, Jose Martin was one of 6 mariachi musicians chosen to be part of Disney-Pixar's live-action Mariachi Coco de Santa Cecilia show at Disney World. Jose Martin Marquez currently plays lead on requinto and sings vocals for Jarabe Mexicano.
---
Our Partners and Sponsors