---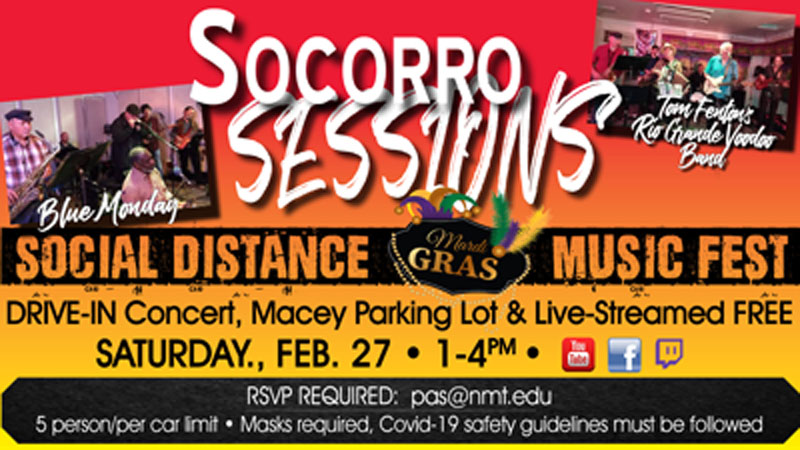 Decorate your Car... Costume Yourself! for the Car & People Costume Contests!

Voodoo Those Blues Away Socorro Style
SOCORRO - (Reprinted from El Defensor Chieftain) Shake off your mid-winter blues and spice up your life with the music offered by New Mexico Tech's Performing Arts Series beginning at 1 p.m. and continuing till 4:00 p.m.
The Socorro Sessions Mardi Gras Music Fest will feature local R&B faves Blue Monday and a new mix of Socorro musicians: Tom Fenton's Rio Grand Voodoo Band. Socorro Sessions Social Distance Music Fests are pop-up (meaning, they occasionally happen) drive-in-style concerts begun by PAS director Ronna Kalish to offset the pandemic's isolation. The concerts take place in the Macey Center Parking Lot—you can rsvp for a parking space for up to five people (pas@nmt.edu); the concert is also live-streamed through nmt.edu/pas on Facebook, YouTube and Twitch. There is no cost or sign-up required but a tip jar is available to help offset expenses.
If you rsvp in time to get a parking space, there is a food truck onsite, "Cubish," where you can text your order and have it delivered to your car, offering a menu of international fare.
The afternoon begins with Blue Monday. For nearly a decade, Blue Monday played to a packed house at Manny's Buckhorn in San Antonio. What began as a duo with the restauranteur/famed chef Bobby Olguin and guitarist Tom Romancik, quickly grew in musicians and in popularity, playing only on Mondays. Jim Ruff, bass, and Gene Cole, percussion/vocals, were early recruits while the guitarist, saxophonist and rhythm positions have changed several times through the years. Currently Blue Monday is Bobby Olguin, Jim Ruff, Gene Cole, with Bill Giebitz on guitar, Tom Hunt, saxophone and Pierce Mayadag, drums.
Tom Fenton is a recent recruit to this area but already has become known for his high-energy music, enthusiasm and smile. A singer, songwriter, music educator and award-winning guitarist, Fenton splits his time between Socorro County and Buffalo, NY. There, he is renowned as the leader of veteran rock recording act The Fibs and long-running reggae band the Dreadbeats. He and wife Joanna perform frequently as an acoustic duo.
Tom said he is passionate about the music and the food of New Orleans and is looking forward to bringing the sounds of the "city that care forgot" to the Land of Enchantment. His enthusiasm led him to recruit, "some great local players to share these irresistible songs with this region," Tom said. "This evening of great music from Louisiana includes a high-energy mix of R&B pioneers, second-line funk, zydeco and, of course, a little Dixieland," he promises. Expect some Neville Brothers, Dr John, Fats Domino & Buckwheat Zydeco in the music mix.
Not surprisingly, among those he recruited is always-ready-to-play Jim Ruff on bass/vocals. Sax magician Tom Hunt, ala Blue Monday, is also on board, as is drummer Pierce Mayadag; Ben Thomas on guitar/vocals and Martha Cast Cather on accordion round out the group.
The band's name is obviously a combo of New Mexico and New Orleans but Tom notes he calls it grand not grande because he was told that Rio Grande is only pronounced "grahn-day," and I want it to rhyme."
No matter how you pronounce it, this afternoon's mix of music by an absolutely incredible mix of talent that will put a good spell on you, enchanting enough to take those blues away. Laissez les bontemps rouler! May the Good Times Roll!
Our Partners & Sponsors