---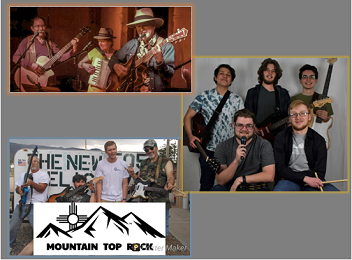 About the Show
SOCORRO – Three bands. Two generations. One social-distance concert for everyone. New Mexico Tech's Performing Arts Series April Socorro Sessions, which coincides with NMT Students' annual Spring Fling week, features local bands playing rock ''n roll –a wide-ranging genre of music enjoyed by multiple generations. In fact, the musicians themselves range from a band of Tech students, one of Tech retirees and one whose members are multi-generational, Socorro County natives with a drummer whose father is a Tech professor
The socially distanced drive-in concert on Saturday, April 17 runs from 2 to 6 pm. Like the rest of the Socorro Sessions, the concert, ala COVID-19 style, will be under the solar-paneled parking lot at NM Tech. Attendees must RSVP using the form (link above), emailed to pas@nmt.edu or by calling PAS at 575-835-5688. The concert will also be streamed on Facebook, YouTube and Twitch.
The afternoon begins with Why Knot, an acoustic band of three musicians of whom Socorroans are familiar. Jim Ruff is a member of several Socorro bands and the founder and host of the pandemic-era Open Mic Zoom Wednesdays. Here he joins Steve and Martha Cather for an acoustic band that plays mostly '60s era tunes.
The three have been playing together for several years without a name, said Martha. "We got tired of just being Steve, Martha and Jim so two years ago we came up with a name. But by then there were fewer venues. We're strictly an acoustic band," Martha said. "We play a lot of Grateful Dead, some country rock, jazz and folkified versions of songs."
Steve plays guitar and Jim plays bass and mandolin. Martha plays piano, accordion, and requinto, a small Mexican guitar. Both Martha and Jim have played in the last three Socorro Sessions but Martha laughs at the suggestion she is competing with Jim for most concerts, having played in the previous two as well. "They just happened to be a fit," she said. However, having just retired, she said, "I'm looking forward to having more time for my habit."
Technical Differences takes the stage next at 3:30 pm. Comprised of engineering and physics majors at NM Tech, the five will offer a different variety of classic and alternative rock. They are Joshua Gibbs, lead singer, tambourine, a senior Electrical Engineering major; Andrew Wagg, guitar, junior Explosive Engineering; Seth Sisneros, guitar and vocals, junior in Mechanical Engineering; Keith Lucero, bass, clarinet, vocals, junior Astrophysics; and Kody Gray, drums, mellophone, junior Physics.
They have been jamming together about two years but only informally. Then in a college email Keith Lucero saw that PAS director Ronna Kalish was looking for bands to play. When he asked what was required, "she said 'you have the gig'" Lucero said. "We had 24 hours to come up with a name and an official photo." For inspiration, Kody said, they turned to the back of textbooks, ultimately rejecting his nominee of "The Wiggle Factor" in favor of Technical Differences.
Playing together during the pandemic has not been a problem, they said, since three of the five live together. "I joined first because Andrew needed someone to play music with while he practiced guitar," said Keith, "so I would play clarinet with him. We learned a song or two, and shortly after, we realized we needed more members, so we started inviting other folks.
"It was soon evident that we needed a bass player, and I have always loved rock bass lines, so I picked the instrument up and learned how to play."
"I was roped into it at first, but now I really enjoy singing with my friends," said Josh. Kody also was roped into it, they said. Keith said the band had been asked to do sound checks and he knew they needed a drummer. So, said Andrew, knowing Kody had some music background, they asked him if he drummed. "No," he said. "Can you drum?," Andrew related. "You got a stick?, Kody asked. And, honestly, he nailed it, he killed it for us!," Andrew said, as the others nodded agreement.
Ironically, notes Kody, he is one of only two members who read music. His instrument of choice is actually a mellophone, a marching-band version of the French horn. The others learn by listening and watching video – and from each other.
They promise at least one original song: Finding Time. "The song can be taken a few different ways," said Josh, adding "as a senior it's very hard to find the time to do the things I like."
"He likes the song at 200 beats per minute," jokes Kody.
Keith said he had composed a bass line tune and the band was adding onto it. "Out of nowhere, Josh just started singing, it was a very Leonard Cohen or Robert Plant experience," he said.
"Yeah," said Josh. "When I stopped singing I thought 'I should have written that down.'"
You will get to hear their final version plus some classic rock like Bob Dylan and Gordon Lightfoot, and songs from newer bands such as Scorpions and 4 Non Blondes.
The third and final band for the afternoon is Mountain Top Rock, formerly known as The New Relic. Led by Montana Pettis, this Magdalena-based band includes two generations of music lovers. "I've always had a band," said Montana, "but this version averages about four years." His band won the statewide Battle of the Bands contest in 2015 and has played in various locations around the state.
"We have just come out with an album and are getting ready to send it out to have mastered," he said. It features 11 all original songs. The band has in its repertoire over 30 originals, and everything from '60s and '70s on up, he said. Other members are Mark Howes, bass and vocals; Dion 'Delux' Gonzales, lead guitar and vocals; and Willie Mozley, drums.
"I play the guitar kind of grungy," he said and for years called their music rockin' country, jammin' vibe that we call Mountain Top Rock." When a new software program was called The New Relic, Montana said, the band's original name became overshadowed and so it seemed logical to rename the group for their style.
Our Partners and Sponsors