NMT Ranked No. 59 in the Nation For Graduates' Earnings
June 16, 2021
---
University earned the high rankings based on strong salary data of alumni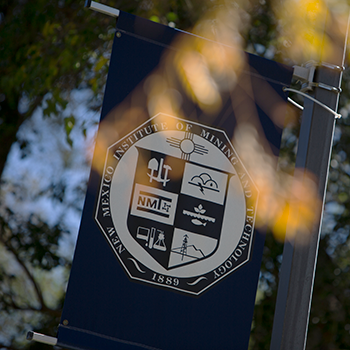 SOCORRO, N.M. – Newsweek published the latest ranking of "100 Colleges Whose Grads Go on to Earn the Most," which shows New Mexico Tech as the No. 59 best university for graduate's salaries.
NMT earned the high ranking based on graduates' early career average pay of $65,800 and mid-career pay of $124,500.
Newsweek offered this description: "New Mexico Tech offers a Cooperative Education/Internship Program to help students get a leg up on their job search. Recent graduates have found work as software engineers, geologists, and research scientists. Lockheed Martin, the United States Air Force, and the U.S. Forest Service number among the employers that hire New Mexico Tech students."
The article is intended for potential students to help them decide on a college to attend. The article said," Many colleges and universities help prepare students for life after midterms and dissertations by setting up virtual job fairs, providing online office hours for career development, and reaching out to companies to create co-op programs for potential student hires. And while finding high-paying jobs can sometimes be challenging, there are plenty of schools that have a history of placing their graduates into big companies."
Newsweek published the list that was compiled by Stacker, a website that ranks colleges whose graduates earn the most, using 2020 data from PayScale. Colleges are ranked by the highest mid-career earnings, with ties broken by early career earnings. Mid-career earnings are median salary for alumni with 10 years of experience, and early career earnings are for alumni with 5 or fewer years of experience.
Click here for the full list of universities:
https://www.newsweek.com/100-colleges-whose-grads-go-earn-most-1599485
The article continued, "Many schools produce yearly reports of graduated students' placement, which usually includes whether they are employed, attending graduate school, applying to graduate school, in a fellowship program, serving in the military, or searching for jobs. While some fields dictate some kind of prerequisite before full-time employment – like a paid internship or mentor program – it's not uncommon for new graduates to be thrown right into the fire and land jobs with major industry players like Amazon, Citi, and Google."
The Top 10
Harvey Mudd College
MIT
U.S. Naval Academy
Princeton
Cal Tech
Harvard
Stanford
U.S. Military Academy
Santa Clara University
Babson College
– NMT –