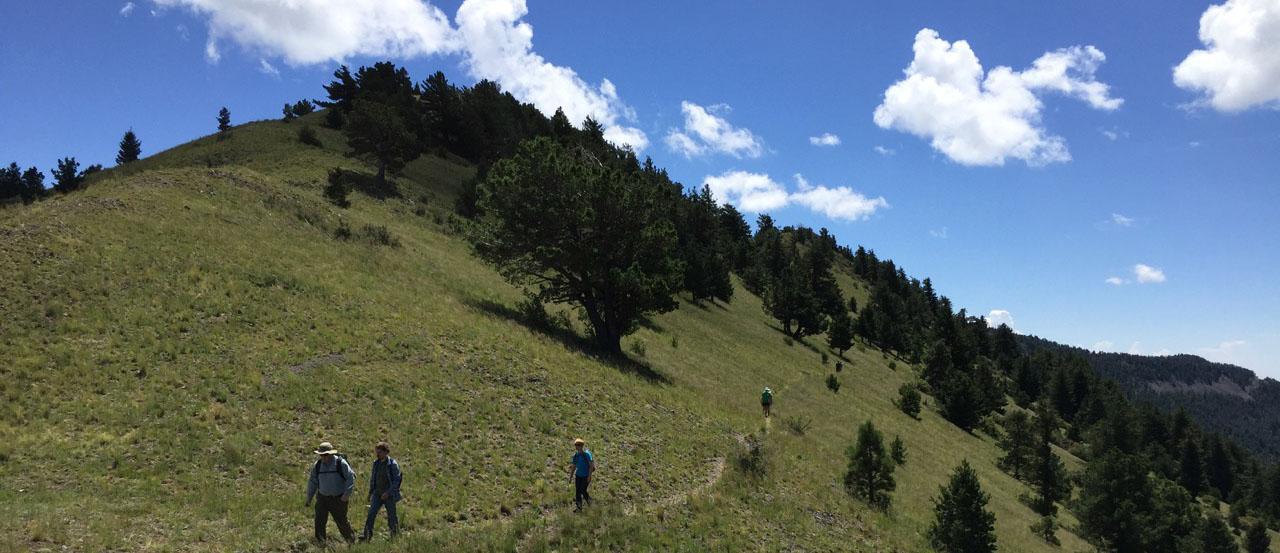 Outdoor Recreation in the Socorro Area
Besides being an exceptional institution for science and engineering education, New Mexico Tech is situated in an outstandingly diverse region of the southwest. Nearby opportunities for outdoor recreation include mountain and road biking, rock climbing, and desert and mountain hiking at elevations ranging from 4,600 to nearly 11,000 feet. A brief sampling of some local and regional areas is provided below.

It is easy for Tech students to get involved in outdoor activities. The New Mexico Tech Physical Recreation Office regularly organizes weekend student hikes and maintains outdoor equipment, which is available for student use. Our Community Education program has classes in rock climbing, bouldering, and camping, which are taught every semester. In addition, there are active student clubs associated with outdoor activities, with organized trips and opportunities for training.

Cibola National Forest
The Magdalena District of the Cibola National Forest begins just a few miles west of Socorro, and includes the Magdalena, Bear, and San Mateo Mountains. The mountains span an astonishing range of life zones, from upper Chihuahuan Desert to pinon-juniper forests, to ponderosa forests, to subalpine meadows and aspen groves. There are two National Forest wilderness areas in the San Mateo mountains, Withington and Apache Kid, which offer exceptional opportunities for mountain biking, hiking and camping. There are also numerous forest service roads and trails that are open to mountain biking.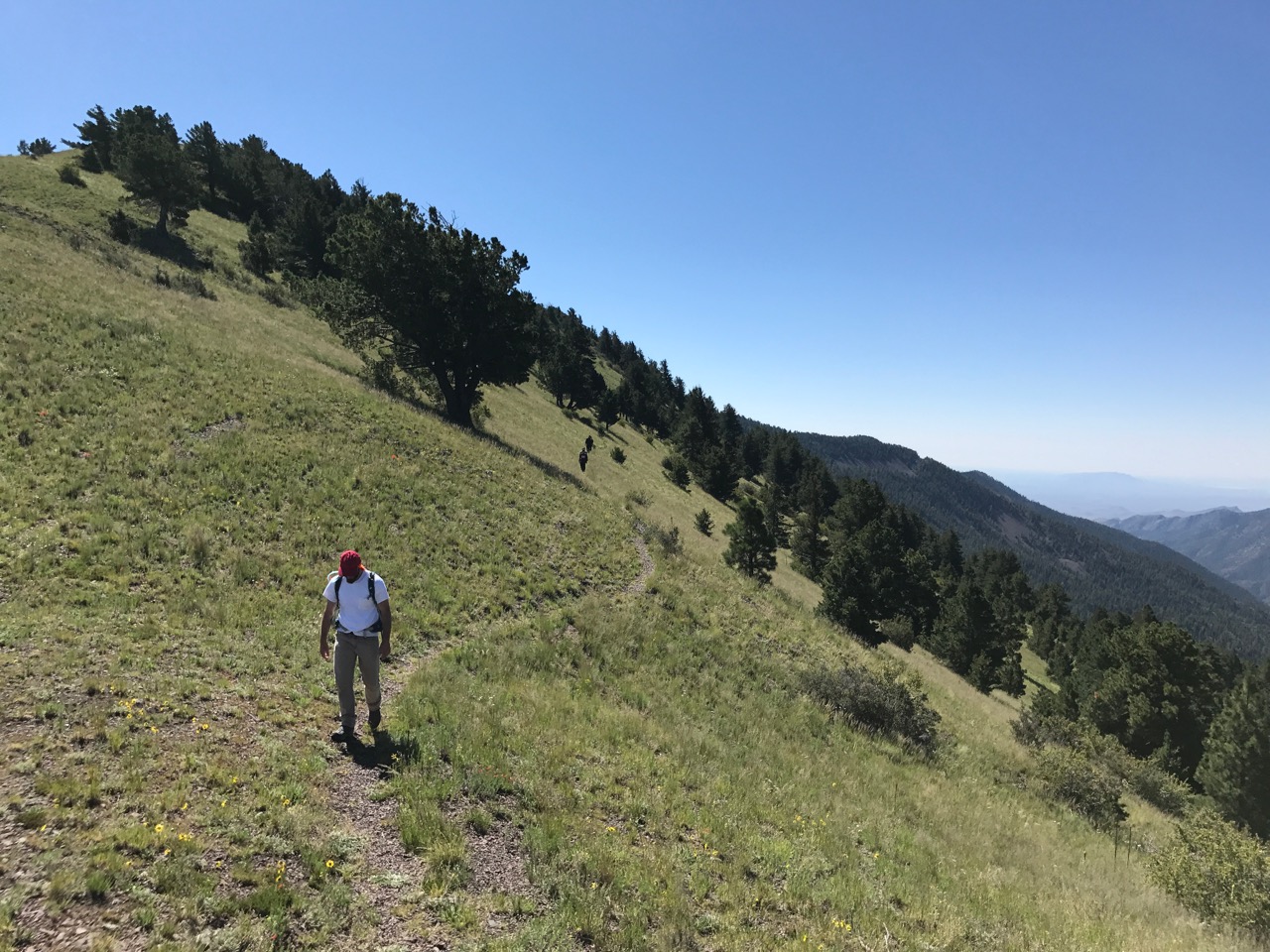 Student hike near Timber Peak in the Magdalena Mountains (photo P. Mozley)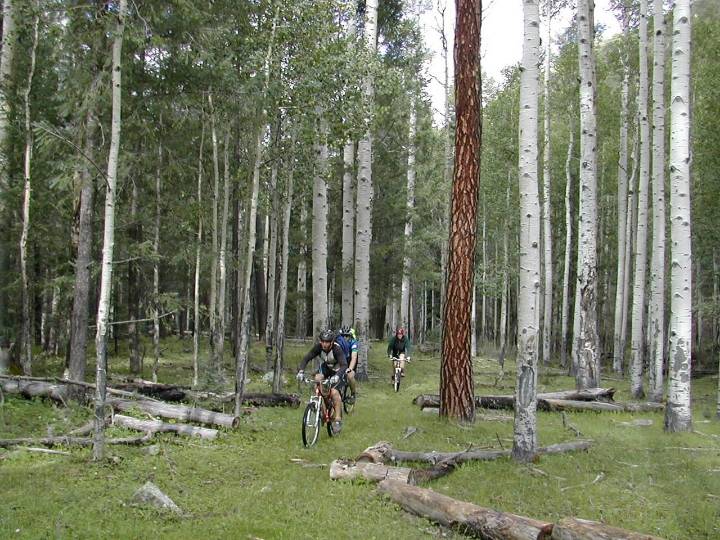 Tech faculty and students mountain biking in the San Mateo Mountains (photo P. Mozley)


Quebradas Backcountry
The Quebradas BLM lands are directly across the Rio Grande, just minutes from Tech, and include spectacular opportunities for mountain biking, camping, and hiking in a remote Chihuahuan desert setting. This remarkable region includes four Wilderness Study Areas, one being the Presilla Wilderness Study Area.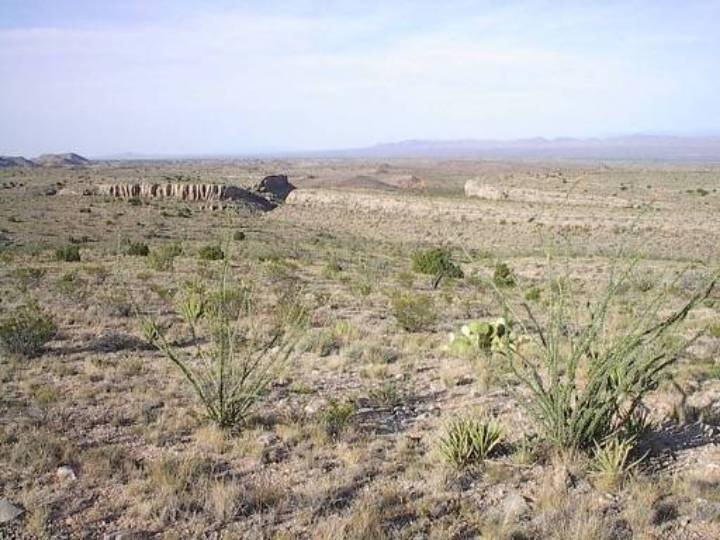 Paleozoic sedimentary rocks and Chihuahuan desert plants dominate Quebradas landscapes (photo P. Mozley)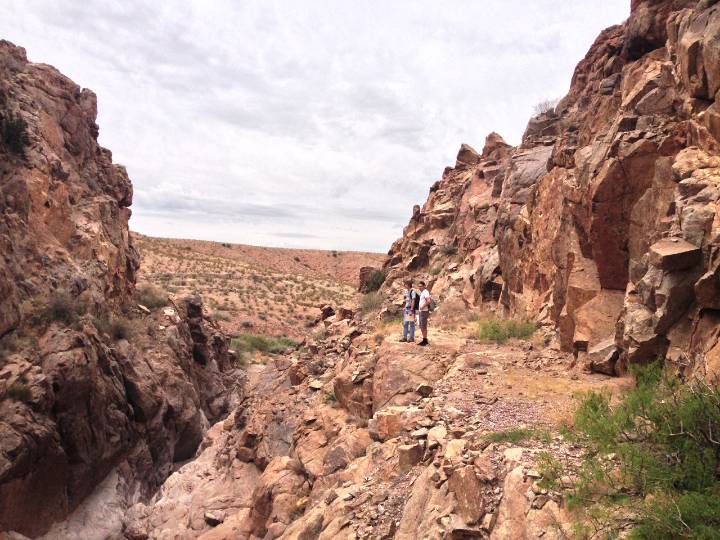 Geology students admiring outcrops on an old mining road in a slot canyon in the Quebradas (photo P. Mozley)

Bosque del Apache
The Bosque del Apache National Wildlife Refuge is a nationally-known venue for bird and wildlife watching, photography, and hiking located just south of Socorro. Along with the Socorro Chamber of Commerce, it hosts the annual Festival of the Cranes, which draws over 10,000 visitors to the refuge each autumn to greet tens of thousands of migratory birds.

Chupadera and Ladron Mountains
Immediately to the west of Socorro lie the volcanic Chupadera Mountains and, further north, the dramatic granitic escarpment of the Sierra Ladrones. Notable hikes include the Chupadera Mountain trail in the Bosque del Apache National Wildlife Refuge Chupadera Wilderness, the rugged climb to the 9,176-foot summit of Ladron Peak, and San Lorenzo Canyon. San Lorenzo canyon is at the southern boundary of the vast Sevilleta National Wildlife Refuge.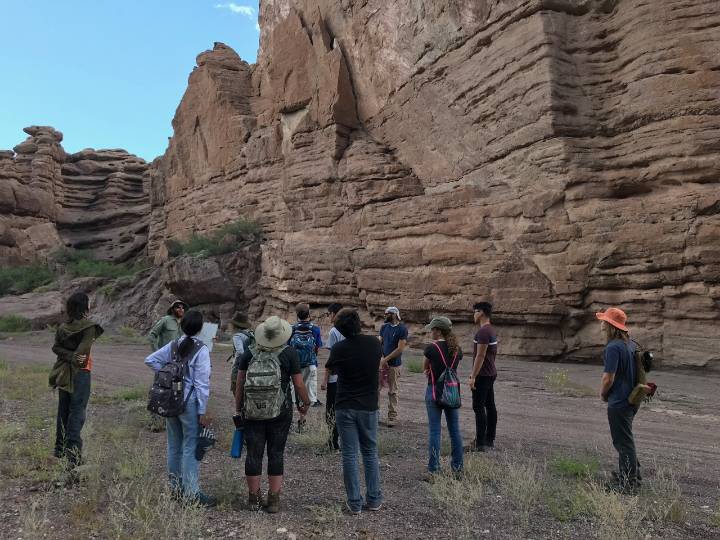 Tech students on a geology field trip to San Lorenzo Canyon (photo P. Mozley)
Salinas Pueblo Missions National Monument
Northeast of Socorro lie the three units of the Salinas Pueblo Missions National Monument, Quarai, Abo, and Gran Quivira, which preserve historic pueblo and mission ruins occupied through the late 1600's.

Gila National Forest
Within a few hours drive lies the Gila National Forest, home of the world-renowned Gila and Aldo Leopold Wilderness areas. The Gila encompasses over a million acres of outstanding road-less mountains, mesas, canyons, rivers, hot springs, archeological resources, and the most biologically diverse forests in the American southwest.

Box Canyon and Enchanted Tower Rock Climbing
There are two notable rock climbing areas near Socorro. Box Canyon is a BLM recreational area just minutes from town offering moderate-to-difficult climbing and bouldering in a steep volcanic canyon. The Enchanted Tower area is located near the rural community of Datil in the Cibola National Forest. It includes spectacular sport-climbing routes on steep to very overhanging welded volcanic rock.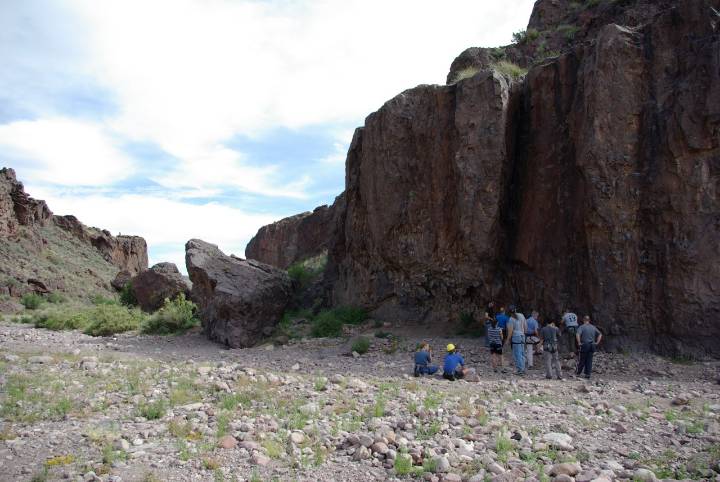 Tech students top roping in Box Canyon (photo P. Mozley)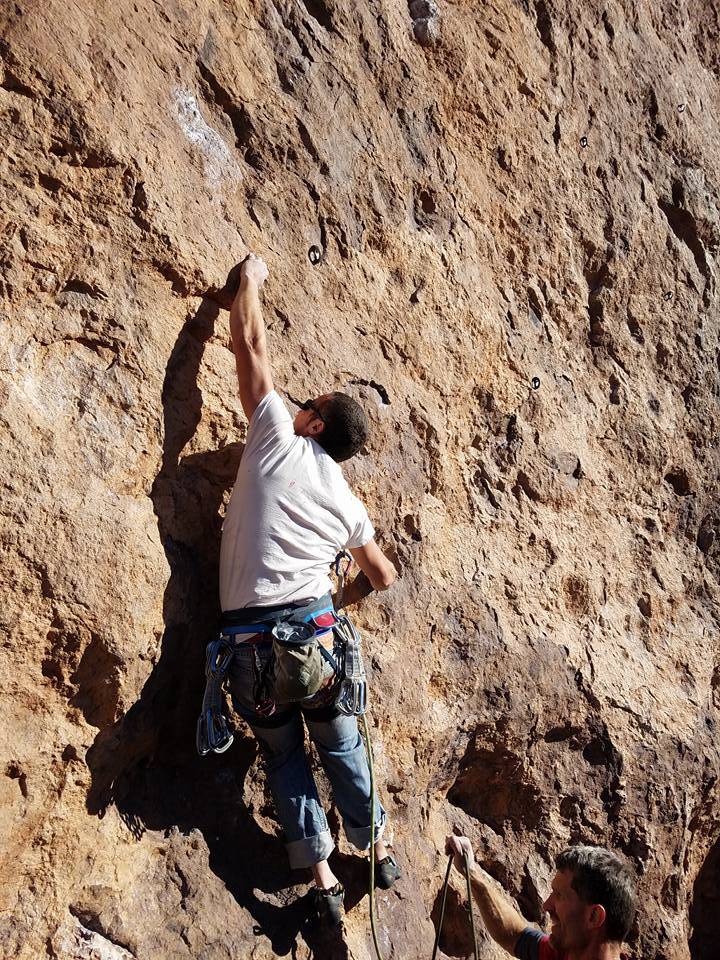 A well bolted sport climb in Box Canyon (photo E. Rivera Alvarez)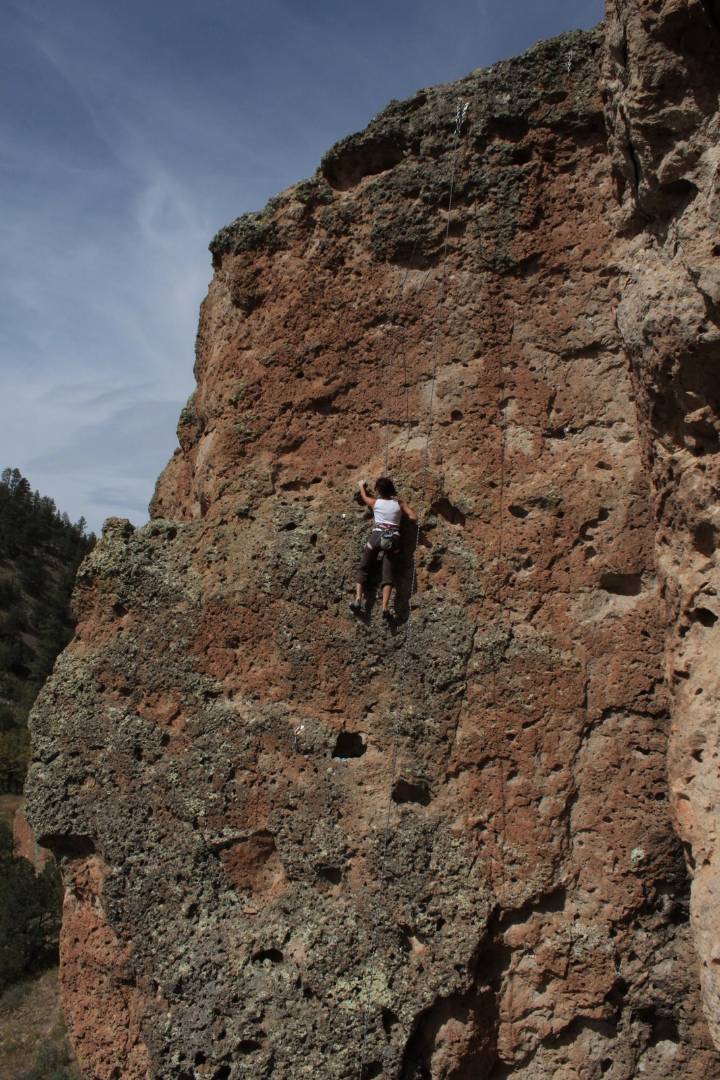 Top roping at Enchanted Tower (photo E. Rivera Alvarez)


Regional Caves
New Mexico is internationally known for outstanding caves, including Carlsbad Caverns and lava tubes at El Malpais National Monument. In addition, Tech is the academic home for the National Caves and Karst Research Institute, which is a valuable resource for students who are serious about caving.

New Mexico Skiing
New Mexico is justly famous for its downhill skiing. Ski Apache, Sandia Peak, Taos, and Ski Santa Fe are all within a few hours of Socorro.