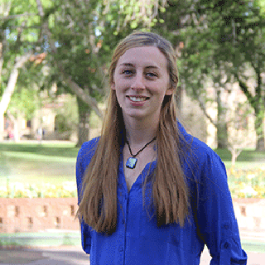 Allie Arning

'18
A junior in the Civil and Environmental Engineering Department, Allie Arning's hard work carried her to a Macey Scholarship
---
A junior in the Civil and Environmental Engineering Department, Allie Arning's nomination was supported by professors Dr. Clint Richardson and Dr. Frank Huang.
In her essay, Arning wrote that she was convinced to attend New Mexico Tech after visiting campus with a friend as a high school senior. She was reluctant to pursue a STEM degree because she struggled with math in high school. She was initially overwhelmed by the workload at Tech, but she sought out help.
"I was determined to use my resources and succeed," she wrote. "I would spend hours on homework in the OSL. Instead of being put off by these challenges, I was excited by them. I began to notice the results of my hard work when I took Calculus III and found myself achieving notably higher scores."
Arning's early hard work paid off and she has excelled in the classroom ever since. She also has been involved in a variety of campus clubs and organizations. She first worked at the Performing Arts Series, and worked on Paydirt. She was also part of the Watershed Living Learning Community. That research project lead to a poster presentation at the Student Research Symposium and reinforced her desire to work in a field that deals with the environment.
Now, she is also the president of the Environmental Engineering Club and the student chapter of the American Water Works Association.
"This club was an important outlet for me when I was struggling during my first year, and I wanted to provide that support for other students," she wrote.
Arning has been admitted to the five-year B.S./M.S. program at Tech in environmental engineering, specifically in water treatment.
Arning joined Dr. Huang's research group in 2015, working on the Osmotic Power Development team. Huang said that Arning has shown a great interest in membrane desalinization and is in charge of developing a technique to determine the could point of polymer solutions.
In his nomination letter, Huang said that Arning has "clearly demonstrated that she not only has sound technical foundation and excellent communication skills, but is also hard-working, dependable, and a team player."
Richardson credited Arning with being an enthusiastic and active leader among her peers. She organized a panel of engineering professionals to interact with students. "Through these activities, Allie has reached out to other students to make them feel like a part of the community," he wrote.